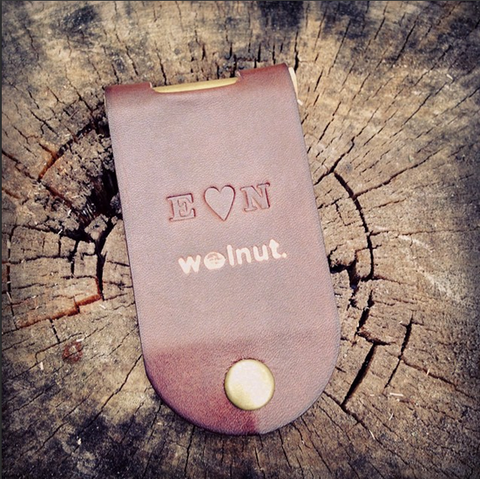 In traditional anniversary gifting,
leather is the 3rd anniversary gift
, while in modern gifting,
it's the 9th anniversary
. Whether it's your 3rd or your 9th, look no further for anniversary leather gift ideas - especially for him. Whether you're into going out or staying at home, we've got the perfect handcrafted, American-made one-of-a-kind leather piece that will make a touching and memorable 3rd anniversary gift.
Monogramming
Mark your wedding date, or just carve your initials into this beautiful leather like your favorite tree to make this gift special, memorable, and irreplaceable.
Learn more about our monogramming service, and which of our products can be monogrammed.
Leather Travel Cribbage Board
Do you love to play games together? We created this board so our husband-and-wife team Geoff and Valerie could play their favorite game on the go. We believe that unlike many card games, cribbage somehow never gets old. Our
Travel Cribbage Board
can be monogrammed, and comes with a gift set option complete with a deck of American-made recycled playing cards. And if cribbage isn't your thing, check out our other clever handcrafted
Travel Games
.  
Leather Wine (or Whiskey) Bottle Case
Have you already gotten a special bottle of wine for your anniversary night? Well if not, this gorgeous hand-stitched leather case will inspire you to fill it with something special. Or maybe your anniversary celebration will include a wine-tasting adventure or a whiskey-tasting night, so you can pick your favorite together to store in here. The
Wine/Whiskey Case
can also be monogrammed with your special initials or dates.  
6-Pack Bicycle Carrier
Whether you're into beer or bicycles - or both! - our
6-Pack
and
6-Pack Bicycle Carrier
make great gifts. Together, they come as a set discount as our
Bicycle Beer Combo
. Both can also be monogrammed for a special memory of the anniversary date night when you cycled together with your special beer and picnic. And if you're serious cyclists, don't miss out on our beautiful hand-crafted collection of
leather bicycle accessories
. Your marriage anniversary is a special occasion to celebrate. We hope that the event will be made all the more special with our handcrafted leather goods, as it has made every one of our anniversaries as a husband-and-wife business special for us, too. And, Happy Anniversary!