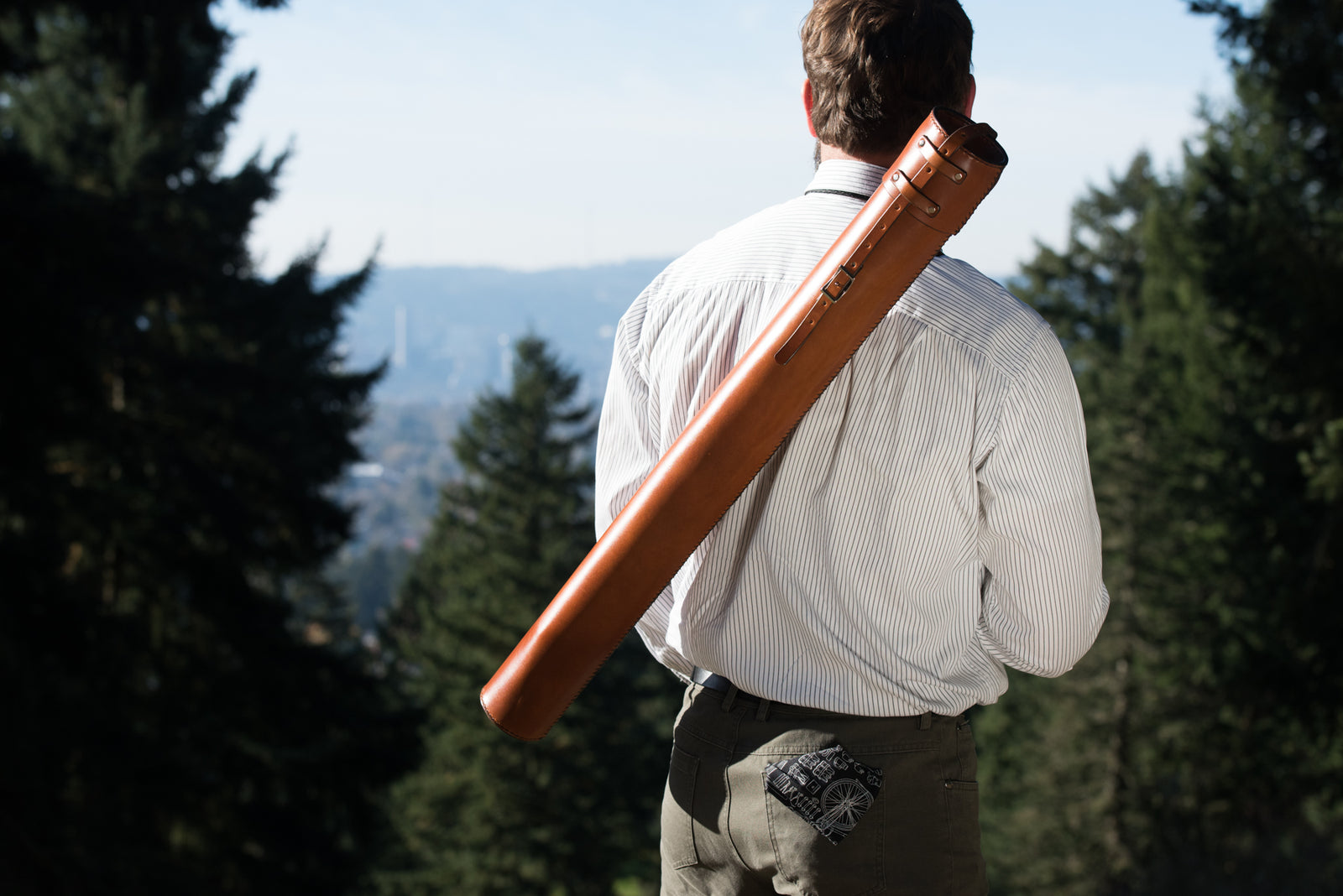 Gentlemen prefer quality, and our leather gifts crafted from high quality, American vegetable-tanned leather will fit the bill nicely. For the gentleman who has it all, read on for our best gift ideas for gentlemen:
---
Leather Document Case
Our all-leather, handcrafted Blueprint Tube keeps large format documents (like architectural blueprints, maps, artwork, and posters) safe and portable. Impressively hand-stitched in every detail, the Blueprint Tube is made from structural and sturdy vegetable-tanned tooling leather - the same kind used in horse saddles. It's the perfect gift for gentlemen looking to store or transport their most important work. Our smaller Whiskey Case also works for smaller format drawings. The Blueprint Tube can be monogrammed for a personalized touch.
ShopLeather Document Cases >>>
---
Leather Whiskey Keepsake Case
For storing a special bottle out of the light or bringing it out with you, our leather Whiskey Case keeps your bottle of whiskey or wine secure and discreet in timeless style. Modern design details create an heirloom piece that ages as well as the beverage inside. The Whiskey Case can also be monogrammed for a personalized touch.
---
Leather Lighter Case
Walnut's signature hand-dyed, high-quality vegetable-tanned leather has a warm hand-feel and is a joy to touch, like a palm stone.
The lighter case has a snug fit that slides over a standard oval lighter like a sleeve. The leather gains a beautiful patina with age and use and can be monogrammed for a personalized touch.
Shop the Leather Lighter Case >>>
---
Leather Calling Card Case
Our slim, minimalist business card case is warm to the touch and has an innovative original design that makes it easier to take cards out: push them out of the half-moon opening. Dark walnut wood sides are wrapped with our gorgeous hand-dyed American leather. 
Shop the Leather Calling Card Case >>>
---
Looking for more gift ideas? Check out our complete list of Gift Guides.