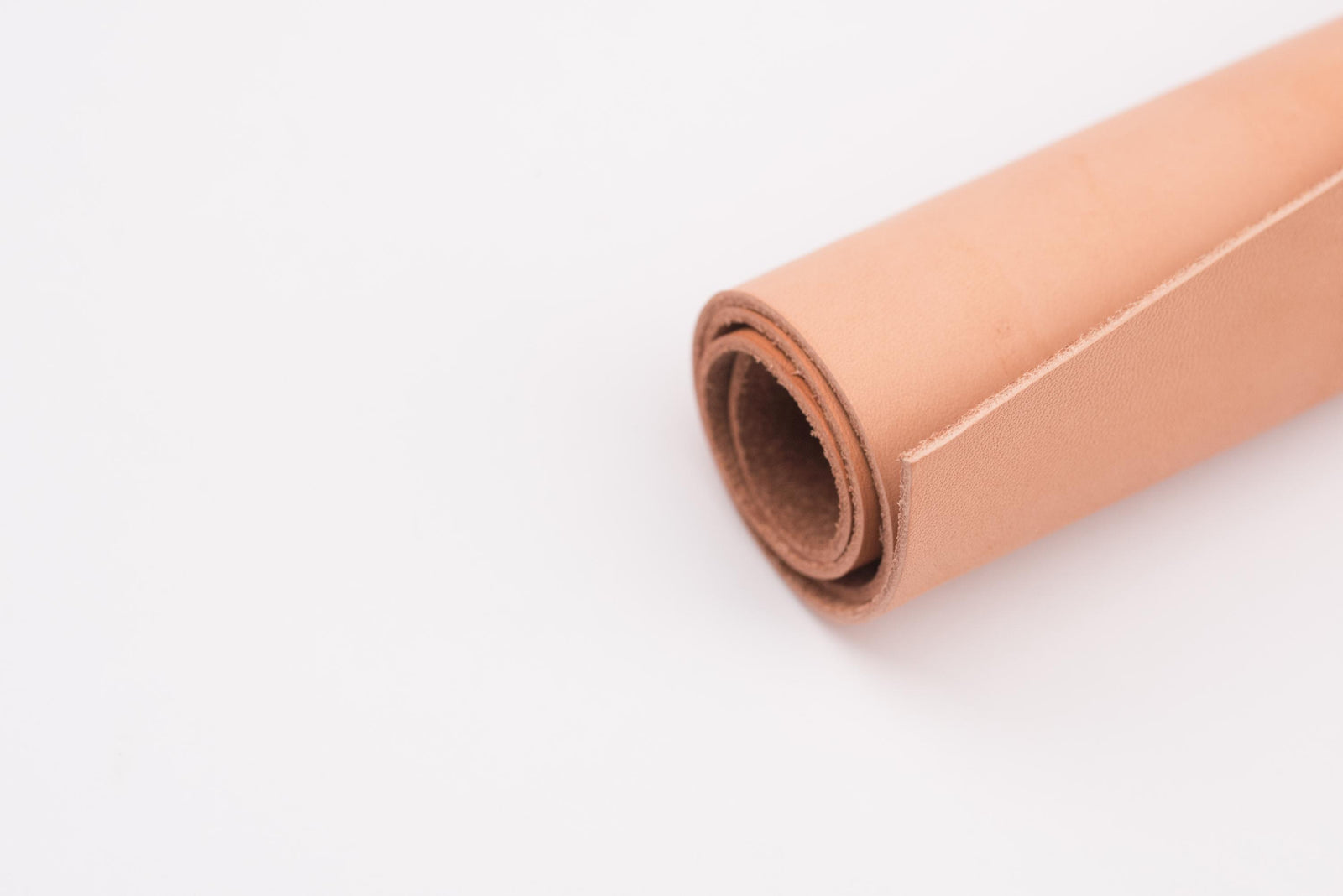 Often called mankind's "first fabric," leather has been considered a fine and treasured material since the beginning of history and across nearly all cultures and peoples around the globe.
In this kick-off to our leather learning series, we go through a brief introduction to Leather: what it is; how it's made; and what it's used for.
What Leather Is
In brief, leather is typically the dermis of an animal that has been preserved for long life in a process called "tanning."
When we think of a typical leather, what we're expecting is only one kind of leather today, which is full grain vegetable-tanned leather, usually from a domesticated farm animal: such as a cow, sheep, goat. But there is a wide variety of textiles called leather, and they're not all from animals.
Of all the different products marketed today as leather,there is a huge variety. Nowadays, leather can be made soft and delicate or tough and woody; thick or thin; candy-colored or natural grained; elastic or firm; hair-on or plasticized or even "raw" (as in, rawhide). Some of these variations are natural and some are synthetic.
It all comes down to how leather is made.
How Leather Is Made
Let's break our typical leather down into components, each of which is a process in how leather is made: there is a source / animal ("cow") + a hide splitting structure ("full grain") + a tanning process ("vegetable-tanned"). All three of those elements provide the basic information about the leather, but there is one more step: finishing. We can turn that into a formula:
source + split + tanning + finishing = leather
Source
Leather begins at the source: usually a domesticated farm animal raised for meat such as cow and sheep, but alternative leathers are also made out of plastic, vegetables, and even fungi. We discuss all the different sources in Lesson 2.
Structure
With animal hides, particularly cowhide, leather can be "split" into different kinds of structures, which are labeled as full grain, top grain, "genuine", suede, or bonded. We'll explain structuresin Lesson 3.
Tanning
Tanning leather had been done mostly the same way through history, using plant tannins such as oak bark. But during the Industrial Revolution, new chemicals and processes were discovered to speed up leather tanning and reduce the cost: mineral tanning. We'll talk more about these and other tanning methods in Lesson 4.
Finishing
Also during the Industrial Revolution, they invented many different ways for finishing the leather with different acids, dyes, paints, waxes, and coatings. Each of these different treatments affects the drape, color, and durability of the leather, making each kind of leather suitable for different products. We'll explain some of the finishing methods in Lesson 6.
What Leather is Used For
The beauty, strength, flexibility, and durability of leather make it unique among materials. It is easier to form than wood and it is sturdier and longer-lasting than fiber-based fabrics and textiles.
Historical Uses
Ancient Egyptians valued leather as highly as gold. Historically, in Europe, leather was used as both a functional material and an artistic material, and fine art examples survive of leather being used as wall coverings, ecclesiastical objects, and decorative coverings on wooden boxes and furniture.
In Asia, leather is best-known for its fine art use in shadow puppets, decorative boxes and bottle coverings, and in Africa, leather was used in decorative figures as well as the shields of the Massai.
Functionally, leather has been used for everything from drinking vessels to boats to, of course, footwear. In fact, ancient Romans judged a man's rank by the quality of his sandals.
How We Use Leather Today
Leather has unique functional properties, being both flexible and durable, but it also has a certain cachet. From ancient times to today, leather is considered a high value material. Because of its unique properties, leather is still the material of choice for shoes, furniture, sport, and book bindings.
Modern mineral tanning methods expanded the number of ways that leather is used, but it also introduced more perishability to it, even gaining a reputation for being a fussy, difficult material, such as with a suede jacket (a certain episode of Seinfeld comes to mind!).
The variety of leathers available today mean that leather is used for more products and applications than ever, but also that the match between the type of leather and its intended use is more important than ever. Leather can now be made to last a lifetime, as was always historically done, such as for a high-quality equestrian saddle, or it can be designed to tear and wear out within a year, as in a cheap pair of shoes.
We'll talk a lot more about leather and craftsmanship quality - including its sustainability and ethical considerations, and how to recognize it in the store - in Lessons 7-9.
Lesson #1 at the Walnut Workshop
Who are we to teach about leather? We're Geoffrey and Valerie Franklin, the husband-and-wife team behind Walnut Studiolo. Walnut has been crafting and selling our own unique designs of leather goods since 2008. Here's Our Story. 
Next Lesson
In the next post, we'll start with the beginning: leather sources.
---
We're writing a leather learning series, and this is the first of eleven posts. In the series, we go through the different kinds of leather and the different ways it is tanned and finished, then talk about how leather as a raw material is turned into products, how to tell good leather products in the store, how those products should be maintained, and ethical leather choices.
Subscribe to our email list to get notified of more posts like these: