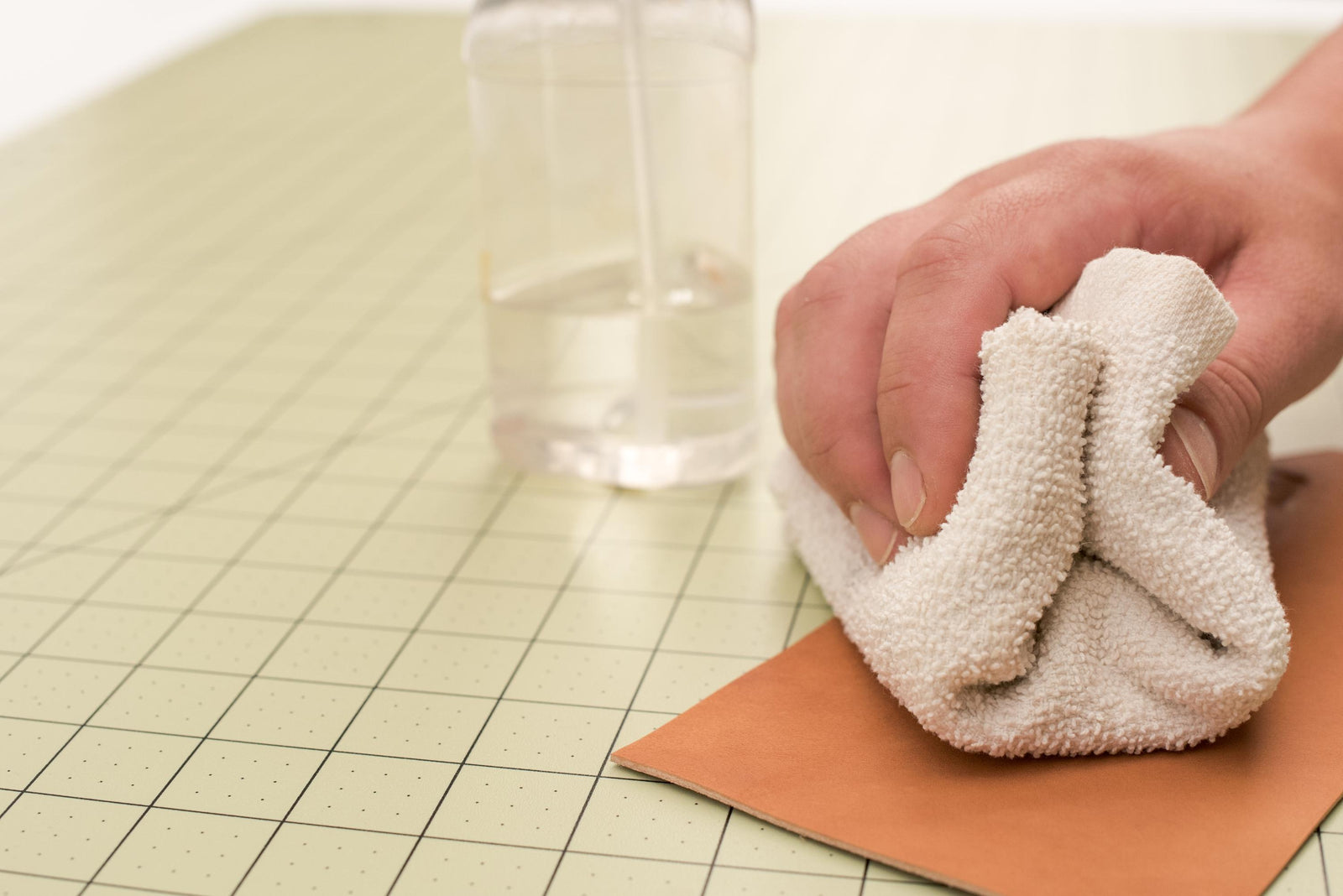 If you've accidentally neglected vegetable-tanned leather or found a forgotten treasure in a thrift shop, we explain how to rejuvenate and rescue old, dry leather and moldy, mildewed leather.
Rescue leather from mold and mildew
Mold and mildew are difficult to remove once it has happened, and it may leave a permanent stain. The best you can do is disinfect it, clean it, and then condition it:
Disinfect: Dilute plain white vinegar 1:1 and spray it on or apply it to saturate the moldy area with a clean rag (inside and out). If it's particularly bad and the situation is desperate, you can use 1:16 diluted bleach instead. White vinegar or bleach should kill mold spores. 
Clean: Dilute plain, unscented, gentle soap (like unscented dish soap, or castile soap like Dr. Bronner) 1:10 with water. It should not be sudsy. Clean the mold away with this solution (inside and out) using another clean rag.
Dry thoroughly: Put it in a completely dry place (dehumidified if necessary depending on your climate) and leave enough time for it to completely dry out.
Condition: To replace the oils and waxes lost by both the mildew and the disinfecting process, apply a light coat of leather conditioner with another clean rag. Do notlay it on thick. If it is on too thick, then the leather can't breathe and this will re-encourage mold conditions.
Rest: Let the conditioner soak in a few hours, up to overnight.
Buff: Return a mellow glow and ensure a light coat by rubbing in the conditioner with another clean rag.
Re-condition if needed: Perform steps 4 through 6 again, several times, if necessary, until leather no longer looks dry.
Going forward: Don't be shy in handling the leather regularly - the oils in your hands help keep it conditioned. Allow it to dry out regularly in a low humidity environment. Avoid storing it in a dark and damp place. If it starts to look dry, re-condition it, at least once every year or two.
Rejuvenating old leather
Old vegetable-tanned leather treasures found in thrift shops can be rejuvenated with a simple conditioning treatment - such as old suitcases or baseball gloves.
Except for step 1, and optionally step 2, follow the steps for rescuing moldy leather, above. Without mold, there is no need to disinfect. And if it's not especially dusty dirty, there's no need to clean it either.
If the leather is stiff, several conditioning treatments may be needed, and it may be necessary to physically move, fold, and crease the material to "wake it back up again."
The oils in your hands and regular use are the best way to keep vegetable-tanned leather looking shiny, pliable, and gorgeous, so don't be shy about using the leather often.
Lesson #10 at the Walnut Workshop
So many leather care products have unknowable or unnatural ingredients. So we make our own in-house Leather Conditioner, which uses only natural, time-tested ingredients, like beeswax and pine resin. 
BONUS: Repairing cracked garment (chrome-tanned) leather
We don't work with garment leather, but we thought you'd enjoy this tutorial on repairing cracked garment leather, found on Reddit. In the comments by user @madpainter, you'll find the glues, finishes and compounds you need for the job are made by Mohawk Industries: Leather Touch-up Repair Kit by Mohawk Finishing. @madpainter says the trick is in the color match, and doesn't recommend doing this on bonded leather: the heat gun will melt bonded leather.
Next Lesson
In the next, last post we'll discuss the various leather care products, and invite you to give leathercrafting and leather repair a try.
---
We're writing a leather learning series, and this is the tenth of eleven posts. In the series, we go through the different kinds of leather and the different ways it is tanned and finished, then talk about how leather as a raw material is turned into products, how to tell good leather products in the store, how those products should be maintained, and what ethical leather choices are.
Subscribe to our email list to get notified of more posts like these: