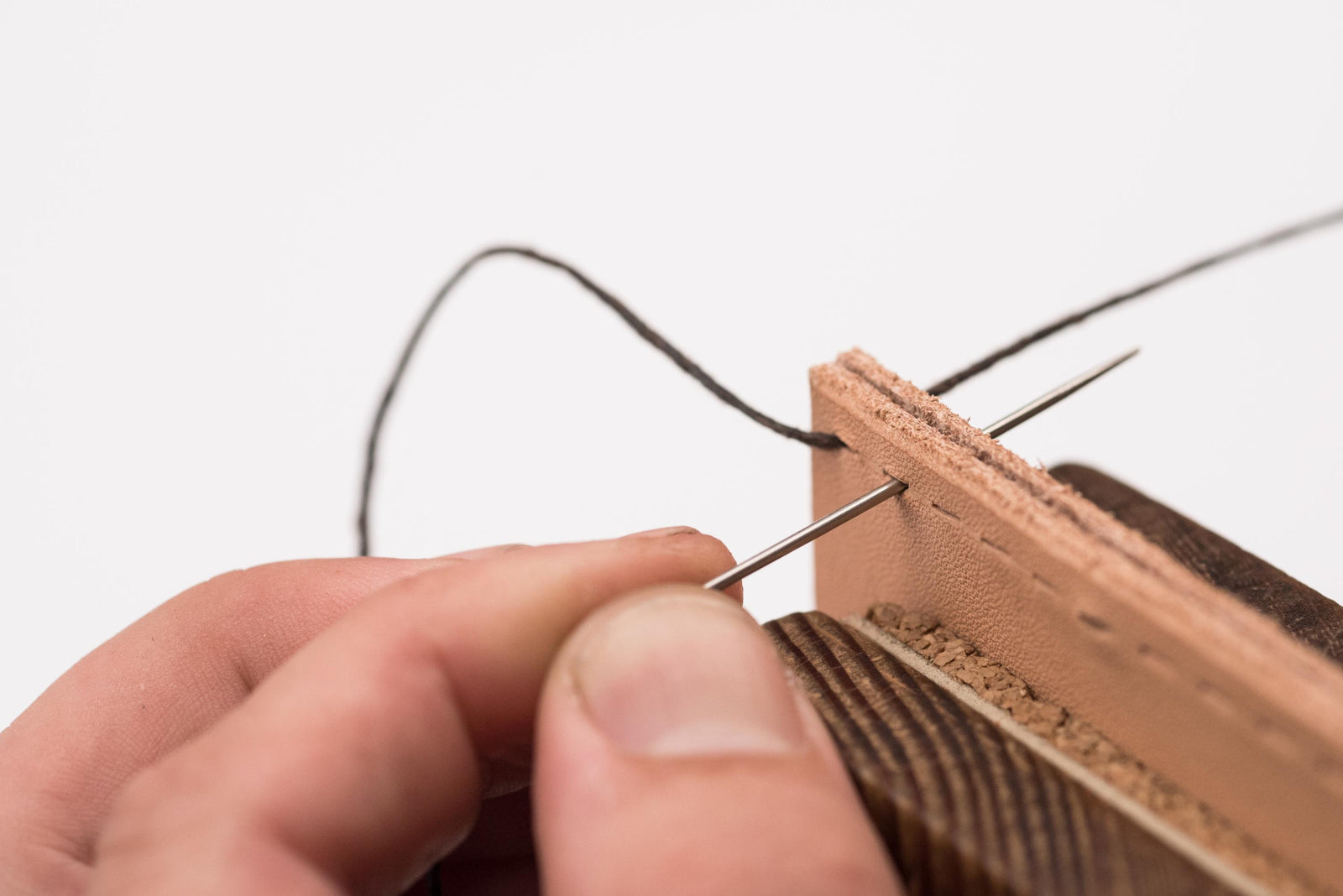 We're not sustainability experts, but we do think and care about our environmental footprint and ethics in our business choices. We use exclusively full grain vegetable-tanned cowhide in our business, and we believe this is the most sustainable choice.
In this post we'll discuss why we believe this is a sustainable choice, and explore what other sustainability considerations customers have with leather.
Leather source ethics: animal and alternatives
When choosing the source of leather (animal, vegetable, plastic), there are several ethical considerations.
Illegal Leather: Endangered Species
As a first, obvious ethical (and legal) choice, any leather from endangered animal species should be avoided at all costs. A list of thousands of animal and plant species are listed by the Washington Convention on the Protection of Animals (CITES - Convention on International Trade in Endangered Species of wild fauna and flora), an international agreement between 164 countries. The aim of the agreement, signed by eighty governments in Washington in 1973, is the protection of endangered species from extinction. This should be relatively easy to do since it is illegal!
Exotic Leather
Secondly, we choose not to use leather from animals that were raised just for that leather. This includes some "exotic leathers" such as snake or alligator: anytime the hide is more valuable than the meat (see Lesson #2).
Byproduct Leather
So at Walnut we use animal hides that are a byproduct of the meat industry. "Byproduct" means that even a high quality hide represents 5% or less of the value of the animal. We consider it a measure of respect to use the whole animal, including the hide, rather than landfilling certain parts.
Some argue that leather sales subsidize meat prices, but the facts contradict this idea. According to the tannery we spoke with, in practice the vast consumption of meat far outweighs the demand for leather. As evidence, the tannery pointed to the fact that the price of hides has both doubled and halved over the years, with no change in the number of cattle grown or the supply of hides. The Leather & Hide Council reported that in 2019, demand for US leather dropped so low there was an excess of hides:
"The situation is so dire that some lower quality hides and skins are being composted and destroyed rather than processed into leather €" a trend that will continue in 2020."

Leather & Hide Council Market Report, March 2020
In other words, if the hides are not used for leather, they are landfilled.
Alternative Leathers
For those that do not agree with the choice of real leather, the other options for a leather alternative include petrochemical-based and vegetable fiber leathers, which are discussed further in our post about kinds of leathers (Lesson #2).
Ethics: Animal Rights vs The Environment vs Cost
Plastic leathers ("faux leather") are inexpensive and the alternative of choice for animal rights organizations. However ethical it may be for animal welfare, many have argued that they are one of the least environmentally sustainable choices for leather. This is a personal, moral choice for each individual, but at Walnut we don't use plastic faux leathers for three reasons:
Plastic leathers don't have the same "stand-up" rigid structure as the full grain vegetable-tanned leather we use. Faux leathers (and mineral-tanned leathers) are more like fabrics that drape, whereas our products need a leather with a unique combination of structural rigidity and flexibility, halfway between wood and fabric.
Plastic leathers are a product made from petroleum, a non-renewable resource, that does not biodegrade and has its own ethical considerations for the environment, including microplastic pollution, issues we care deeply about.
In use, plastic leathers are generally less durable, and unlike real leather will not last a lifetime, creating non-biodegradable landfill or ocean waste.
Vegetable leathers, on the other hand, like mushroom leather or pineapple fiber leather, show real promise for both animal rights, environmental, and even structural concerns. The environmental credentials of each need to be carefully reviewed because there are reports some plant-based faux leathers are reportedly using petroleum-based glues and adhesives. But all vegetable-based leathers are still in the development stage, not yet being made in large commercial quantities and prohibitively expensive.
Environmental footprint of tanning
We care about our environmental footprint for the sake of all animals (including humans), and this is one major reason why we choose to work with vegetable-tanned leather.
Natural, old-fashioned vegetable-tanned leather has a low environmental footprint: it uses natural, biodegradable and ancient substances in the tanning process, and as a result the leather itself is also the most biodegradable among leathers when finished.
The vast majority of the world's leather is currently mineral-tanned. Mineral-tanned leathers use salts and metals in tanning, which can create wastewater pollution, dirty dirt, worker health impacts, and more. Some of those chemicals stay with the leather and can cause skin irritations and reactions on end users.
"In a nutshell, "sustainable" doesn't mean "better," it means "less worse:" new things made from stuff that is less environmentally damaging than other stuff might have been.

Vogue Magazine, "Luxury Is That Which You Can Repair"
Not all tanneries are the same, and there has been at least one organization formed to certify the 'better' tanneries (more on that below), which is mostly focused on mineral-tanned leathers. Vegetable-tanned leather is a minority of the leather being produced and is generally assumed to be sustainable and therefore not much has been subject to a certification process.
One quick-n-dirty way to judge whether a leather is likely to have lower environmental footprint is to look where it was tanned. Not only does leather tanned outside the country require more oil and gas for shipping back and forth (in many cases, the hides are sent from the US to developing countries for tanning, and then sent back to the US as tanned hides) - but in those developing countries, one of the reasons the tanning is cheaper is because they have less stringent environmental laws, allowing them to pollute more at lower cost. They also have lower labor costs, which can be troubling for social justice as well.
Some have argued that bonded leather is "good" for the environment because it makes use of all of the leather, even its production waste product, leather dust. But turning leather dust into fabric requires adding a bunch of toxic glues and polymers, and creates a poor-quality, limited-lifespan product.
Product lifecycle / landfills
One of the easiest environmental choices a customer can make is to choose to buy durable, repairable, long-lasting goods with a long lifecycle.
Vegetable-tanned leather gets more beautiful with use and age and lasts as long as you take care of it, but once you throw it away, it starts to biodegrade. Meanwhile mineral-tanned, garment, bonded, and plastic leathers have a shorter useful life.
No less than Vogue Magazine recently celebrated "repairability" as the "new luxury" in fashion. Which makes sense: repairability would seem to be the antithesis of "fast fashion" planned obsolescence.
Companies that care
There are many other daily, small choices that people at companies have to make, whether it's noticed or not. It's important to choose to buy products from companies and brands that you trust to share your sustainability and ethical values.
Consumer choice can have unimaginable ripple effects - just look at all the good a company like Patagonia can do with a strong and dedicated customer base, from national park advocacy to sustainable food marketing.
Leather certification programs
There is no such thing as "organic leather." There is no tracking program for organically-raised beef hides, nor separation of organic and non-organic hides in the tanneries. The only way to support organically-raised agriculture is to buy organic food.
When considering exotic leathers, avoid endangered species - only purchase if it has a CITES certificate (Convention on International Trade in Endangered Species of wild fauna and flora).
The Leather Working Group is a stakeholder group of brands, manufacturers, suppliers, NGOs and end users working together to improve the environmental impacts of leather - in practice, they are focused on mineral- or chrome-tanned leathers, like garment leather, because vegetable-tanned leathers don't present a significant problem and aren't used that much in the big textile industry (90% of leather tanned worldwide is mineral-tanned). The group is led by fashion and footwear brands, like Nike. The Leather Working Group sets minimum standards for members, so as a consumer you can check to see if a particular brand you want to buy is a member, such as Nike, Ikea, or Timberland. As a supplier, in theory one could search to see if a particular tannery is on this list...
But whether it's a brand or a tannery, just because they're not on the list doesn't mean they're not sustainable -- it could mean that they're not big enough to afford membership (like us) or that it's not in the tannery's interest to do so (like our supplier): like organic or LEED certification, the process is onerous and expensive and it may not make business sense.
Lesson #8 at the Walnut Workshop
We practice our Sustainability Policy in all aspects of our operations, but we're particularly proud of our Upcycled Collection, with products like the Earbud Organizer. These products make use of leather upcycled from our other products. Nothing is wasted: we donate the leather we can't use to Help Heal Vets, an organization that makes leather craft kits for veterans. 
---
Bonus Material
EcoCult Magazine,

Is Leather Truly a Byproduct of the Meat Industry?


"...much of the debate around the sustainability of leather centers on whether leather is a byproduct of the meat industry. If it's a byproduct, that means animals are raised for meat and the leather is extra. ... If they can't sell it, however, they will throw it away, or burn it. Obviously, that would be very wasteful and very polluting. So which is it? Is it a profitable and important income source for cattle ranchers? Or is leather a side gig?
---
Next Lesson
We take our commitment to sustainability seriously and lay it out transparently in our Sustainability Declaration.
But what happens when you're out in the wild, in a store or shopping online? How can you tell what kind of leather a product is made of, or if it's any good?
In the next post, we'll share tips and tricks for spotting craftsmanship details and leather quality out in the wild.
---
We're writing a leather learning series, and this is the eighth of eleven posts. In the series, we go through the different kinds of leather and the different ways it is tanned and finished, then talk about how leather as a raw material is turned into products, how to tell good leather products in the store, how those products should be maintained, and what ethical leather choices are.
Subscribe to our email list to get notified of more posts like these: