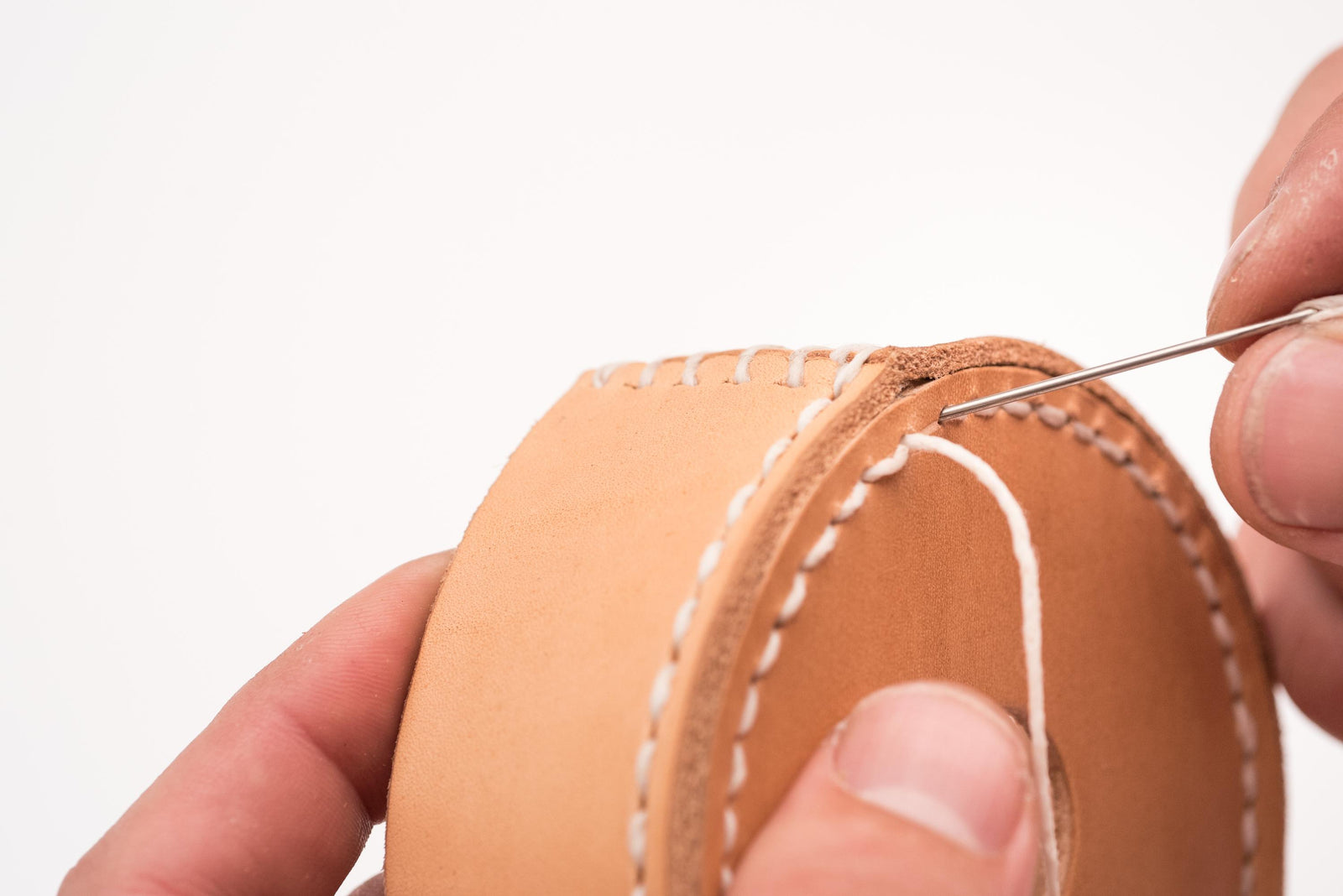 You may appreciate our leathercrafting approach here at Walnut Studiolo, but how can you tell if leather is good quality when you're looking at it in a store or from a photograph online?
Can you tell what kind of leather it is, or if it's recoverable when you've found a hidden gem at a thrift store?
In this post, we'll discuss observable design details so you can make informed decisions about leather goods.
What to look for: leather quality
You want to make sure the object contains the right leather for the right job of the various kinds of leather out there.
Here's a short run-down checklist of design details that will help you quickly determine if a piece is using the right quality leather -- or not.
Is it a natural color - shades of brown and black - or a bright color / white? If it's a bright color, it was most likely mineral-tanned. If it's white, it definitely was.
Does the color look like a stain over a natural surface texture, or is it uniform like a paint? Hand-dyed vegetable-tanned leather has a natural luster. If it has a matte, paint-like finish, it was pigmented or dyed at the tannery. It could be vegetable-tanned bridle leather or it could be mineral-tanned leather.
Is the surface smooth to the touch or pebbly like the photo below? If it's smooth, it should not be sticky and plasticky like pleather. If it's pebbly, it is most likely top grain leather.
Can you see the back side? Is it the exact same color or surface as the front? If so, it may be bridle leather. Hand-dyed leather is easily identified by having natural, undyed leather on the backside or underside - although sometimes the back is dyed too.
🚩 Red flags. Walk away from any of these:
Flaking or cracked leather veneer - this kind of bonded leather has a short life span and is unrecoverable.
Look at the back side: is there fabric backing (a cross-hatched fabric pattern)? If so, this is low quality bonded leather.
Is it labeled "genuine leather" or "bonded leather"? Well, now you know what that means!
Are the edges visible? If so, can you see that the leather inside is blue? If so, this is mineral-tanned leather that cut a ton of corners to be cheap and it will deteriorate quickly.
What to look for: craftsmanship details
Edges

We think of the edges of leather like trimwork in a house, except that the leather edges are meant to be regularly handled and touched. They should be beautiful, tactile, and durable. Here's what to look for:
Edge Cut. Were the edges cut straight? That is, were they cut at a straight 90-angle? This is the first sign of skipped steps. Quality leatherworkers round the edges with a beveler. Just like a kitchen countertop, the edges get beveled at 45 degree angles on both sides so the edge is "bullnosed." This rounded edge is much more tactile and visually appealing, just like rounded crown molding is more visually appealing in a room.
Edge Color. Are the edges a homogenous color, or perhaps a darker color than the surface of the piece? This is a sign that the leathercrafter took time to make the edges look finished by edge dyeing. If you can see the natural leather color sandwiched between the dyed surfaces, then walk away. This is a clear sign of a lack of attention to detail. This of course only applies to the outer edges of a piece. It may be impractical to dye the cut surfaces inside hardware holes, for example, but we'll talk about those more in a minute.
Edge Sheen. Are the edged burnished? This is a step that most manufacturers skip, and a tradition that we are proud to keep alive. Burnishing melts waxes into the edges for durability and a long life by sealing the edges and smoothing the rough nap. Burnished edges have a waxy, glossy sheen.

Stitching
Leather stitching carries extra importance in the durability of the product. In crafting leather goods, the placement of stitch holes is un-doable. When stitching fabric with a machine, the needle can pierce through the weave without leaving an indelible mark, but in leather once the hole is punched you can't un-punch it. Stitching can also be the weakest spot of a leather product, so it's important that it's done right, and with good quality thread.
Stitch Grooves.Quality leathercrafters - and especially those that are hand-stitching - will make a channel for the stitching to lie in called a stitch groove. This shallow trench not only makes the stitching path clear for the hand-stitcher to follow, but more importantly allows the thread to lay flat with the surrounding leather surface, protecting it from snags and excess wear.

Thread Thickness.How thick is the thread? Machine stitching is almost always done with the same threads used to stitch fabric, while hand-stitchers use extra thick, strong thread, usually 0.5 - 1 mm thick. 
Thread Waxiness. Hand-stitchers usually use a thread called sailmaker's thread, which is waxed with beeswax or paraffin. This coating of wax makes the thread more durable, protecting it from moisture (just like sailboat sails!). This is usually waxed polycord but some pieces use waxed linen or cotton, or even sinew or leather lace.
Stitch Pattern. Saddle stitch is the signature stitch of hand-stitching and quality leathercrafters. Saddle stitch is stronger than any machine stitch because if a part of the thread were to get cut or snagged, the rest of the thread will stay intact.  Look at where each stitch line ends: was it back-stitched by a machine or knotted off by hand?
Baseball stitch is another popular hand-stitch and is unbeatably iconic.
Thrift shopping
If you're in a thrift store and looking for a hidden gem to recover or refurbish, we can only recommend shopping for full grain vegetable-tanned leather, which is the only kind that ages well. That doesn't mean that they can't be found in an old thrift store looking rough, but that a conditioning treatment would bring them back to life, just like sanding and refinishing a wood piece.
In looking for used full grain vegetable-tanned leather, you have to turn a critical eye to the item, just like with old cast iron pans. The leather should have integrity and structure, even if it's been broken in. The surface of the leather should be smooth like well-used cast iron pans. On the back side - if you can see it - it should have a slight fur or nap to it. If there is a wear pattern - an area that is darker where most likely the oils in the hands have been repeatedly glossing the leather, then you've found a good piece, go for it.
Old pleather, Naugahyde, or garment leather is unlikely to be rejuvenated well. Luckily, vegetable-tanned leather was the norm until the 1960s, so there's a good chance if it's older than that.
Lesson #9 at the Walnut Workshop
The Whiskey Case shows off some our finest craftsmanship. The sides of the case meet perfectly together, a detail that can only be done by hand-stitching. The large piece of hand-dyed leather shows the natural swirl of full grain. The bottom has a delicately cut contrast line and debossed logo that show the natural veg-tan leather underneath, a detail that can only be done by hand. 
Next Lesson
Armed with this knowledge, you are now prepared to examine your next leather goods critically in the wild - and gain an insight to the production methods and care used in creating them. that our full grain vegetable-tanned cowhide is in the workshop and finished, it's ready to be turned into products.
In the next post we'll tell you how to rescue moldy or mildewy veg-tan leather and rejuvenate neglected leather.
---
We're writing a leather learning series, and this is the ninth of eleven posts. In the series, we go through the different kinds of leather and the different ways it is tanned and finished, then talk about how leather as a raw material is turned into products, how to tell good leather products in the store, how those products should be maintained, and what ethical leather choices are.
Subscribe to our email list to get notified of more posts like these:
Bonus Video