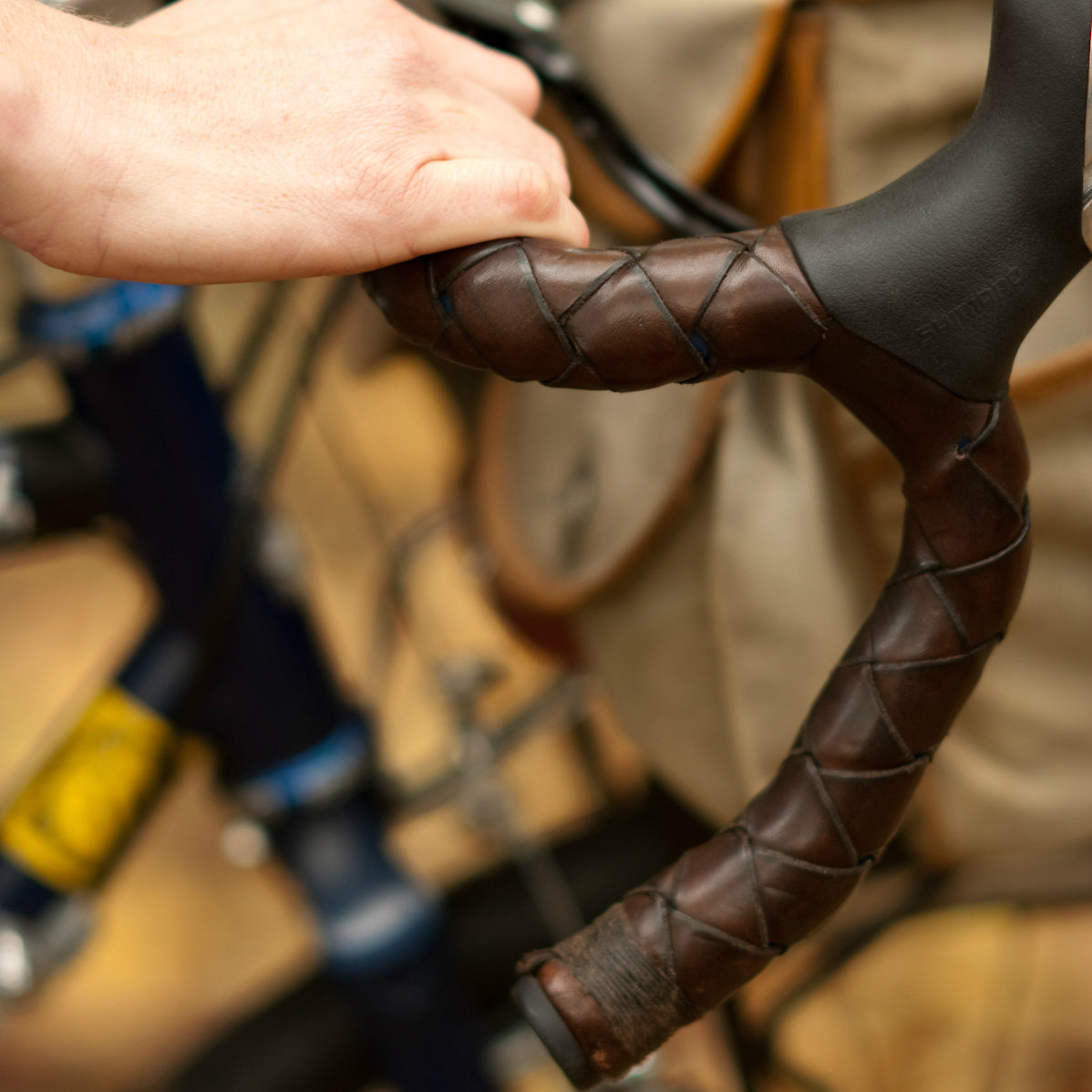 We're frequently asked about padding and cushioning options for our leather bicycle bar wraps and grips. Here, we answer your questions and discuss each of our leather bar wraps, what kind of cushion they provide, and what kind of cushioning could be added. Updated 2019. 
I'm looking at your sew-on bar wraps. The question is, can I put a cork wrap on first? If not can I use something else, what do you recommend? Thank you for your time.
-Steve
I prefer very thin grips while my fiance prefers a thicker and more padded style.  Which of your wraps is the thinnest and which would be the thickest? Thanks!
-Joe
Padding Options and Thicknesses with Leather Bar Wraps
To pad or cushion wrists and hands on leather bicycle handlebars, there are three basic options:
the cushioning provided by the wrap itself, along with the shape of the handlebar, such as ovalized/ergo/flattened handlebars
layering squishy gel pads or sections of cork or foam tape directly to the bars underneath bar wraps
padded cycling gloves 
Walnut Studiolo carries four different styles of leather bar wraps and leather grips for bicycle handlebars. We'll discuss the thickness and padding options under each one below.
---
For the most padding options with our leather handlebar wraps, we recommend our Coil Leather Bar Wraps, which have a simple, flexible installation that will easily accommodate any shape of bar, whether it's ovalized/flattened bars, or thick layers of padding applied underneath the leather. Because the leather simply coils around the bar and comes in an ample length, it can accommodate most any kind of bar or wrapping you wish to put underneath it. 
For the most inherent leather padding with the thickest wrap, we recommend our Bullwhip Bar Wraps. The braids are inherently more padded by overlapping layers of approximately 1.5mm thick leather.The braiding of the Bullwhip Bar Wraps offers the most leather padding because leather is braided onto itself, a double thickness. You can also pad the Bullwhip Bar Wraps even more by wrapping them around a layer of foam or cork tape or other commercially-available gel padding for most of the bar. 
The Sew-on Bar Wrap leather is approximately 1mm thick, our thinnest leather. The Sew-on Bar Wraps are challenging for those who would prefer to have more padding. They use our thinnest leather so they can stretch around curvy bars without wrinkling or creasing, and thus have the least inherent cushion. Because they're thin, padding underneath the wraps won't give the clean look that many prefer in the Sew-on Bar Wraps: the lines of the padding underneath will most likely be discernible through the leather.  
They are also not wide enough to accommodate significant padding: they are designed for a 1" diameter bar with just enough stretch to fit one cable underneath (such as a brake or shifter cable), which leaves only a little space to stretch the wraps around anything bulky and still have the edges meet. If you don't need to tuck a cable under the grips, you could get away with light padding by putting a straight line of cork or foam tape underneath (not a multi-thickness coiled wrap).  
If you really want bulky padding underneath, you still can. But you will have to cover the gap between the leather edges with extra thread in your stitches (some might consider this unsightly too, but it could be somewhat hidden on the underside of the bar).
The City Grips and the Bare Knuckle Grips are the same as the Sew-on Bar Wraps except these grips use the thickest leather in the collection. They are designed for short handlebars (city grips, mountain bike grips) with no curves. The leather is approximately 2.5mm thick, and they are designed to fit a 7/8" bar perfectly with nothing underneath, so they do not readily accommodate additional padding, without stretching the leather edges so that they won't touch (see Sew-on Bar Wraps above). 
More Resources
Do you need padding and cushioning on your handlebars? For more discussion on the topic, read our other post, A word about padding or cushioning handlebar wraps for wrist and finger pain. 
Infographic: which bar wraps work for your handlebar style?
For more answers to Frequently Asked Questions about our Leather Bar Wraps, check out our handlebar wraps FAQ page.