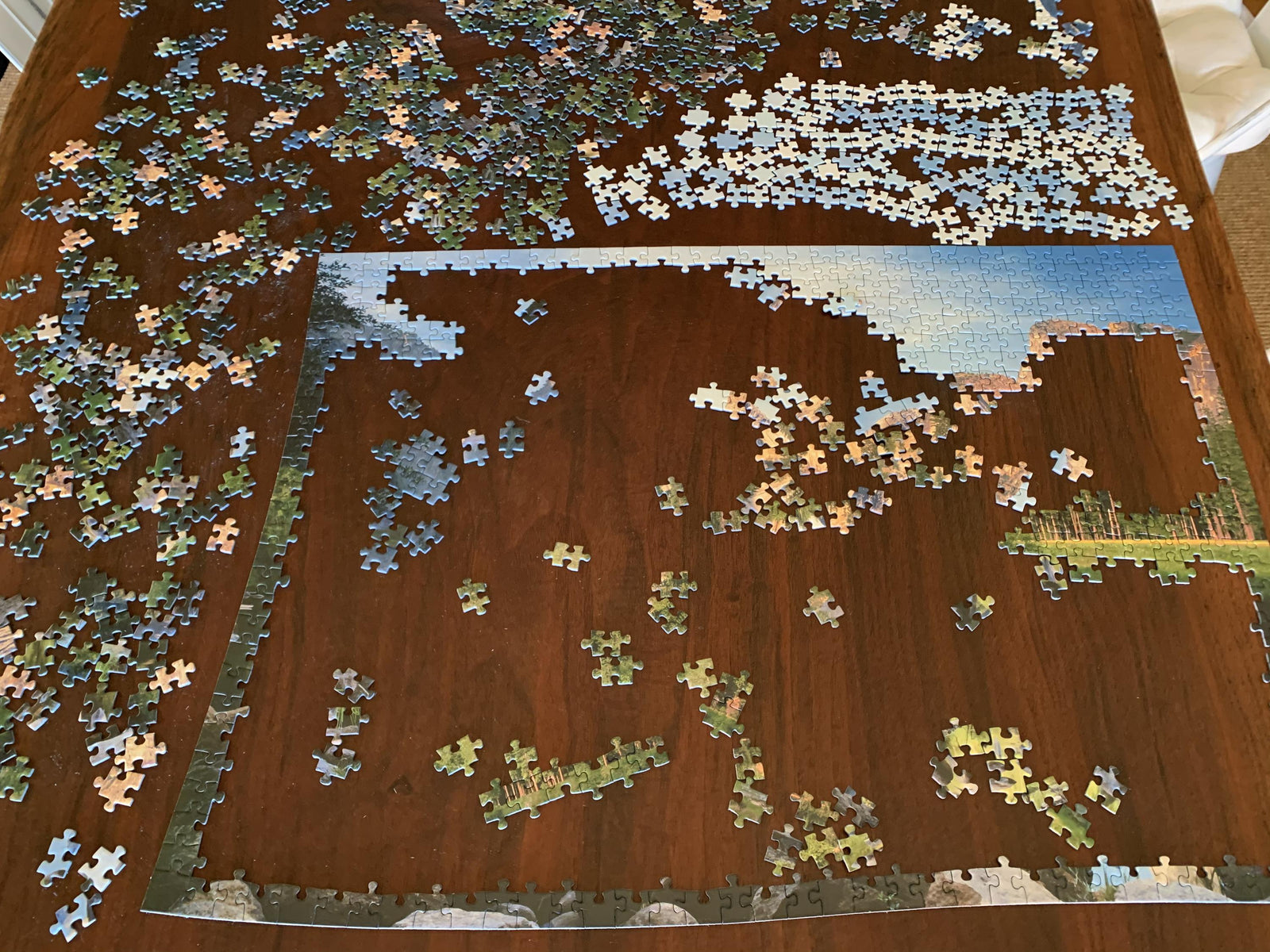 UPDATED 5/4/2021. The COVID-19 pandemic has created big changes everywhere we look. Shipping is taking longer than usual. Supplies are more unpredictable. We feel very lucky to be working from home and shipping normally. Our day-to-day routine is actually little changed and yet€¦ everything else is different.
In early 2021, more than a year into this crisis, we began to wonder when and how we could ever call ourselves past this crisis. Vaccinations were approved and began distribution, and in April 2021, Geoff and Valerie began their course of vaccination. After more than a year, we have decided to end our COVID site-wide sale, a type of sale that we've never held before. This is not a return to normal yet, just a return to regular pricing.
Over the span of this crisis, one of the most encouraging changes we've witnessed, is the coming together we've all experienced. Everyone is a little more patient and understanding. We are so very grateful to everyone working on the front lines, including the #BLM protestors, grocery store clerks and postal carriers. This has been a remarkable time for connecting with the community.
In America, it feels like a national emergency on more than one front. It's more than just the pandemic that's changing our business practices. In addition to the ever-present drumbeat of climate change, which reared its ugly head in the form of major wildfires in our area, we have been occupied with the cause for racial equality and social justice, and many more social issues, plus a national election of major importance.
We want to be helpful. In this post we updated how we're doing our part, plus some hopeful thoughts for the future.
---
The study of disasters makes it clear that €¦ in the wake of a [disaster], most people are altruistic, urgently engaged in caring for themselves and those around them, strangers and neighbors as well as friends and loved ones.

Rebecca Solnit, A Paradise Built in Hell
Doing our part: a recap of 2020
We may be a small mom-and-pop company, but in 2020 we did our part:
One of the unexpected advantages of already working from home, and having no employees, was that business could operate as usual while also being under a highly conservative lockdown. We sheltered in place starting in early March 2020 and did our part to prevent transmission in our community. That meant no guided tours of our workshop. We only left the house for necessary errands like grocery shopping, and did so with a strict masks / gloves / handwashing regimen. (Work actually kept us feeling occupied and useful, and we were grateful for every single sale.) We put up signage on our workshop communicating our policies.
In September 2020, we dealt with intermittent blackouts, hazardous air quality, and evacuation-readiness as our entire seaboard was consumed by wildfires. It's a good time to support our wildland firefighters, many of which receive little more than minimum wage and no health insurance. Support wildland firefighters.
In August 2020, we spent our energy advocating for the USPS, which is under political attack - and frustratingly, those attacks are slowing down your packages! Some ways you can support the USPS: write your representatives, buy stamps, and be kind to your mail carriers - they are working really hard under difficult circumstances.
We also volunteered our time to our local North Oregon Coast community, providing technical and web support to two worthy organizations: The North County Food Bank's mission is to help families in need of food and clothing assistance, while the black-led Oregon Coast Love Coalition is a nonprofit organization focused on justice and equality on the North Oregon Coast.
In July 2020, we watched with growing anger and fear as our hometown, Portland Oregon, entered the world stage because of the unnecessary and unwanted deployment of unidentified federal agents on our city streets. We heard first-hand from protestors and residents that the show of force from the federal agents was disproportionate. The City itself felt completely normal outside of a four-block area in front of a federal courthouse in the (non-residential) downtown business district. We were relieved to hear our Governor Kate Brown successfully negotiated the federal exit right before August. Protestors who were arrested still need our help: Portland Protest Bail Fund and Legal Aid.
We also demonstrated our commitment to social justice and democracy by joining the #StopHateforProfit campaign. We stopped all Facebook advertising, removed the Facebook pixel from our website, and were able to opt out of Etsy's Facebook advertising campaign called Offsite Ads.
In June, we made a statement of support on the Black Lives Matter protests in our newsletter. We committed to bettering ourselves through self-education -- particularly the works of Ibram X. Kendi and the Justice in June curriculum. We committed to bettering our community, specifically by volunteering our time for local social justice and food justice organizations.
We also committed to bettering our website: we have been conscientious about showing diversity and including people of color as models for our products since we featured Nico carrying our Bicycle Frame Handle in 2012, and were thrilled when local cycling superstar Nissy Cobb modeled our Coil Bar Wraps in 2019. But we think we can do more, and we vow to continue and expand this effort.
In April/May, we held a fundraiser for child hunger, which was particularly important during the new quarantine period with the loss of school lunches. We created a limited-edition bandana as a fundraiser for the charity, No Kid Hungry, whose mission is to end child hunger. All proceeds after the cost of the bandana, packaging, and shipping, went straight to No Kid Hungry. We raised $722 / 7,220 meals for kids. Learn more about the charity bandana >>>
During March, April, and May, we raided our scrap bin and offered Free Leather Bookmark Kits for a free at-home, family activity during the first major quarantine lock-down. We sent out over 350 bookmarks to 113 households worldwide, and continued the program until we ran out of scrap leather. (The rest of our scrap leather normally gets donated to Help Heal Vets, an organization that turns them into free craft kits for veterans.)
In March, we donated all of our unused N95 masks (used in woodworking as dust/sanding masks) to medical professionals attending patients.
More ways we offered help.
As we watched this unfold, we spent most of our time trying to figure out how to be helpful. Here's what we came up with:
Self-isolation can be rough, and it's important to keep busy. We made a list of 23 activity ideas to get us through quarantine.
It's a good time to send some love, literally. Sending care packages and gifts to family members can help keep us feeling connected during social distancing. If you decide to send a gift with Walnut, we'll make packages for your friends feel extra-special with free gift-wrapping.
One thing that's helped us a lot, is having a new kitten in our home, and looking at pictures of cats and kittens is one way we can relax. If you need more kitten photos in your life, wait until you meet our adorable little kitten Tanuki. We created her own Instagram feed for a regular dose of relaxing kitten photos and videos.
We understand that shopping is likely the last priority on your mind, and that's okay. If you were in the market, we offered a site-wide sale during this strange time. We kept the sale going for over a year. We'd never held a sale like this before, ever, but it just felt like we all need to give each other a little break. It's been hard for us to keep it up. After a year of this sale, after finally beginning the vaccination process, we feel like it's time to call an end to it and get back to regular pricing.
Hopeful thoughts for the future
Hopeful visions of the future lift us up when it feels like we are drowning in the present moment. Here are some hopeful visions of the future to get out of the rut:
Phoenixes.Walnut was born in the Great Recession, so we know first-hand that out of destruction comes rebirth. Disasters can be catalysts for much-needed change. What kind of change do you hope to see? As IMF historian James Boughton said on the subject, "Only in a crisis are governments able to rally people to accept necessary but painful reforms. Every crisis is also an opportunity."
Human nature.We are all - together - rising to the occasion. It may not seem like it sometimes, but as a collective we are each doing our part to lessen the crisis and help others. It's not anecdotal, it's real. As Rebecca Solnit explains in her excellent book, A Paradise Built in Hell, "Disaster movies ... continue to portray ordinary people as hysterical or vicious in the face of calamity. ... [But] the study of disasters makes it clear that the prevalent human nature in disaster is resilient, resourceful, generous, empathic, and brave."
One last thing
We have leather crafting skills and materials, and an abundance of gratitude. How can we use our skills to support you? Is there something we can help you with? Contact us, we'd love to help remotely.
Stay safe, STAY HOME, and be well. We're here for you.