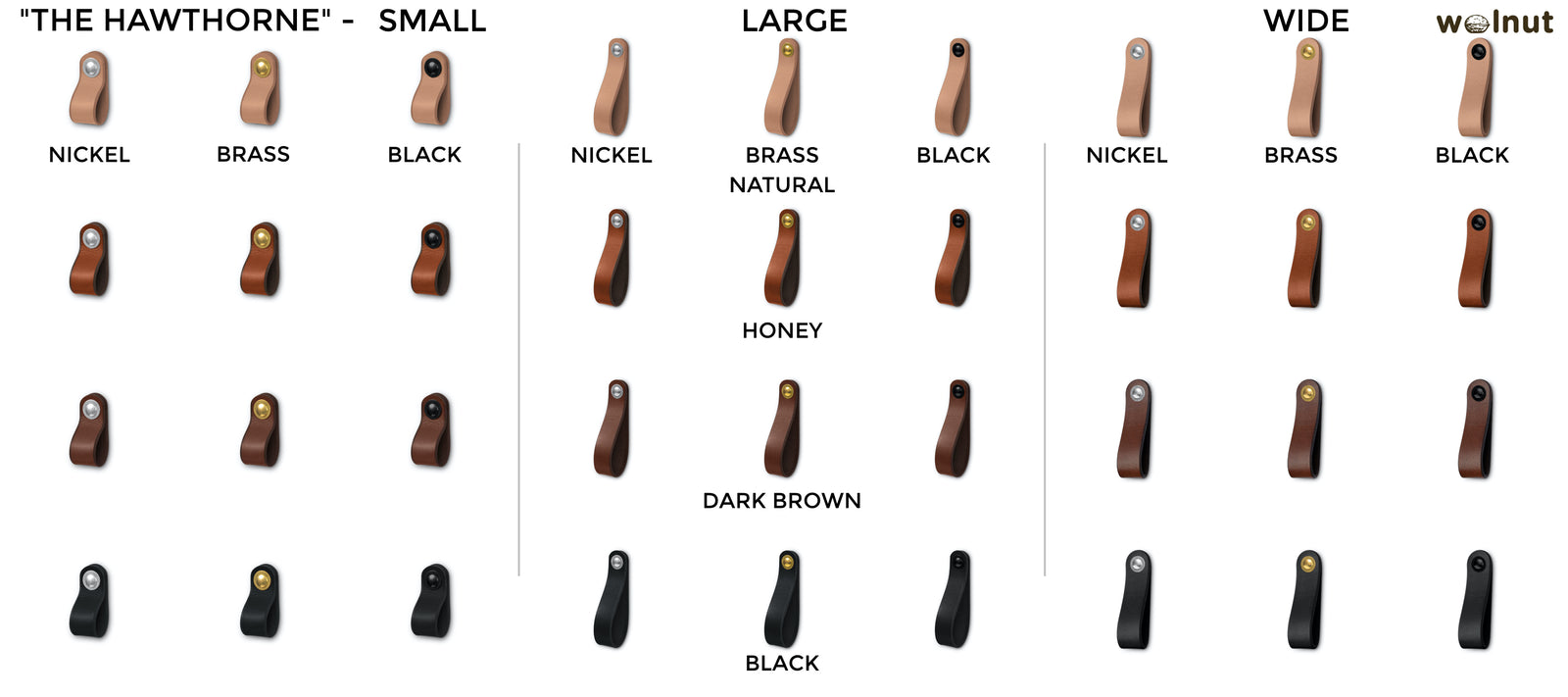 Available in 3 sizes, 4 colors, and 3 finishes
Meet "The Hawthorne": one of our first leather handle designs and our most popular. A hand-dyed, vegetable-tanned leather strap folded into a loop, the Hawthorne is straightforward to install. The Hawthorne is also the most adaptable shape, an origami master, able to loop into a different handle for a twist, or installed flat with 2 points of contact as a handle. "The Hawthorne" leather pull is designed and made in Oregon from American leather.
The Hawthorne (Wide) is our classic pull. It is wider than usual for a strong visual statement and easy grabbing.
The Hawthorne Large is the same length as the Hawthorne Wide, but 1" wide to visually match our other pull designs, including the Tilikum.
The Hawthorne Small is our most popular size, a little more than half the height of the Hawthorne Large and similarly 1" wide for a consistent visual look.
The Hawthorne can also be installed "flat" like a regular handle, lengthwise with two points of contact and two sets of hardware. We sell extra hardware kits separately.
For spacing the Hawthorne lengthwise, we recommend a center-to-center (C2C) spacing approximately 1" less than the length of the handle (strap) for a good feeling grip. So the Hawthorne Large or Wide, would have a C2C of ~9" (22.8cm), and the Hawthorne Small would have a C2C of ~4.5" (11.4cm).
The Hawthorne can be installed with a different twist. Simply by looping it backwards instead of in half, it creates a different look that we called "The Fremont":
All of our pulls come with hardware, including the washer shown in the pictures above. But many people choose not to install the (optional) washer, for a cleaner look:
Our pulls are hand-crafted in our Oregon workshop using natural, nontoxic American vegetable-tanned leather, and dyed by hand for a lustrous finish. The designs in our leather drawer collection are named after places in our hometown, Portland Oregon. The Hawthorne is Portland's workhorse bicycle-friendly commuter bridge.
This leather is sturdy - the same used for horse bridles and reins - and it can handle hard wear and heavy lifts, like this Murphy bed set-up by Wittman+Estes: