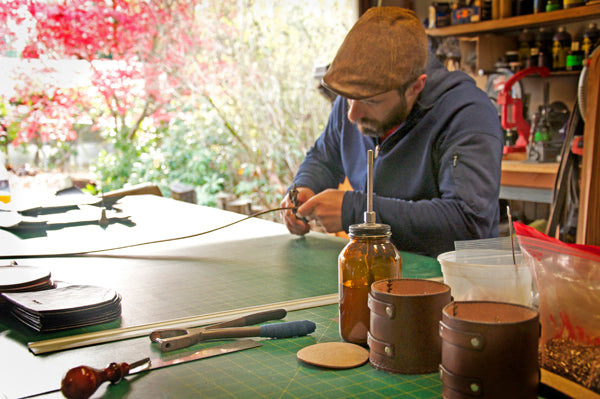 Here at Walnut Studiolo, we are dedicated to lasting quality. We believe in creating our leather goods to be as durable as possible for rugged daily use and reducing landfill material. And most radically, we believe in replacement parts - so that when one little part does wear out, it can be easily replaced instead of tossing away the entire product. This may sound common-sense to you and me, but in the retail world, this is counterintuitive thinking inspired by some of the most progressive brands we know, like Patagonia's commitment to
lifetime repairs
.
In additional to using quality, real leather, we believe in a dedicated handmade process for everything we make.
Below are a few areas of leatherwork where handmade truly makes a difference.
Photo credit: Erin Berzel for DK Publishing
Edge Treatment
Leather edges are meant to be regularly handled and touched. They should be beautiful, tactile and durable. As an old-timer once told us, you can always tell the quality of a leather piece by its edges. We finish all of our edges. That means when you grab onto our
Little Lifter
to hoist up your bike, or open the flap of our
Pocket Pannier
, the edge is smooth, comfortable and pleasing to touch. Treating the edges of leather is an extra step many companies don't take the time to do - which is a shame. It would be like installing a wood countertop without beveling or rounding the corners. Finishing the edges is a way to truly bring out two key characteristics of leather: finesse and suppleness. We also apply treatments to the edges of the leather with edge dye for a finished look on the borders. And depending on the product's weatherproofing needs, we'll also burnish the edges with melted waxes for durability and life-long sealing.
Photo credit: Erin Berzel for DK Publishing
Color Treatment
Leather is colored using any of several different dye methods, and the method of dyeing used speaks volumes about how much hands-on time the maker is spending on a product. (
Side note: we're only talking about full grain vegetable-tanned leather here. For a discussion of the differences between garment leather and vegetable-tanned leather, read Leather colors: garment vs veg-tan leather.)
The cheapest and least effective method of dyeing is painting the surface with an airbrush (something we will never do). Vegetable-tanned bridle leather is dyed and waxed at the tannery by tumbling whole hides in drums filled with dyes and waxes. This extra waxing can be useful for heavy, muddy, outdoor applications like equestrian bridles and bicycle mud flaps, but the colors can be dull and muted. (
Side note
: Some leathercrafters prefer this leather because some of it is dyed all the way through the leather (this is called 
aniline
) - then they don't have to treat the edges because you can't see the natural leather through the cut area.) Finally, you can hand-rub in oil dyes, which is what we do. The difference between airbrushing  and hand-dyeing is like the difference between painting wood or staining it. When you paint wood, you cover up the wood grain underneath. You can't enjoy anything about the beauty of the wood - it could be painted plastic for all you know at a glance. With stained wood, you allow the beauty of the woodgrain to shine through, and you can appreciate every aspect of its natural character. Hand-rubbing in oil dye takes a lot more effort, and a lot more leathercrafting skill and talent, but we believe it is worth every minute for the lustrous, beautiful, character-filled sheen it brings to the leather. And as an old-timer once said to us, there is no higher expression of leather.

Stitching
Leather stitching carries extra importance in the durability of the product. Hand-stitching creates a stronger connection than machine stitching.
It's also risky: in crafting leather goods, the placement of stitch holes is un-doable. When stitching fabric with a machine, the needle can pierce through the weave without leaving an indelible mark, but in leather once the hole is punched it never fades away. Stitching can be the weakest spot of a leather good, so it's important that it's done right - and for Walnut Studiolo, that means stitching it by hand. All of Walnut's stitched leather goods have been done by hand, by one person. (Yes, you read that right - all of our
Barrel Bags
, all of our
Blueprint Tubes
, all of our
Whiskey Cases
, and more, all stitched by one person, on the same couch with the same headlamp and stitching horse.)
Sustainability
Because we're creating our products by hand, we have greater control over every aspect of what we do - from the sourcing of our materials to the tools we use. That means we can more easily stay true to our values and weave important sustainability practices into our work.
Learn More
How to discern between handmade and machine made leather goods
Our Values - a visual declaration
Our Sustainability declaration