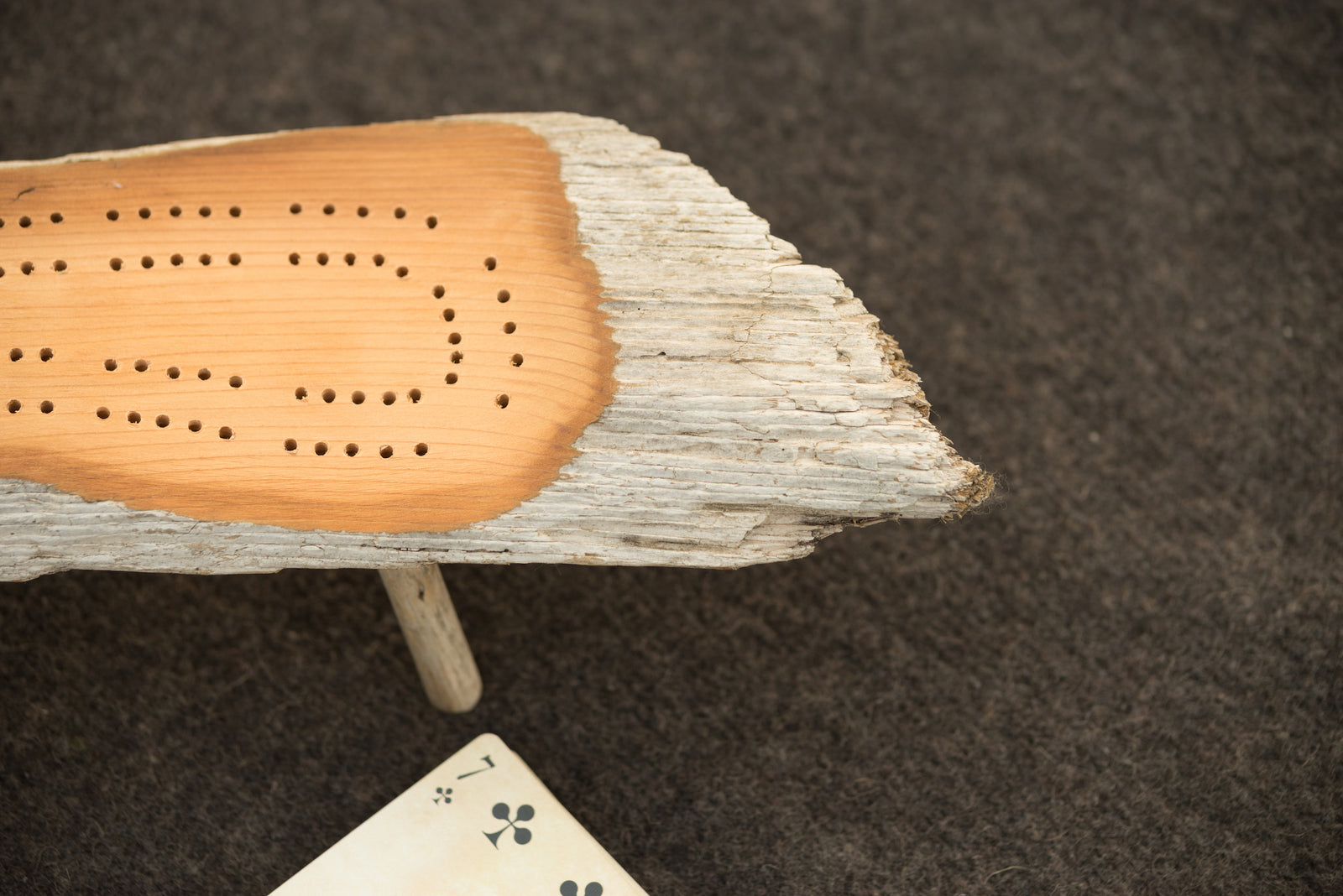 Introducing a new kind of product from designer & maker Geoffrey Franklin at Walnut Studiolo: large, tabletop 
Natural Branch Wood Cribbage Boards
made from foraged tree branches and driftwood.
Inspired by the Forest and the Sea that Surrounds Us:
These one-of-a-kind artistic pieces are as unique and beautiful as the trees they come from and the ocean forces that shape them.
One of the unexpected delights we've found is dealing and playing cards underneath the natural bridge or arch created by each branch. But what we most love about these boards is the winding, curving, natural journey your pegs take, sometimes jumping over obstacles, climbing hills, or following steep descents, just like a walk in the woods.
These boards are sculptural display pieces, meant to be a centerpiece for your coffee table, mantle or dining table and always at the ready.
Every board is totally unique because each branch has a story to tell, but more than that, each branch lent itself to different features: 2- or 3-tracks, nonskid feet, peg storage, woodburnt detail, and more. What every board has in common is that they merely seek to enhance the natural character of each piece of wood: clear gloss on the play surface, and the bark and/or silvery driftwood status of the piece left intact as much as possible. Each board is listed separately and numbered under the current offerings, with corresponding descriptions and photo galleries.
Check out all our current offerings on the Natural Branch Wood Cribbage Boards page. 
Backstory:
As with all of Walnut's products, these boards were inspired by designer & maker Geoffrey Franklin's own vision for a beautiful and personal tabletop board. When he was able to forage some beautiful branches from a neighbor's curly willow tree that fell in a storm, he knew he wanted to make something special out of them. Hearkening back to his roots in the fine arts, he made his first few boards as unique one-of-a-kind works of art. When his friends started asking to buy them, we knew we had created an amazing product. Geoff forages for these pieces in the back woods of our forest, ocean beaches, or on his travels, always keeping an eye open for unique pieces with a cribbage story to tell. He brings them back to the workshop, dries and cures them for months and sometimes years, then sees what it wants to be by carving, cutting, drilling, sanding, finishing, and detailing it, discovering its unique features and coaxing out its hidden talents.
The Cribbage Collection:
With the addition of our Natural Branch Wood Cribbage Boards, Walnut has been fleshing out an entire Cribbage Collection along with our pocket-size Travel Cribbage Boards and versatile on-the-go Cribbage Board Belts.
Check out the entire Cribbage Collection!