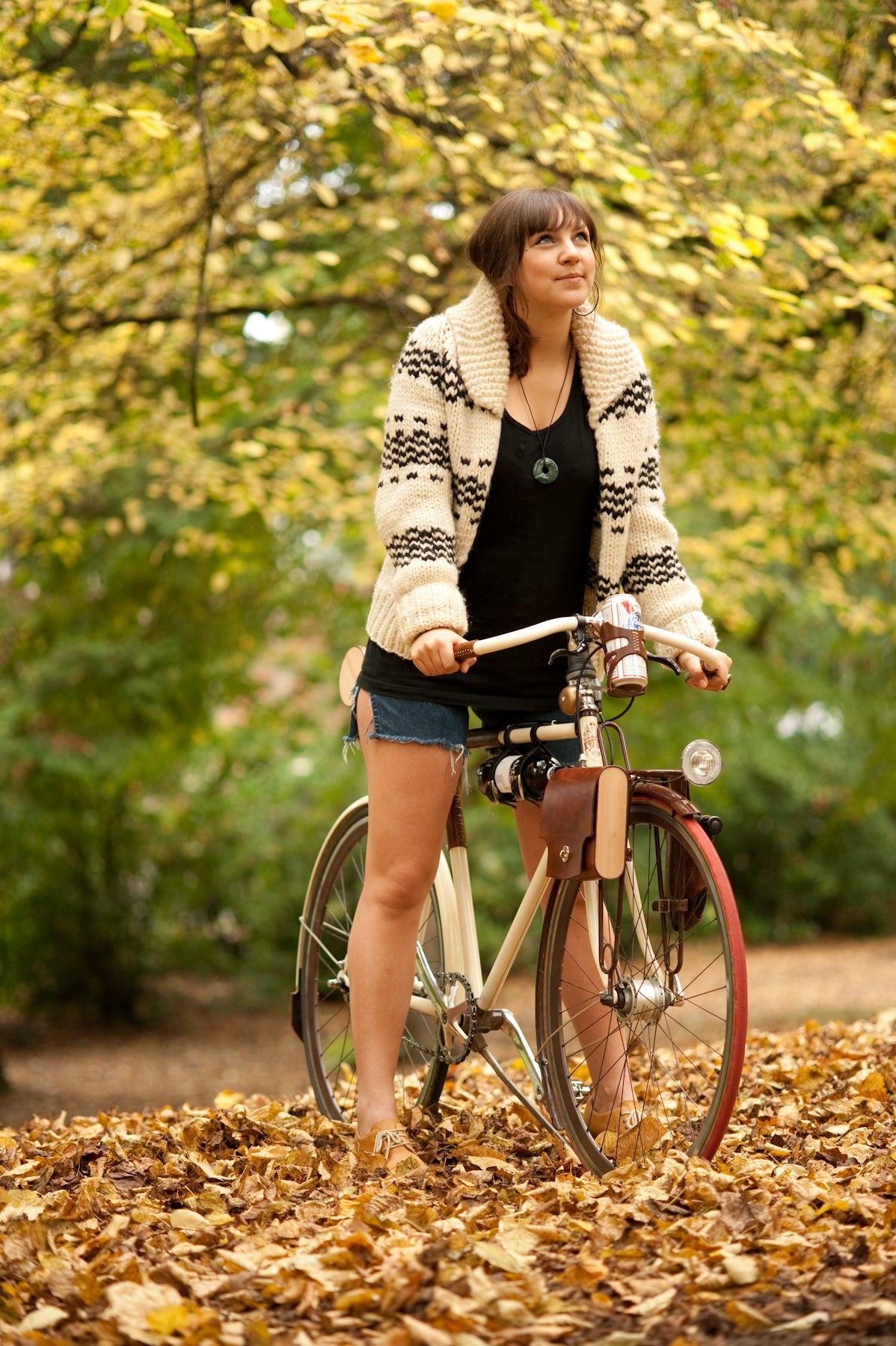 Gifts For Girls
What sort of Christmas gifts do you get for the leather-loving, bicycling, traveling, fun-loving woman in your life? You might start by considering gifts that are hand-made in Oregon, ready for trips to the coast by bike or car, and which will provide endless, individualized fun. Easy, right? Well, it is if you check out what we have cooked up for this holiday season.
Gifts for the Cyclist
Let's start with cycling. Every cyclist struggles with the best way to carry gear aboard their iron horse. So, we have a selection of cinches, six-pack holders, and satchels for the cyclist.
Take your suds out for a tour at the Oregon Coast. For example, she will love the hand-tooled leather work on our
Pocket Pannier
. This handy tote can carry all of her essentials: cellphone, wallet, keys, and more. Cyclists want their pockets free when riding, as the bulk can sometimes be uncomfortable. The Pocket Pannier only adds 11 ounces to her load, and we can monogram it to let her know how special she is to you. In fact, we can monogram this item up to 7 letters, so you may be able to fit her whole name! Monograms make a good theft deterrent. On the interior, it measures 5 1/2" x 7" x 2", so you know there's lots of room.
The no muss, no fuss carry-all for your essentials. Every cyclist needs to carry essentials such as a spare tire tube, a multi-tool, and maybe a cellphone. Our gorgeous 
Handlebar Barrel Bag
comes in beautiful, hand-crafted leather that we can monogram for a special touch that will make her yule all the more special. It is bolstered on the sides with cedarwood so that it maintains shape, making it easy to find those little nuts or screws that cyclists invariably accumulate.
Travel in Style
Does that special woman in you life enjoy getting away from it all to the Oregon Coast or maybe to the Cascades? Whether she's an ocean or mountain woman, she will love taking along an unplugged, analog game from our collection of hand-crafted
Travel Games
. One popular item is our
Travel Cribbage Set
. It's about the same size as a deck of cards, so it fits perfectly in any overnight bag. She can turn off her glowing rectangle and enjoy the company of a friendly companion over a fun game. Our leather-wrapped cribbage sets can be monogrammed to make them the perfect gift. It will become all the more unique over time, as age and handling will add a beautiful patina.
Play cribbage with the sound of Oregon's crashing coastline in the background. One of our newer items is a set of
Travel Dice
. Endless fun can come from a set of six small dice that are contained in a brushed-brass holder that comes on either a keychain or a necklace-length loop. Any number of games can be played with this set, including: Yacht, Farkle, or 10,000 / 5,000, / 1,000. If the rules requires 6 or fewer dice, she's in the game!
Leather and Whiskey: Match Made in Heaven
Sip from your favorite bottle at the Oregon Coast. If she is a wine or whiskey lover, she will love our
Whiskey Case
. This hand-tooled leather gift can be monogrammed for gift-giving. She can carry her favorite tipple with ease when she hikes to the surf-worthy shore of Oswald West along the Oregon Coast, or needs a discreet and classy way to tote her bottle to one of Oregon's many rushing rivers. Our Whiskey Case comes complete with a set of our
No Logo Leather Coasters
. All natural leather coasters bring an extra hint of class and style to a sip of peaty Scotch or the finest, single-barrel bourbons. Include a bottle of wine or whiskey in the case for a complete gift.