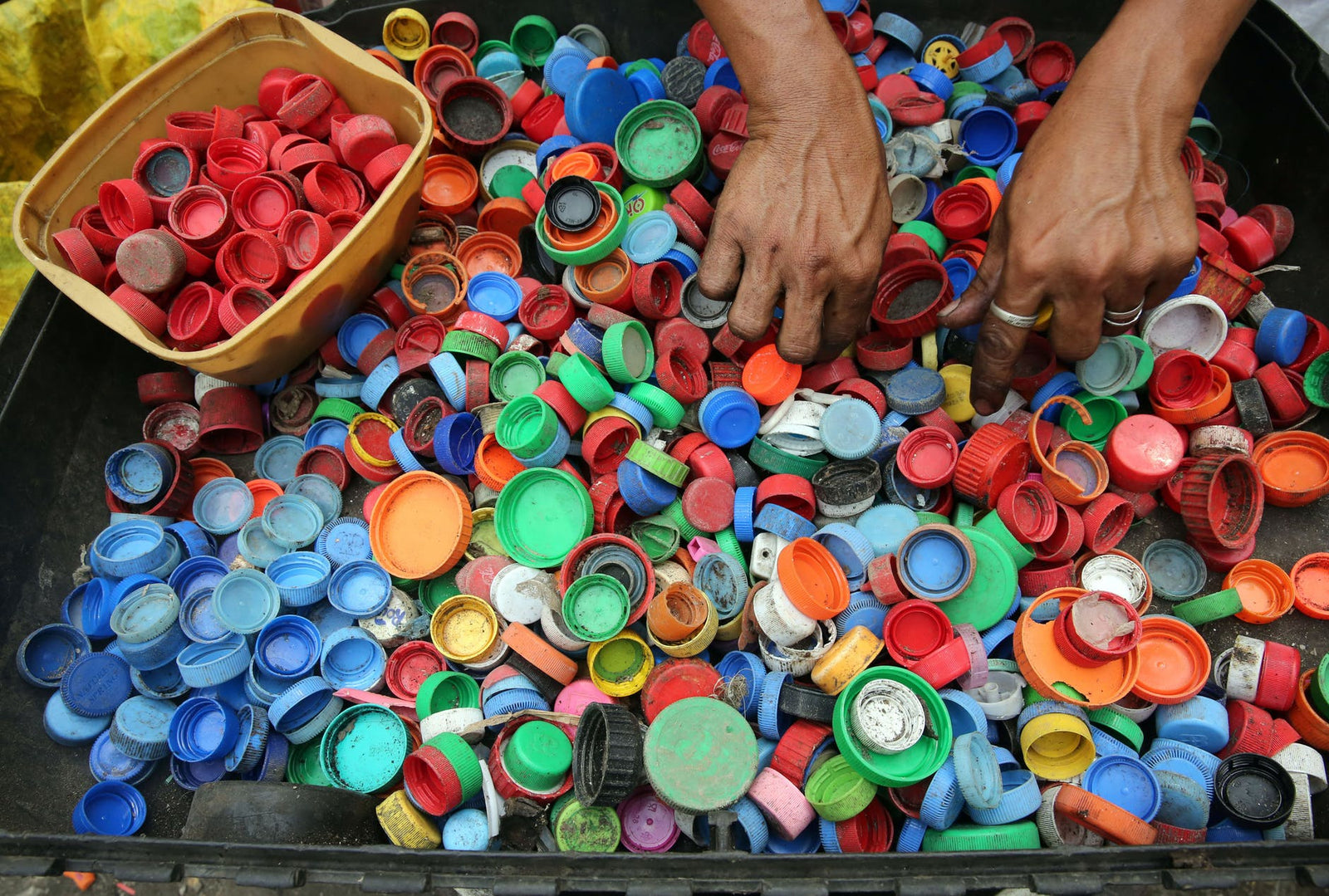 We experience plastic trash on our local beach every week. Now inspired by recent news reports and nature documentaries, we've taken a stand. Walnut committed in 2019 in this blog post to eliminate single-use plastics in our product packaging and made no more new single-use plastic purchases since. But we're going beyond our product packaging and doing our best to reduce single-use plastics everywhere else in our business, too.
Here's how we eliminated single-use plastics at our small business, and how you can, too! 
POST UPDATED MARCH 2021. 
Why we're eliminating single-use plastics
How we're eliminating single-use plastics
How you can reduce single-use plastics
Conclusion
Resources

Wait, but why? 
We live and work near the ocean, and we experience plastic debris on our beaches. We know how big the problem is. We do our part and help at beach clean-up days but the sheer quantity of tiny plastics is overwhelming.  The world is drowning in plastics. Meanwhile, although we already operate by strong sustainability values, we realize there are improvements we can make in the use of plastics.
There are two main plastics problems: 1) not enough durability / reuse / recycling of plastic goods, and 2) the sheer volume of plastics that are designed to be destroyed and disposed after only one use ("single-use plastics"). We don't make plastic goods to eliminate, so the UN has made it easy for us all to focus our efforts for the most good: the UN announced the elimination of single-use plastics as our global top priority - for the oceans, for the food chain, and for our own health.
Plastic packaging accounts for nearly half of all plastic waste globally, and much of it is thrown away within just a few minutes of its first use. Much plastic may be single-use, but that does not mean it is easily disposable. When discarded in landfills or in the environment, plastic can take up to a thousand years to decompose.

...

The most common single-use plastics found in the environment are, in order of magnitude, cigarette butts, plastic drinking bottles, plastic bottle caps, food wrappers, plastic grocery bags, plastic lids, straws and stirrers, other types of plastic bags, and foam take-away containers.

-Single-Use Plastics: A Road Map to Sustainability, UN Environment Program Report, 2018
We used the UN Report's road map to help guide our program to end single-use plastics, focusing on the products we send out first, with an extension goal of reducing what we bring in and use for our operations.
How we eliminated single-use plastics
1. Identify the most problematic single-use plastics in your business
As a small operation focusing on products made from natural materials, this was relatively straightforward: to inventory our plastics, we reviewed our finished goods and raw materials inventory lists and did a walk-through of our operations areas.  Conclusion: Plastics come to us via suppliers as part of our raw materials and operations - such as packages of screws or food supplies in the office - and we purchase and send out plastics out to our customers with our products as packaging and shipping materials.
Clearly the most problematic single-use plastics are the ones we choose to buy and send out to our customers for our products.
Packaging: In 2019, we purchased single-use poly bags for a few of our products -- namely drawer pull hardware kits -- that were secured with a staple. Once opened, they were trash. We also used resealable bags for some of our products, such as the Bicycle Print Bandana, which could theoretically be re-used at least once (but realistically, who does that?). These poly bags were thus the most problematic area of our business and where we could have the greatest impact.
Shipping:We use up-cycled / reused shipping materials first (as much as available), then we rely on newly-purchased shipping materials. Most of the shipping materials we purchased were made of recycled paper such as boxes, but in 2019 we also used bubble mailers (which have a plastic bubble sleeve on the inside of a recycled kraft paper exterior, rendering the paper un-recyclable), recycled plastic poly mailers from EcoEnclose, and plastic bubble wrap. All of the plastic shipping materials can be re-used (we re-use the ones that come to us), and we felt better about creating demand for recycled plastics by choosing recycled poly mailers, but we can have an impact by choosing less plastic material in our shipping.
2. Consider and implement the best actions to tackle the problem.
Walnut committed to eliminating single-use plastic bags in our product packaging in 2019 and carried that through to today -

no more new single-use plastic purchases

. We identified recycled kraft coin envelopes and wax paper sleeves as biodegradable alternatives. These paper alternatives cost slightly more but the additional cost is insignificant to our material costs and did not change product prices.
Walnut also eliminated re-sealable plastic bags in our product packaging in 2019. We identified recycled kraft merchandise bags and wax paper sleeves as biodegradable alternatives. In some cases these paper alternatives are actually less expensive than plastics, and in other cases, the additional cost was insignificant to product pricing.
Walnut reduced plastic packaging in our shipping materials in 2019, and we continue to find more ways to reduce it today. In 2019, we stopped purchasing plastic bubble mailers in favor of padded kraft mailers filled with recycled wood cellulose. Unfortunately, the padded kraft mailers not only cost significantly more but they weighed significantly more than the plastic bubble mailers, which has its own negative impact on our carbon footprint, requiring more fuel during transportation and also costing more to ship. In 2021, we are focusing on finding a better alternative, which may be a combination of recycled kraft paperboard mailers along with kraft "green wrap" and/or recycled newsprint sheets for cushioning. Finding a non-plastic, lightweight, cost-absorbable alternative to the bubble mailer is our continuing quest.
Walnut continues to strive to reduce single-use plastics in our material purchasing and operations choices as much as possible, such as buying materials in bulk and implementing a loose leaf tea bar in our office.
How you can reduce single-use plastics
We are writing this blog post because we want to raise public awareness about single-use plastics. We were inspired to do this after reading the UN report and watching David Attenborough's Blue Planet II and the Story of Plastic while stitching together our leather goods at night. We hope that by adapting the UN's single-use plastics road map to a small business and providing our analysis transparently, we can provide a model for other small businesses to crib.
Here's what you can do to help: 
Check out the Resources section below to learn more
Support businesses who are doing their part to reduce single-use plastics
Share this article with other small businesses
Recycle and reuse your shipping materials:

Cardboard boxes can be recycled
Clean packaging peanuts can be brought to participating UPS stores for re-use
Consider opening your plastic bubble mailers and poly mailers gently and offer them to their local businesses for re-use. Bubble mailers and poly mailers are often thrown away, but if you know a friend with a small business like an Etsy shop, they may be happy to use them as we were. Our local craft re-use center, SCRAP PDX, could hardly keep enough used bubble mailers in stock at one point!
How to open your mailers for re-use:
To open a bubble mailer or poly mailer so that it can be re-used, resist the temptation to rip or tear apart. Take out scissors and either:
a) cut cleanly across the top of the package, or
b) score the tape with the scissors and open at the tape line, or
c) slide the scissors underneath the envelope flap and cut right above the glue line.

The goal is for the next user to simply re-tape it shut in the same place it was first taped or cut.
Conclusion
The planning of this program and this exercise took us about five hours, and was totally worth the thought exercise. By looking at everything we do, it challenged us to make improvements we might not have considered before. It also helped us really hone in on the most problematic plastics in our business and identify our highest priorities, so that finding implementable solutions was relatively easy because the list was short. How do you eat an elephant? One bite at a time. We were surprised and pleased to find out we could eliminate the worst plastics in our business for either insignificant cost increases or actual cost savings. Most of these changes we can implement immediately and with surprisingly little effort.
More Resources