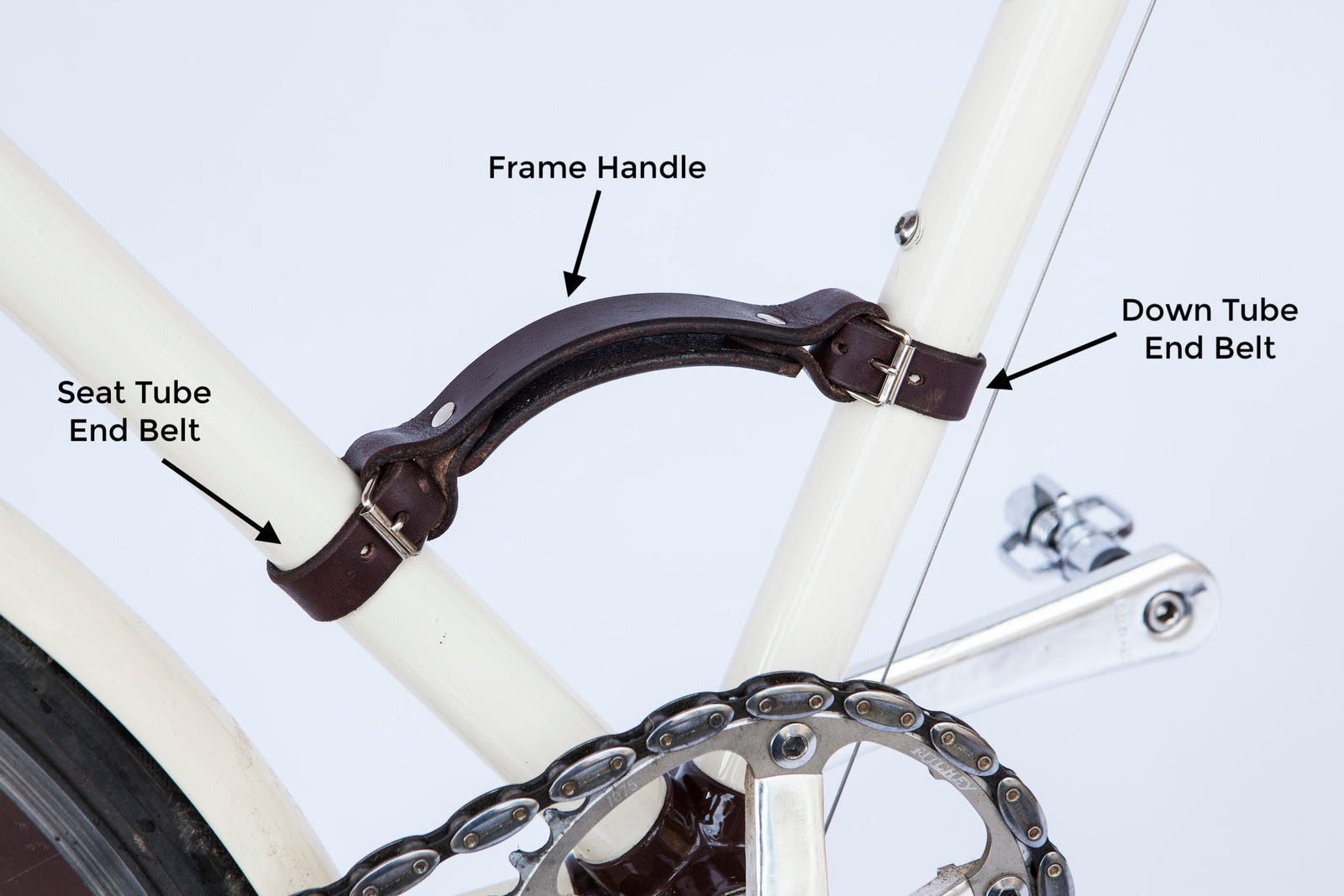 Bikes come in all shapes and sizes, now more than ever. It's impossible to design a universal bike product that fits every bicycle perfectly. But through years of design modifications, we have designed the Bicycle Frame Handle to fit the widest range of bicycle geometries with two sizes. So, which size do you choose for your bike?
We launched the Bicycle Frame Handle as a Kickstarter project in 2012, and through that design process, we were able to get feedback from hundreds of people on hundreds of different bicycles, which led us to the design we have today. In 2014, the Museum of Modern Art in NYC selected our design as of one of the 24 "Best of Kickstarter" projects and was featured in the MoMA Design Store. 
Based on our Kickstarter backer feedback, we created two different sizes of end belts, which are sized differently by down tube circumference.
Size Is Based on Tube Circumference
The bicycle "triangle" is composed of 3 main tubes: the top tube, the seat tube, and the down tube. The Bicycle Frame handle usually* installs on the seat tube and the down tube. (*Check out our blog post for creative ways customers have used the Bicycle Frame Handle on their unique frame geometry, including mixte/step-through/women's frames, folding bicycles like Brompton, cargo bikes...)
Classic road bikes usually had the same diameter tubes for all three tubes, but starting with mountain bikes, down tubes have started to vary quite widely. Seat tubes are usually the same standard size because saddle seat posts are relatively standardized.
Regular vs Large End Belts
The difference between the two sizes of Bicycle Frame Handle is the "end belts". The main handle is the same for both sizes. End belts can be simply removed and exchanged, so the same Bicycle Frame Handle can be switched between Regular and Large bikes by using different end belts (we can also sell just the end belt separately upon request).
The "Regular" size Frame Handle will fit most bikes and comes with two regular end belts. It fits tube circumferences approximately 3.15" - 5.75". 
The "Large" size comes with one regular belt to fit the standard seat tube, and one large belt to fit a larger down tube, usually mountain bikes and e-bikes. The large belt fits tube circumferences approximately 3.75" - 8.25".
Which Size Fits My Bike?
Measure it! There are two ways: quick n' dirty, and if that doesn't provide a clear answer, then measure with a ruler. Here's how:
Quick n' Dirty
It's not perfect, because everybody's hand size is different, but for a basic "quick and dirty" measurement, try wrapping your thumb and forefinger around the bicycle tube. Do they overlap? If so, a "Regular" is probably fine.
If your thumb and finger don't reach at all, then it's a probably a "Large."
If it's somewhere in-between -- or if you have very large or small hands -- and you're not sure, measure it to check your circumference.
How to Measure Your Bicycle Tube Circumference
The easiest way to measure your tube diameter is to take a scrap piece of paper, and wrap it around the tube until it overlaps. Make a mark where the paper overlaps. Then spread it out on a table and measure the marks against a ruler.
Remember, we recommend the Regular for down tube circumferences approximately 3.15" - 5.75" and the "Large" for down tube circumferences approximately 3.75" - 8.25".
If it's on the edge, or if in doubt, order the size Large.  
Two Large Belts for Bromptons / Folding Bikes
If you need TWO large end belts - such as for attaching the handle to a Brompton top tube - simply leave us a "Message to Seller" during checkout and we will include two large end belts upon request at no additional charge (we read every note!).
Custom Sizes
If your bike geometry is too small or too large for our Bicycle Frame Handle (or if you want to add a leather handle to some other kind of tube or rod!), ask us about making a custom size end belt.
What Doesn't the Bicycle Frame Handle Fit?
In a word: batteries. With electric bikes hitting the market in all kinds of shapes and sizes, some have large batteries on the down tube that are much larger than our Large belt.
E-bikes are highly variable and we can't know the structural integrity of the battery casing. If you want to wrap around the battery casing, we recommend contacting the bicycle manufacturer to make sure it won't interfere with battery function. 
Bicycle Frame Handle
Our "Little Lifter" Frame Handle offers a solution to a common bicycle commuting problem: it makes lifting and maneuvering your bike easier.
Like attaching a briefcase handle to your bike, the Frame Handle lowers the bike's center of gravity and takes advantage of your most commonly-used muscle groups to make lifting feel easier, lighter, and more in control.