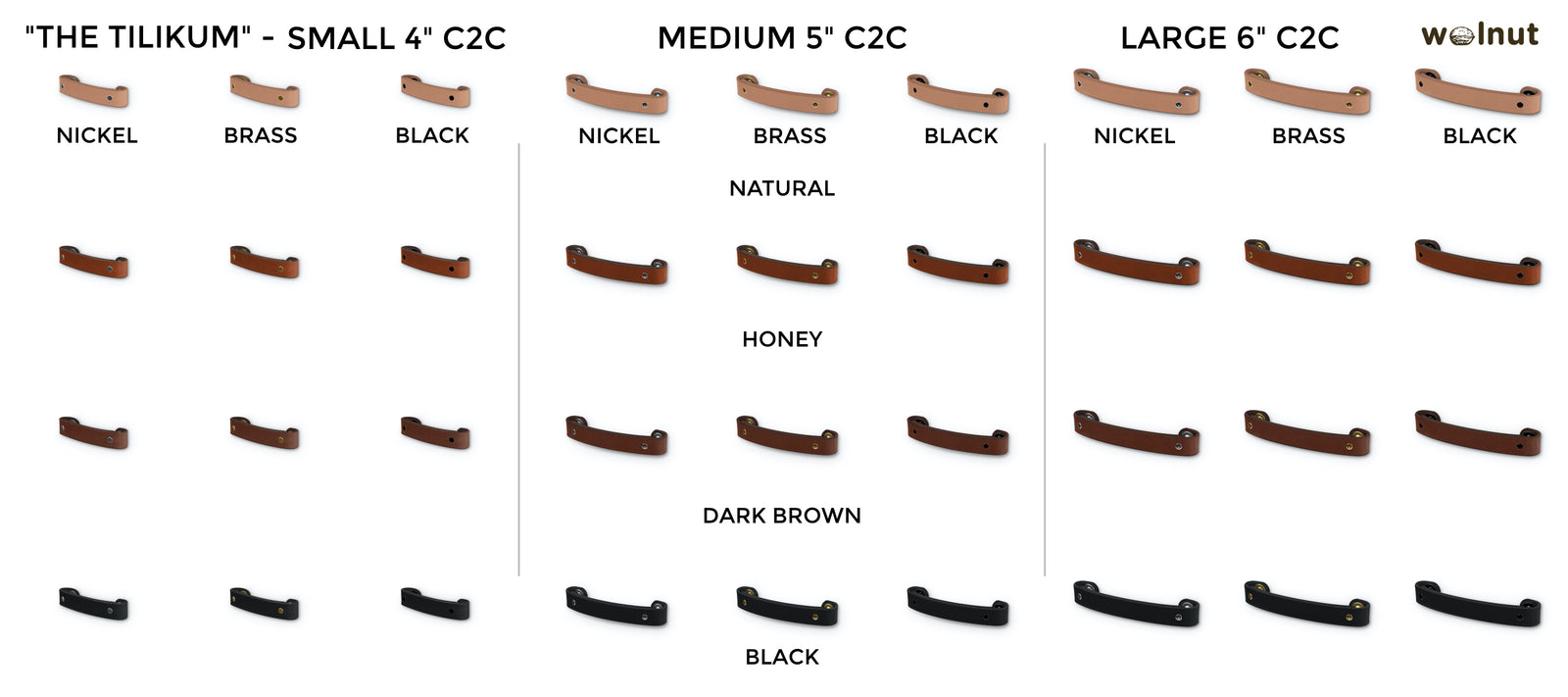 Available in 3 sizes, 4 colors, and 3 finishes
Meet "The Tilikum": one of our most popular leather handle designs. A double-thickness of hand-dyed, vegetable-tanned leather with two points of contact makes for a super-sturdy connection. In this post, we'll show you more about this practical, American-made leather handle.
The Tilikum makes a different statement whether installed horizontally or vertically -- and works equally well in both directions.
The warm leather color can create a striking visual contrast, particularly against metals and in kitchens.
Our hard-wearing leather does great for the long haul, even in messy environments. They are easy to clean and don't stain.
This leather is sturdy - the same used for horse bridles and reins - and it can handle hard wear and heavy lifts, particularly with its double-thickness of leather and two points of contact to the door/drawer surface.
This handle is a great choice for heavy doors and drawers, like 36" IKEA drawers and sliding / barn doors.
The Tilikum is one of a few handles that we can customize with labels or monograms. For example, customers have used these to mark family drawers by name in the entry hall, or organize a walk-in closet by socks, athleisure, etc. Labeled contents are both a great way to keep organized and equalize the labor in the house, but also super-friendly for guests to make themselves quickly at home.
Although it was originally designed to have the ends tucked behind for standard 4", 5", and 6" center-to-center dimensions, our creative customers have also installed the handle flat for a different look.
The handle is 1" wide, which can match the width of some handles, like the 1" wide Hawthorne (Small) and Hawthorne (Large) loop handles, or complement slightly wider or slightly skinnier handles int he same matching leather, such as the 1.25" Hawthorne (Wide) or the 5/8" Burnside Hinged pull.
All of our pulls come with hardware, including the washer shown in the pictures above. But many people choose not to install the (optional) washer, for a cleaner look.
With 4 colors and 3 metal finishes to choose from, the Tilikum leather handles can coordinate with just about any interior theme.
Our pulls are hand-crafted in our Oregon workshop using natural, nontoxic American vegetable-tanned leather, and dyed by hand for a lustrous finish. The designs in our leather drawer collection are named after places in our hometown, Portland Oregon. The Tilikum is Portland's newest bridge, a car-free bridge.