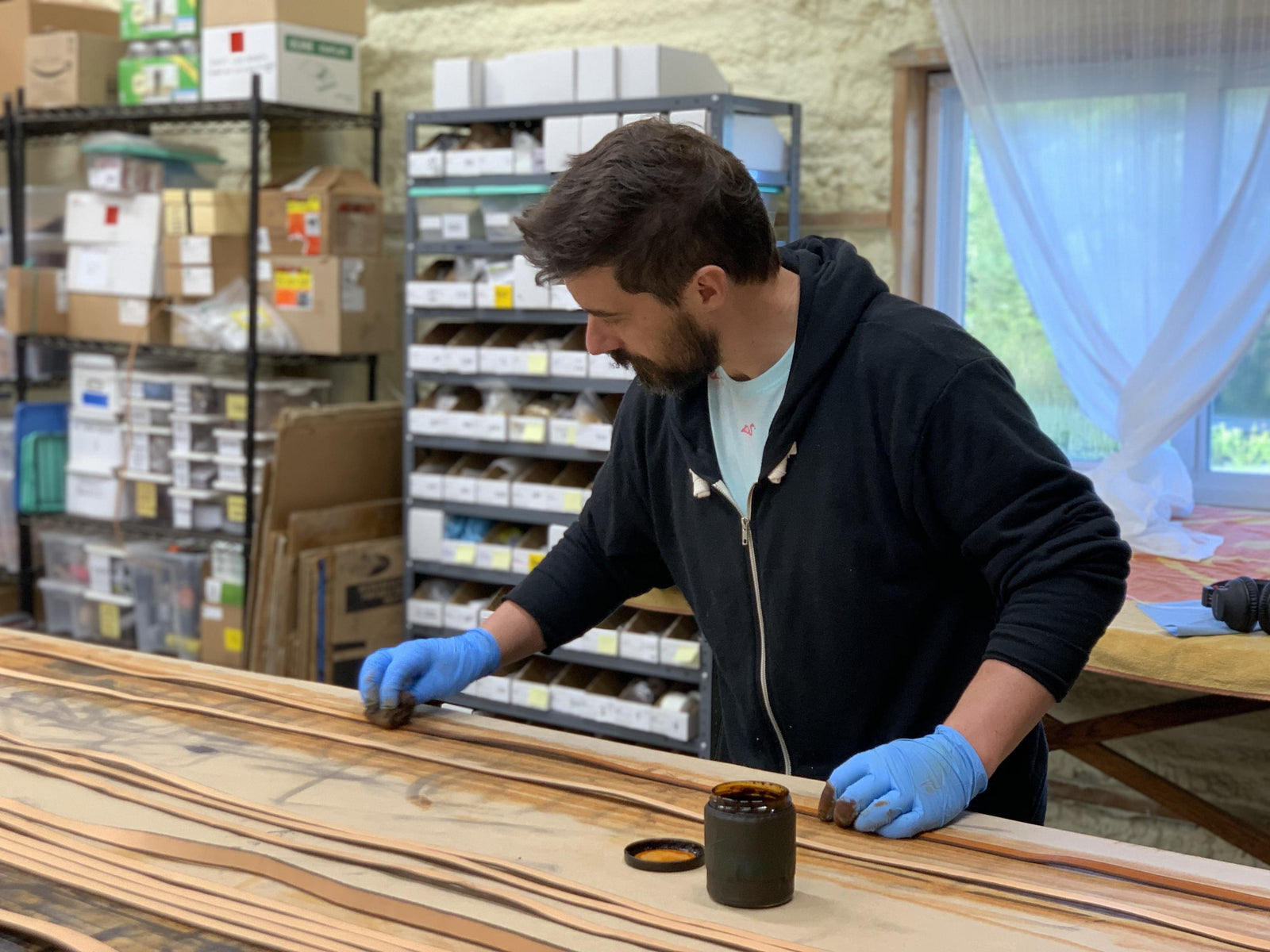 Come behind the digital curtain with us and enjoy this photo essay. We snapped pictures of ourselves at intervals during a typical day working and living from home as a small family business, on the eve of our 10th year in business.
6:52 am
Coffee first. Our method: French press with medium-roast beans. Breakfast was a fried egg, a slice of toast, and half a nectarine.
8:35 am
Giving a quick tour of the workshop and an informational interview with the team at Blendily, a fellow small business owner from Portland.
8:52 am
Hand-dyeing straps with honey color, which will later be cut and assembled into Lovejoy drawer pulls.
11:33 am
Finishing up the morning's shipping (17 packages today). Geoff is hammering so Val is wearing auditory protection.
12:13 pm
Huckin' plastic. Taking in a couple holes of disc golf between the house and the workshop before lunch.
12:40 pm
Lunch is our big meal of the day. We cook together and then sit down and play a game. Today: cribbage and taco pizza.
1:37 pm
Burnishing the leather of the barrel bag in the workshop (melting wax on the edges).
2:02 pm
Val spends the afternoon on the computer in the house, checking email, updating the website, bookkeeping.
2:05 pm
"Weeding is a lifestyle," our farmer says. Taking a few moments to weed the laurel hedge before we cover it up.
4:25 pm
Punching holes in barrel bags to prep for stitching tonight (still in my yard work clothes).
4:34 pm
Winterizing the laurel hedge in front of the Walnut road sign with deer netting.
5:36 pm
Running the CNC router to cut perfect circles out of vertical grain Western Red Cedar for barrel bags and whiskey cases.
6:44 pm
Vegetarian dinner in front of the TV: cacio e pepe, green salad, red wine.
8:09 pm
Stitching up barrel bags while watching TV. Tonight we're watching the architecture show Grand Designs on Netflix.
9:45 pm
Off to bed, thinking about the rain predicted for tomorrow morning.
---
Walnut Studiolo crafts original modern designs by hand in our Oregon workshop using only natural materials. We are a family-run company located on the North Oregon Coast. Learn more about us on our website.