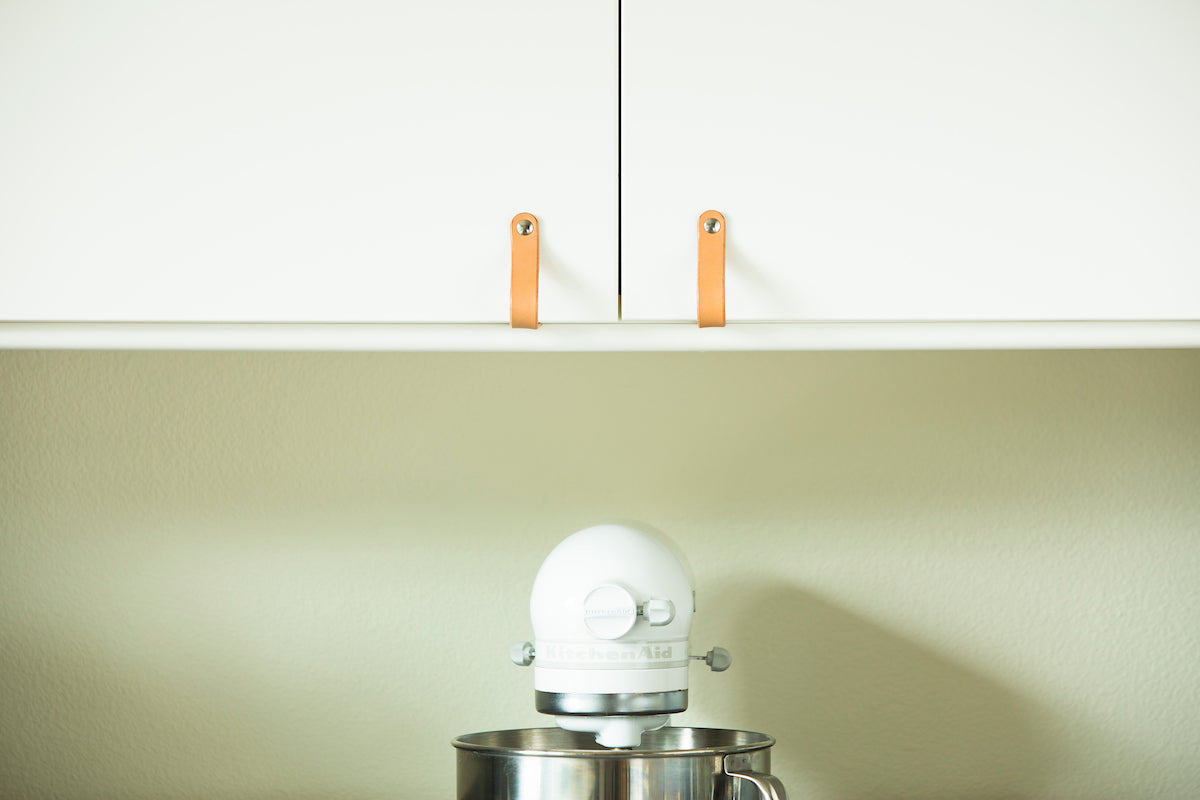 Announcing a new design from Walnut! The Lovejoy leather cabinet handleperforms a magic trick in industrial design. Its elegant, slim profile disappears into modern, Euro-style cabinetry for a beautifully integrated look and a strong, two-point connection.
The beveled leather handle curves slenderly over the front of the door with surfaceless head hardware, but the second point of contact is sent to the unseen side of the cabinet door, where it attaches with two tiny flush-mount screws. 
Designed specifically to work with modern, Euro-style frameless cabinetry, like IKEA's SEKTION line, it is shown pictured in this kitchen remodel with bright white VEDDINGE doors and Natural color Lovejoy pulls with Nickel hardware.
The Lovejoy handle can work on upper or lower cabinets. On lower cabinets, the loop created by the pull works great as an informal towel bar, particularly under the sink.
The loop also acts as a bumper when swinging open the door, preventing the edges from chipping against adjacent doors or walls.  
Like all the handles in our collection, the Lovejoy was named after our hometown, the Portland Oregon cityscape. 
Available in 4 colors (Natural, Honey, Dark Brown, and Black) and two metal finishes (Nickel and Brass) to complement our Leather Drawer Pulls Collection.
Printable stylesheets with specs and a catalog available here.
Get ideas and inspiration for your remodel! Check out our Project Gallery filled with remodel projects, customer photos, and client profiles.
Learn more about our IKEA hack for this photo shoot behind the scenes. The IKEA SEKTION cabinets were featured in the kitchen remodel in our Houzz project gallery.
---
About the Walnut Studiolo Leather Drawer Pull Collection: 
Architectural Beauty: Original designs by former Architecture Principal Geoffrey Franklin, Walnut Studiolo's collection of leather drawer pulls combines minimalist modern design with old-fashioned natural materials.
Sustainable American Story: 

Behind their good looks, there's a great story. Handcrafted in small batches in the USA from oak-tanned leather and oil dyes, our low-impact environmental values shine through. 

High Quality, Durable Materials: 

Our unique hand-dyed American leather gets better with age, offering a warm and comfortable touch with strong, long-lasting durability.

Award-Winning Designs: Chosen by discerning designers for projects big and small, from home IKEA hacks and vintage Airstream remodels to mountain chalets and executive mansions. Honored at the "Best of Portland" awards and editorially featured in Real Simple, House Beautiful, and Interior Design magazines.