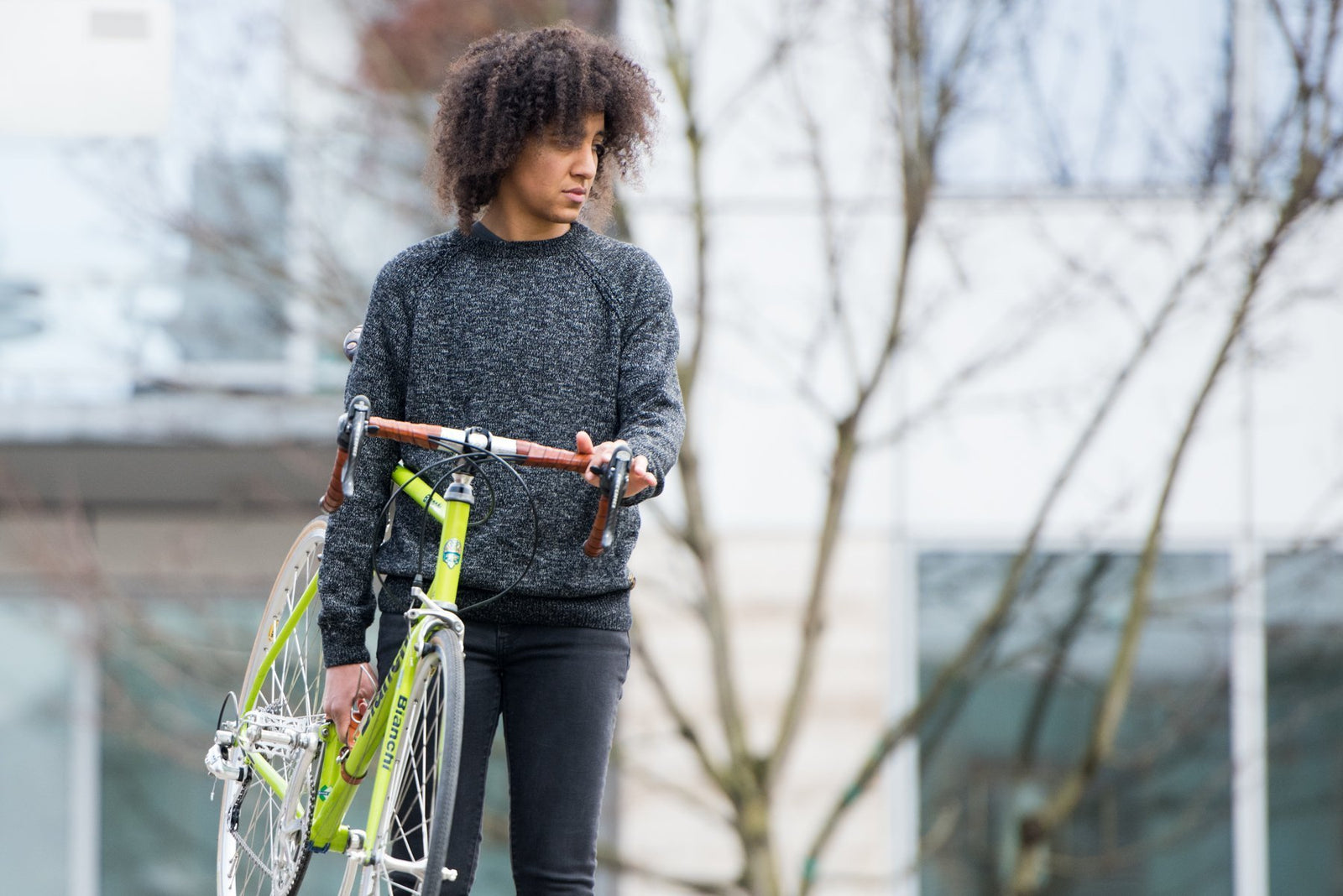 Riding a bike is a fun way to spend your summer days. If you live in a city, it's often the fastest way to get around as you can skirt traffic and easily find parking.
The Benefits of Cycling
Sure, riding a bike is often the faster way to get around town in a crowded city, but the benefits of biking extend far beyond that convenience.
Biking is an excellent way to stimulate your brain before work, and clear your head to relax after work. You'll see things along the way you may not notice while whizzing by in a car. When biking, you can literally stop and smell the roses, and smell and hear other delights you wouldn't pick up on from inside a car.

How to Look Good on a Bike
Often people are worried about how to look good on a bike - either on a bike commute to work and meetings, or when heading out on a date. Will a helmet mess up your hair (not usually)? What should you wear? But won't you be sweaty?
It's easy to arrive at your destination refreshed and looking organized and healthy. In this article we'll show you how to achieve cycle chic and and bike commute with ease.
Plan Ahead - Leave Ahead of Schedule
If you're concerned about looking good when you're riding a bike, one of the smartest things you can do is to give yourself plenty of time to arrive at your destination.
No matter your cycle style, if you're frantic, your face will show it. If you are forced to rush and ride hard, you'll be sweaty. It's easy to look refreshed if you ride at a leisurely pace with a calm state of mind. When you ride at a normal pace, you don't need any special attire to ride a bike. That means you can bike in plain clothes and look cute when you ride.
Plus, riding a bike is fun, so enjoy the ride!

Pack What You Need
Experienced bike commuters know it's easy to carry what you need on your bike. All you have to do is install a simple rack on the back of your bike and you can hang panniers (bike bags) from either side. These are like saddle bags. This is a stable and smart way to carry rain gear, a jacket, lights, your lock and whatever else you need.
If your situation requires formal attire, you may want to bike in something more casual, then change when you arrive. You could consider bringing several outfits to work on Monday that will last you through the week and lighten your load on the other days.
It's easy to look cute on and off the bike by putting a little thought into what you're wearing, and what you're bringing with you.
Arrive Early to Compose Yourself
On hot summer days or sloppy, rainy ones, it's nice to take a minute to get ready when you arrive to your destination. Plan for an extra 10 minutes. Use that time to carefully lock up your bike, use the restroom, straighten your hair and freshen up.
You'll be amazed how healthy you look and clear-headed you feel when you take just a few extra minutes to compose yourself before heading into a work situation or an exciting first date.
How to Avoid Helmet Hair
Are you nervous about your hair being messed up from your helmet? Here are a few easy tricks.
High buns or extra perky ponytails generally don't work well under a helmet as they add extra bulk, so avoid that look on days you ride your bike.
A hair design that requires pins or clips on the back side of your head might be a challenge as they could get snagged on your helmet and tug at your hairstyle. Consider a simpler hairstyle.
If your hair is easily tattered by the wind, simply tie it back in a low ponytail before setting out. This will keep it neat and tidy along the way and you can easily slip off the hair tie when you arrive at your destination.
If your hair is curly, bend your head upside down before putting on your helmet. Allow your hair to be crunched up inside the helmet. This will enhance your curls, instead of tugging on them.
If you have short hair, be sure to zhoosh it a little (run your fingers through it, give it texture) when you take off your helmet to avoid the dreaded 'helmet hair."
No matter your hairstyle, take a quick minute to glance at a mirror (or car window!) to touch up your hair and feel good before you enter your destination.

Outfit your Bike in Dapper Accessories
It's one thing to ride a bike, but it's an entirely different experience to ride a bike with accessories that make you feel gorgeous on the bike. Our entire line of bicycle accessories features items that are durable, practical and downright dapper.
We use only the finest leather that can withstand the rigors of everyday cycling - so don't let the weather hold you back from enjoying the ride.
Walnut Studiolo designer and founder Geoff Franklin recommends three accessories per bike. "That three-piece suit for your bike is so handsome. I think the three pieces of leather on a bike make a really beautiful composition, and we've got multiple products that can fill those gaps."
Do you have to carry your bike up stairs or onto the train? Consider our Little Lifter, a handy little handle that makes carrying your bike a breeze. It's one of our most popular items.
It's Time to Get Cycle Chic
Browse all of our Leather Bicycle Accessories and find your favorites on our website.
Show us your #CycleChic on Instagram: @walnutstudiolo.