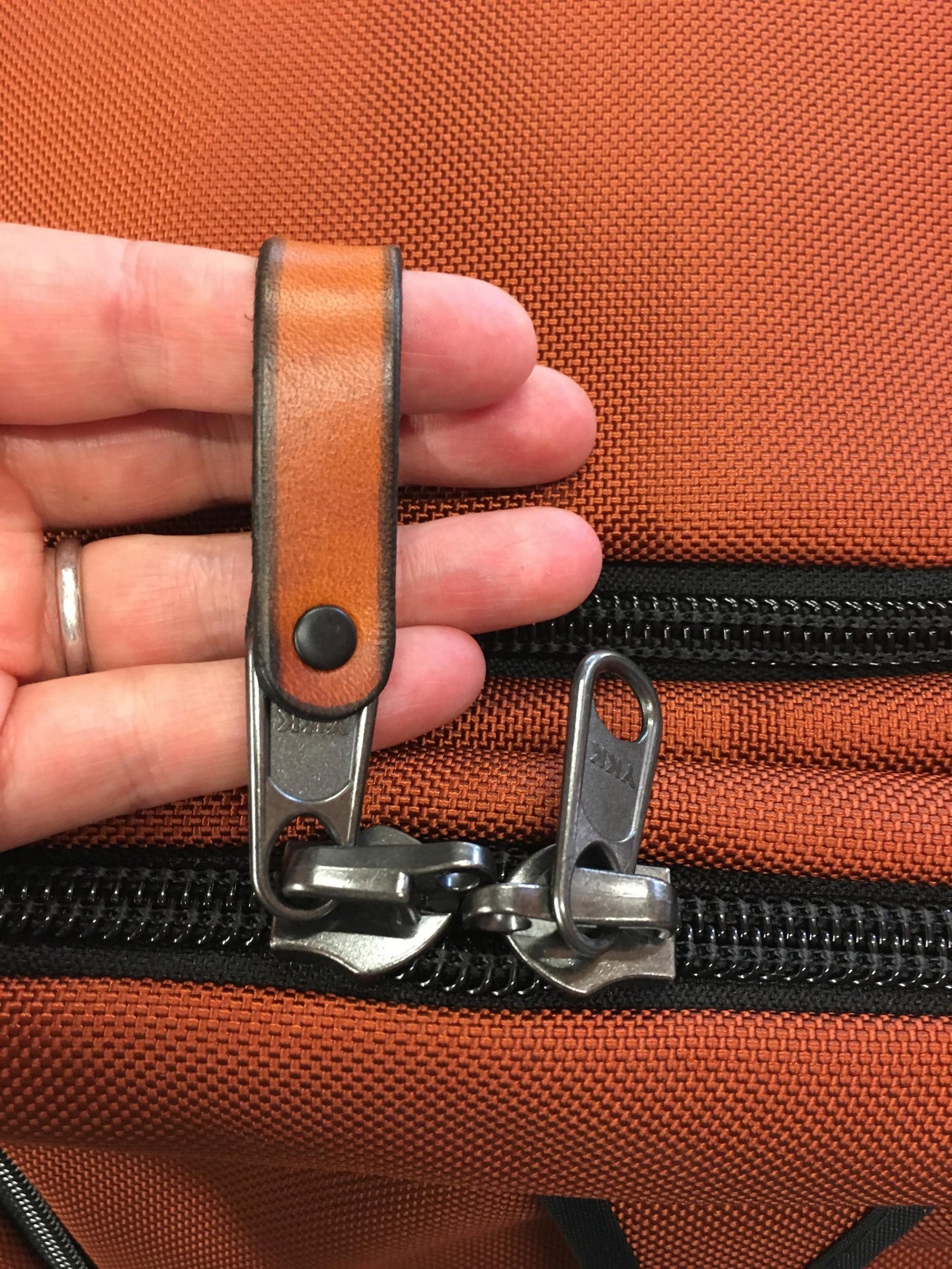 We make and design a collection that we namedthe Leather Drawer Pull Collection -- but these straps and loops are so versatile, there's so much more to them than just drawers!
Get inspired by some of our customers' crafty, creative, DIY uses for our leather handles and pulls (hint: this is a great way to use our super-discounted "dents and dings" pulls during our annual AS-IS Sale!)
For even more ideas, check out our post on IKEA Hacks, or this post on Cool Crafts: 60 Leather Craft Ideas You Probably Never Thought Of.
Level 1: A Perfectly Versatile Leather Strap
The Hawthorne / Fremont
Our first design, the classic and most versatile Hawthorne handle is - at its most basic - a high-quality, super-strong, yet soft, strap with a hole at each end. There's a lot you can do with that.
Those holes can be used to rivet, nail or screw the handle in just about any way you see fit. It comes with a hardware kit that allows it to go through a hole in any material, which is a self-contained Chicago screw (like a binding post) with its own back screw connection.
The Hawthorne comes in 3 different sizes and 4 colors for craft diversity.
Leather Napkin Rings
We used a variety of Hawthorne sizes from the dents & dings bin as napkin rings in a pinch, using a shorter Chicago screw to secure the napkin rings closed. We found the Hawthorne Small made 1.25" diameter ring, a custom Hawthorne "Medium" made a 1.5" diameter ring, and the Hawthorne Large/Wide made a 2.5" diameter ring:
Decorative Leather Bookshelf Straps
Florence Livingston Design used a version of the Hawthorne as a decorative element in a custom bookshelf:
Leather Towel Ring
One clever customer on Etsy used the Hawthorne (Wide) to make a DIY towel hanger in her bathroom using an embroidery hoop and a macrame ring:
Mason Jar Wall-Mounted Organizer Leather Hoop
A visiting artist to our studio once gave us this idea, to use the Fremont loop fold to hold a wall-mounted organizer. We use a wood screw secured straight into a stud for maximum stability. The artist suggested a flower vase, but we've used it for all kinds of things!
As it turns out, the Hawthorne Wide / Fremont size is just about perfect for a wide-mouth pint mason jar. (Is there no end to the versatility of the mason jar?!)
This same concept would work equally well in the garage as a holster for a long-handled rake or a shovel.
Leather Tree and Bush Ties for Landscaping
We used "dents and dings" Hawthorne leather handles in our landscaping projects, to hold a sprawling vine maple back from a trail with a bit of nylon rope, and as a ladder hold with a grommet added. The leather is soft enough not to damage the tree or bark, but strong enough to stay secure, even in the outdoors, even after two years in the Pacific Northwest rain!
The Tilikum and Sellwood
The Tilikum and Sellwood handles both have two points of contact and are designed to be stronger handles. The Tilikum has two layers of leather riveted together and the Sellwood uses a thicker weight leather. It was originally designed as a heavy drawer pull or full-sized door handle, but that extra strength makes it perfect for use as any kind of DIY handle repair or replacement.
The flexibility of the Tilikum leather design means it's easy to install with rivets, wood screws, or other alternate hardware with no access to the backside, to attach the handle directly to the surface, rather than using our provided Chicago screw kit. In the photo below, we show how the leather has a certain amount of flexibility, allowing you to rotate or twist the handle, giving access to drive a screw straight into wood, or in your case pull a rivet into place:  
Storage, Case, Luggage, and Furniture Leather Handles
Tilikum handles can be attached to furniture, luggage, and trunks using either the included Chicago screws for a pass-through hole, or a wood screw when the back side can't be accessed.
Customer Jason in North Carolina used a Dark Brown Tilikum Large as a leather handle for his custom pool cue case:
Geoff made Valerie a wood organizer for her essential oil collection, and used the Tilikum Small handle on its sides for lifting. Normally the Tilikum is shown pull outward, but in this application, you can see the upward lift rotates the handle a bit so it looks more like a bin pull. Pretty cool!
Aviation / Boat Storage Leather Handles
Customer Paul used the Tilikum handles for his glider trailer by installing them with pop rivets instead of our standard Chicago screw hardware. The handles are attached to rails that are manually extended to allow for extracting the glider, on rolling wheels, from the trailer. He said, "they're working very well!"
Leather Handles for Woodworking Projects: Breakfast Trays, Cutting Boards, Wood 6-Packs
Woodworkers love using our leather handles to add a soft touch to woodcrafting projects.The same concept can be applied to adding a handle to any of your favorite objects, such as a canvas log carrier, trunk, suitcase, or even cutting board.
This leather Tilikum handle was attached to a tree ring cutting board with wood screws:
One of our customers, 70-year-old Chuck from Pennsylvania, had our Tilikum handles monogrammed with his daughter and son-in-law's names and attached them to his wedding gift project, a handcrafted wooden breakfast tray. Chuck shared a photo of his finished project and said, "The tray is made of Hickory and Walnut and the finish is tung oil and paste wax. Thank you it turned out great."
Customer Chris used the Hawthorne as handles on this tray that holds a set of blocks he made for my great niece's first birthday. For the children's toy, he selected Natural leather.
Customer Marie reported, "Hello, this is probably not what you would normally see your handle used for, but we had built a wooden beer carrier and found that we were not able to use the handle we had planned on. Your handle was a perfect fit. Thank you." Marie used the Sellwood 9.5" C2C handle to fit her wooden beer box:
Vintage Car Remodels
Beyond trunks, the handle has also been used on trucks! Our Tilikum is strong enough for serious purposes, including heavy doors. Customer Elizabeth in Texas used them as an additional pull on her vintage truck build.
Level 2: Cutting, Punching and Riveting
Our leather can be cut to shape using sharp scissors or an exacto blade, and in a pinch, the edges can be finished using a permanent ink pen like a Sharpie. You can also burnish the edges like we do with wax for a smooth edge, and you can punch a hole for your own hardware inserts with a sharp awl, or better yet, a leather hole punch. This is basic leathercrafting, but it can be done with very few tools.
Leather Plant Hanger
With a quality hole punch, you can turn any strap into a versatile hanger support, like we did with this leather strap, a houseplant pot, and a bit of twine for hanging:
Leather Zipper Pulls
For a big trip to Europe, Valerie got a new suitcase from Seattle maker Tom Bihn, and Geoff outfitted the suitcase with 5/8" wide leather zipper pulls. The 5/8" width is the same width as the Burnside handle, but the 3/4" wide St. Johns tab pull might have done equally well here in this application.
If you've never riveted before, then double-cap, or jiffy-set, rivets, are a good place to begin. All you really need is a mallet, although the special rivet setter will ensure the rivet stays centered and flawless.
You can apply the same concept easily to pull-down attic stair handles, ceiling light /fan pull chain, or a dog leash.
Level 3: Custom Work
If you have an idea for a leather project using our hand-dyed, American-made leather, ask us what we can do for you! We can make the straps longer or shorter, wider or skinnier, and place the holes where you need them.
Contact us or visit our custom work request form to see what we can do for you! And enjoy this gallery below of some examples of our custom work for other customers: