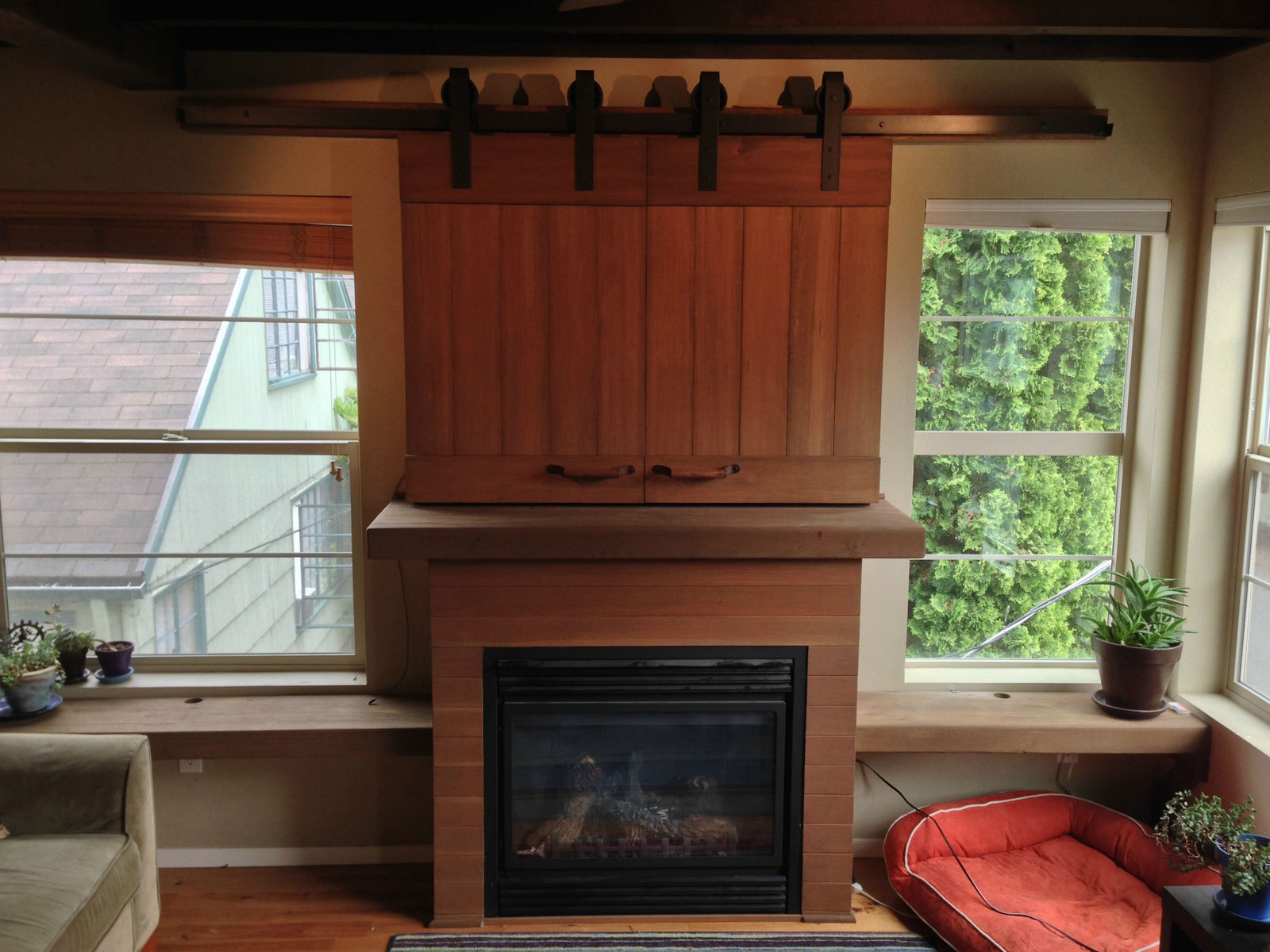 Walnut Studiolo's sturdy leather and wood drawer pulls and cabinet handles are a natural fit on rustic and modern barn doors. In this post, we'll discuss some of our options and recommendations for outfitting your sliding door with natural material pulls and handles made from leather and wood.
Barn doors are a perfect alternative to pocket doors, create a rustic farmhouse feel, and can present a major opportunity for creative flourishes in the home.
There are also some great American-made options for modern sliding door hardware for barn doors, like our hometown manufacturers, Portland Oregon's Krownlab.
The leather and hardware we use in the fabrication of our pulls are strong enough structurally to handle the heavy weight of barn doors. Our leather is the same strong and durable equestrian leather used on horse bridles and reins. If it can hold a rearing horse, it can pull a barn door!
To bring a little natural material onto a particularly robust or heavy barn door, we recommend one of our handles with two points of contact, such as the Tilikum or the Sellwood, or adapting one of the handles like The Hawthorne with two sets of hardware for two points of contact.
The Tilikum
Our all-leather handle, The Tilikum, has two thicknesses of leather for extra sturdiness and comes in 3 sizes (4", 5", and 6" center-to-center, or C2C). Although it can be installed in either direction, we would suggest the Tilikum installed horizontally. All 3 sizes are 4-finger pulls.
The Sellwood
The leather-and-wood Sellwood handle is a popular choice for barn doors with its bold white oak dowel. It is our largest and most eye-catching handle with mixed media and a bold 9.5" or 15.5" center-to-center length. For this handle, we recommend a horizontal application rather than a vertical because it's axially aligned with the sideways/perpendicular pulling force.
The Hawthorne
The Hawthorne is the most economical choice for a leather handle with two points of contact. It is one strap of sturdy equestrian leather that can be installed with two sets of hardware into a flat handle.
Other Leather Handles & Custom Work
Other Walnut Studiolo leather pull designs, like The Burnside, will also work, particularly with smaller or smooth-action doors. We can also custom-make larger (or smaller) sizes so they can retrofit into pre-existing holes.
---