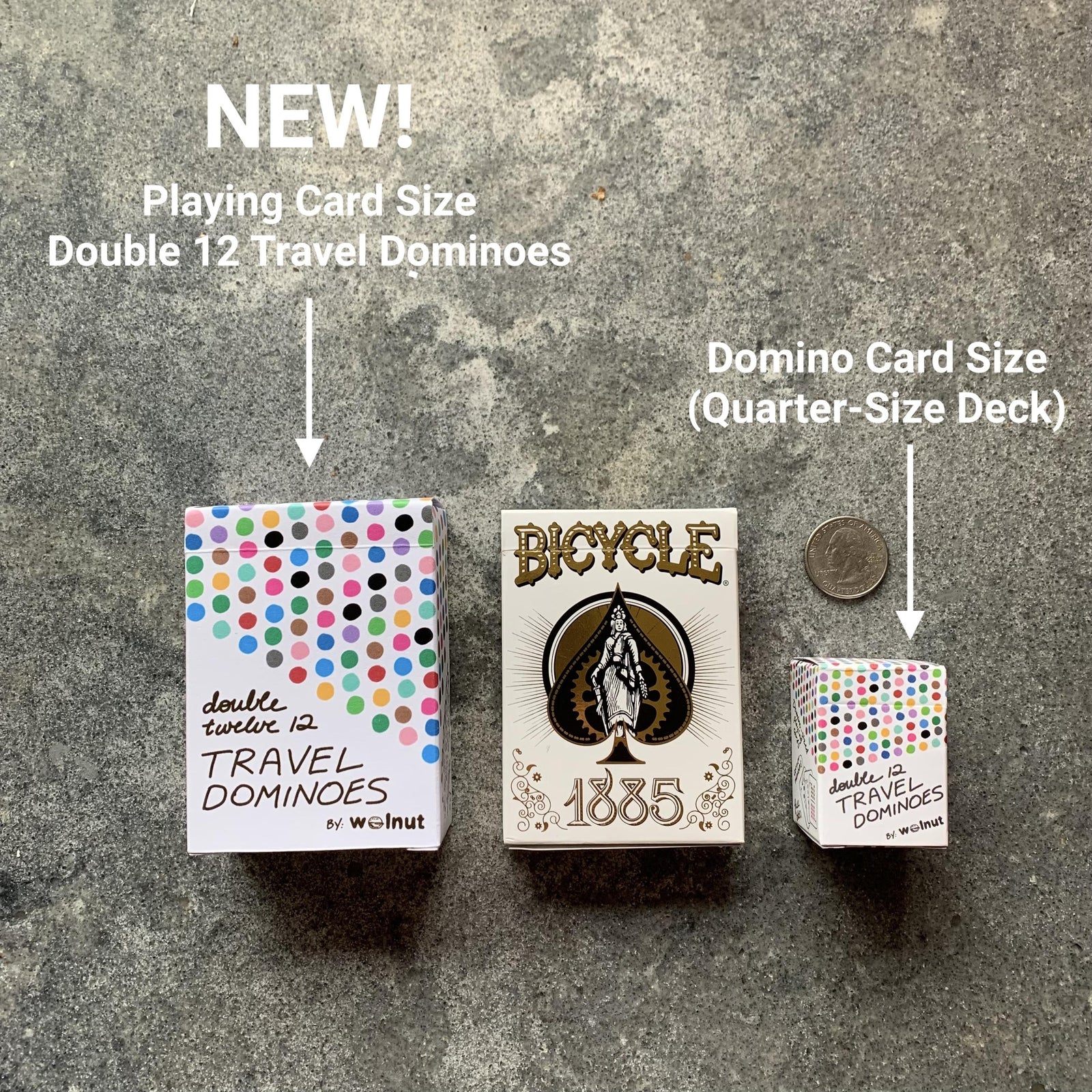 Announcing a new product: our Double 12 domino-size playing cards in standard poker playing card size.
Our travel-size double 12 dominoes use the most efficient material for travel size and weight: playing cards! We even include a "Mexican Train" themed set of accessories in the card deck, including trains and a quick start guide. This is a favorite family travel game for 2-10 players.
Our "domino-size" (a fourth of standard playing card size) Double 12 Travel Dominoes have been a hit, and we've listened to requests for a playing-card-size version.
Travel Mexican Train Now Available in Two Sizes: Poker and Domino
During prototyping and testing, we carefully tested several sizes and styles of material to end up with just the right playing card material and size for these dominoes. The thin, FSC-certified card stock provides the best table action for dominoes: they don't glide across the table with air-cushioned ease (a feature you want in regular playing cards but not with domino cards!) and the thinner material is easier to pick up and put down into domino formations.
Domino Size Double 12 Domino Playing Cards
Domino-size cards are one-quarter (1/4) the size of playing cards, which is very nearly the same size as domino tiles. We love this size because they're just like dominoes, and they couldn't be more compact and lightweight for travelers.
Cards: 1.25" x 1.75" (32mm x 45mm)
Tuck Box: 1.75" x 1.25" x 1.25" (45mm x 32mm x 32mm)
Weight: 1.5 oz (42.5g).
Poker Size Double 12 Domino Playing Cards
Playing card size cards are the same as a standard poker deck. Easy to shuffle and easy to hold, they work for tabletop dominoes because of our unique corner numbers.
Cards: 2.5" x 3.5" (63.5mm x 89mm) -- same as a standard poker deck
Tuck Box: 2.625" x 3.625" x 1.25" (65mm x 90mm x 32.5mm).
Weight: 5.9 oz (169g)
Lightweight, Sustainable, and Functional Travel Dominoes
We played and prototyped these cards for months before hand-drawing each tile. We think the new design ticks all the boxes:
Lightweight and minimal for travel
Approximately the same size as a normal domino tile
Good combination of "stickiness" and "smoothness" for ease of play
Recycled, sustainable material sourcing
Versatile game for couples to large gatherings
Colorful pips for faster recognition during play
Innovative corner numbers (our original idea!) for viewing domino values fanned in the hand
Hand-drawn artwork to emphasize our original handicraft
What's Included in Both Sizes:
91 domino playing cards (from 0/0 to 12/12)
10 train cards
4 blank replacement cards
1 Mexican Train "quick start guide" card with link to full rules of play and free printable scoresheet
All inside a printed tuck box (can be also used as a train hub!)
We can't wait to hear what you think of the new design! We welcome your feedback at walnutstudiolo [at] gmail [dot] com.