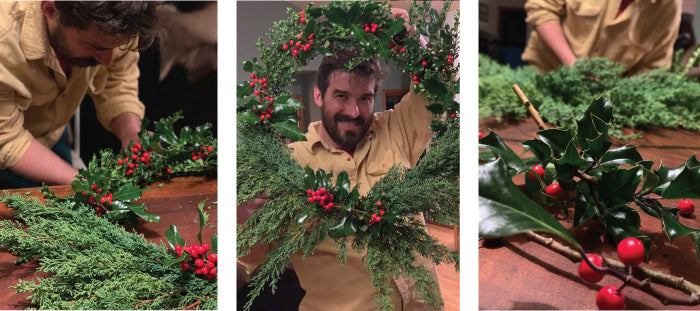 We know it's annoying to start talking about the holidays in October.
But whether it's our products or someone else's, we think you'll want the extra time to make sure your holiday purchases arrive in time ... especially if you're ordering internationally. Here's why:
From the early holiday specials offered by our small business to global politics, there are good reasons to shop early this year.
First, The Good News:
Early Holiday Promotions.We are offering a transparent, consistent, season-long promotion, so you don't have to worry about catching the best deal on any particular weekend. The best deal of the year at Walnut has already begun:
20% SALE OFF select gift items*
October 13 - December 22, 2022
Shop the Holiday Sale >>>
*Cannot be combined with other discounts. Select gift items includes all in-stock products except: the Drawer Pull collection, Leather Crafts Book, Parts & Accessories, Blueprint Tube, Double 6 Wood Dominoes, Cribbage Board Belt, One-of-a-Kind Foraged Wood Cribbage Boards, the UpCycle Cage, Spartan Carton and Bicycle Beer Carrier Combo Deal.
Free Gift Wrap. We're wrapping your gifts for free with "basic" gift wrap. Let us know it's a gift by checking the box, "This is a gift" (or just tell us in an email or note -- we're a small shop and we read all order notes!). If we know it's a gift, we'll wrap it nicely for your friends and family. Branded gift wrap is also available as an upgrade.
Free / Flat Rate Shipping Offers on Orders Over $55:
- FREE USA (2-7 days)
- Flat Rate $12 Canada (1-4 weeks) + NEW! DDP Paid $18.95 Flat Rate
- Flat Rate $15 Europe and Australia/New Zealand (2-8 weeks)
- Flat Rate $17 Rest of World (2-8 weeks)
These shipping rates are the most economical, but take the longest to deliver, which is why we recommend ordering early.
Peace of Mind with Free Shipping Insurance.We insure every package valued over $55 for loss or damage. If it hasn't arrived by the insurance-mandated waiting period or arrives damaged, we will file an insurance claim and send you a refund or a replacement at no cost.
Express Options for Reliability & Speed.FedEx in the US, and DHL Express internationally are our fastest, most reliable international shipping service - and with our bulk shipping discounts, pretty economical, too.
International Customs Calculator.Our prices are exclusive of VAT, GST, or other customs and import duties. If you're worried about how much the customs fees are going to cost, you can now estimate ahead of time with Duty Calculator. If you're in the EU, you can also pay customs duties in advance on our Etsy marketplace store.
We're Well Stocked.Given the global supply chain issues and rising material cost, we changed our material inventory strategy from "semi-lean" to "year up front". We should have plenty of items to get us through the holiday season and are not concerned about running out.
Now, the Bad News:
This year, in ways we've never experienced, we are nervous about packages getting lost or delayed in transit.
Shipping Slower AND More Expensive. 😤There have been multiple reasons for shipping delays across the board, with all services, including USPS, FedEx, and DHL Express. Truck driver shortages, COVID protocols, worker shortages, severe weather at hubs, and more has really piled up. To make matters worse, all those issues have meant that shipping carriers are raising rates just when packages are slower and less reliable. USPS has already implemented "holiday surge pricing" through the end of the year. Give packages a little more time, prepare to be patient, and rest easy know they are insured.
CBS News: USPS says it's hiking prices for holiday shipping €" starting in October
International GST/VAT Collection.New GST/VAT collection policies in place in multiple places across the globe -- notably the EU, UK, and Canada -- have made deliveries more tricky.
To Canada:For our neighbors to the north, we also offer a terrific new pre-paid duty (DDP: Delivered Duties Paid) flat rate promotion.
To the EU and UK:Customers in the EU and UK can also look at our Etsy store. Marketplaces like Etsy are now required to collect tariffs on our behalf. This locks in the tariff quote and charges VAT during checkout. This service is only available with standard global post, not DHL Express.
Etsy Marketplace: Customs Fees and Physical VAT Collection >>>
For the Rest of the World: for truly time-sensitive packages, we highly recommend upgrading to DHL Express.

---
We don't mean to pack on the doom & gloom -- the holidays are a great time of year to think about happy future days with friends and family, hopefully playing games, riding a bicycle, or just relaxing together.
Happy Holidays!