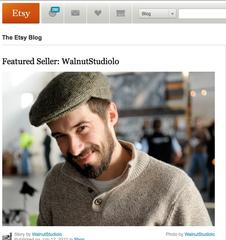 UPDATED 4/11/22. We are joining the #EtsyStrike and putting our Etsy store on vacation mode April 11. Learn more about the strike:
UPDATED 3/16/22. A second round of Etsy fee increases (up to 25% per sale) forced us to raise product prices on our Etsy store -- but we're keeping prices the same on our website. Some sellers are calling for an Etsy strike and there is a petition for Etsy buyers to sign. Some are trying to organize a community-owned alternative to Etsy. In this post, we'll explain what happened and why:
We launched our business on Etsy way back in 2009, and it was a terrific place for a small handcrafter like us to get started selling their wares. The fact that we are in business to this day is a credit to Etsy, so it is with regret that we need to write this post.
We have managed to keep our prices and free shipping offers the same on both our Etsy store and our website up until now, absorbing the extra costs of doing business on Etsy while encouraging the growing sales on our website.
However, at this point, the accumulation of fees has diverged so substantially that the products can no longer be priced the same.
In this post, we'll discuss: exactly what is happening with Etsy fees, the complications of increasing material costs, and the moral quandaries in Etsy's rapidly changing marketing policies.
Skyrocketing Etsy Fees and Commissions -- Again!
We first wrote this post in August 2021 during the last fee increase, but in less than 6 months Etsy announced another fee increase. Effective April 2022, the Transaction Fee is increasing by 30%, from 5% to 6.5%, in addition to the 4-5 other fees listed below. With this new, second transaction fee increase in four years, Etsy now takes up to 25% of each sale.These are the fees and commissions we now pay:
Mandatory Offsite Ads Fee: 12%-15% commission on certain sales (including shipping charges)
Transaction Fee: 5% 6.5% commission on all sales (including shipping charges)
Payment Processing Fee

: 3% + $0.25 on all sales

Listing Fee: $0.20 with every new product listing
Renewal Fee: $0.20 per listing renewal (happens with each sale and/or every 4 months, whichever is first)
In Total: All the fees above add up to a total 24.5% commission + minimum $0.45 in fees
In comparison, these are the fees we pay on our website:
Payment Processing Fee: 2.25% + $0.30 USD on each sale
Etsy maintains that their fees are competitive with similar sites, but to be frank, there are no similar sites. That's what used to make Etsy special, an approachable marketplace for small crafters. We do not sell our handmade wares on Amazon (but if we did, the fees would actually be lower on Amazon Handmade at 15%).
When we began our business on Etsy, the fees were simple and straightforward: $0.20 per listing + 2%-3% per sale. However, Etsy is now a publicly-listed company more answerable to its shareholders than its customers. Accordingly, each year they have introduced new fees, mandates, commissions, and incentives that squeeze seller margins (and -- we believe -- also compromise the buyer's experience).
By increasing the prices on our Etsy store, we are not earning more money. Increasing the product prices on our Etsy site covers the cost of those fees, plain and simple.
We wish we could warn our customers on Etsy that prices and shipping rates are lower on our website, but that is against Etsy's rules and would get us kicked off the platform. Plus, we get that some customers prefer the Etsy marketplace experience and may prefer Etsy. We're not trying to steal customers from Etsy, we're just trying to cover our costs without charging excessive prices on our website.
Increased Material Costs
In addition to paying more fees, we're paying more to make our goods. All of our costs have gone up, yet we've managed to maintain some of our original product prices since we launched them ten years ago. We have always tried to absorb increased costs if we can.
The timing of the new Etsy fees could not have been worse: inflation, geopolitics, increased shipping costs, supply chain issues, and COVID complications have all increased our material costs, particularly hardware, particularly in the last year.
For now, we can absorb some of the increased material costs on our website where commissions are low, but we can't absorb both increased material costs and increased sales fees together. And that is why we are only raising our prices on our Etsy store, and not on our website.
Rapidly Changing Policies
The impacts from the changes at Etsy are not just financial: they also cause additional headaches, risk, and even ethical quandaries that make it hard to keep doing business on the platform:
The influx of millions of new stores that don't meet Etsy's handmade policies has resulted in punitive measures for all sellers, increased scams and knock-offs, more time spent enforcing our intellectual property, and generally reduced the quality of shopping on the platform, damaging the Etsy brand and ours too by extension. Whether they are unable to or don't consider it a priority, Etsy has not kept on top of the non-compliant stores enforcement.
"Hiding" the product description on the product page so that is hard for buyers to read our written information about the product.
Search algorithms manipulate results, prioritizing discounted products with free shipping. Etsy policy officially de-prioritizes products from search results that do not offer Free Shipping on Orders Over $35.

Mandatory Offsite Ads program requires us to pay to advertise Etsy listings against ourselves, competing with ourselves. Worse, what they advertise and where they advertise it is totally out of our control. The program advertises our products on platforms or websites we disagree with and choose not to advertise on, and we feel limits our free speech.

Increased pressure to hold sales and offer discounts during their global sales events for products to be visible. Etsy has been setting the terms of the sale, and increasing the threshold discount, from 10% to 20% on the most recent sale.
Additional policies are changing all the time, and we realize that we have to spend a significant and growing amount of time just staying on top of Etsy's changing policies rather than designing, making, and shipping products to you.
In Conclusion
We have been on the journey with Etsy the whole way, for the entire history of our business, and we're still sticking with them for now. We're keeping our Etsy store open.
But going forward, we can provide you better information and lower prices on handcrafted leather goods on our website.