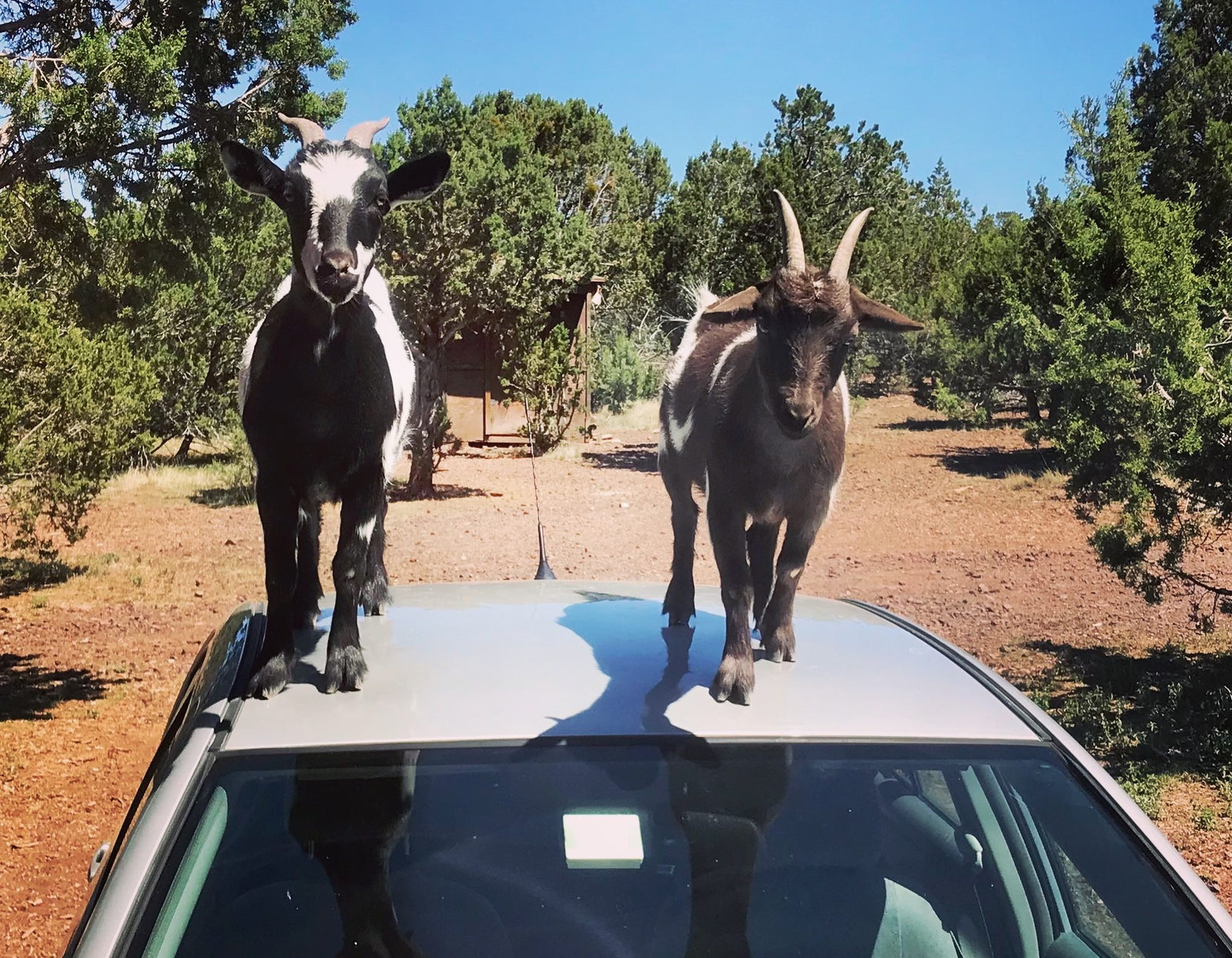 Can you imagine having your house set up in a way that allows you to immediately drop into vacation mode, even within a demanding work schedule? That dream-come-true is what PR specialist April White has been able to achieve with her relaxing cabin home tucked into the landscape near the Grand Canyon's South Rim.
"I definitely work more hours than I should, but the great thing is, I can hike from my back door to a nearby canyon at a moment's notice. I can walk out the door and hot tub under more stars than I've ever seen outside of a planetarium"


A Remote Office Cabin
April runs the virtual PR firmTrust Relations, where she works with a team and clients from all over. Though she stays in touch with the bustling big cities on either coast, April's cozy Northern Arizona cabin is her quiet home and office.The house is wide open and has few doors. With giant beams and a gorgeous 20-ft second-story a-frame ceiling, April describes the space as a cross between an urban loft and a log cabin.

Remodeling an Outdated Cabin
When April first moved in, the cabin's aesthetic was far more "rustic and western" than the modern industrial chic style she prefers, so she embarked upon an extensive an interior design remodel.
"I added sliding barn doors, statement piece mirrors, industrial-inspired lamps, exposed Edison light bulbs and removed all of the curtains... I can't see a single house from here, so who needs them?!" she explains
But even when April had finished updating the interior design of her cozy cabin, she still felt there was something lacking. The dated kitchen cabinets and other cabinets throughout the house stood out and detracted from all of her efforts to turn this into a fresh and modern space.

Leather Drawer Pulls Freshen Up the Space
"Given how much I spent to get the house to a base level of awesome during the first year, replacing cabinets was not an option," she says. "But then I had the idea to switch out the outdated brass hardware and draw focus away from the cabinets. Enter Walnut Studiolo Leather Drawer Pulls! They gave each room a whole new feeling and did exactly what I hoped: they tricked the eye into thinking those ordinary cabinets were extraordinary."
April says she is "beyond thrilled" with how the Walnut Studiolo Leather Drawer Pulls worked out for her project.
"The pulls really dress up the cabinets and overall aesthetic of the rooms they are in, and proved to be the final detail that pulled the entire space into the chic, modern realm for which I was shooting.
April says she also loves the way our drawer pulls feel. "They don't only look great, they feelgreat. These are much more fun for both the eye and the hand than traditional hardware."

Cabin Life With Furry Animal Friends
This updated stove-heated three-bedroom cabin sinks into 13 private acres of land filled with Juniper pine trees. Though remote, April is far from alone here with a tribe of animals that keeps her endlessly entertained.
"I have a little menagerie of animal family members my friend calls my €˜faminal.' There are three giant guard dogs who have their run of the acreage and house, two cats, two Nigerian dwarf goats and a hamster. My youngest cat, Hunton, has a crush on one of my dogs and my dwarf goat wants to grow up to be one of the other dogs. Hunton is the Manx on the hot tub in that photo. He's like a little monkey, climbing on everything, and spends most of his time inside on the giant wood beams overhead."

A Sanctuary to Unwind
When she's not busy working, or finding a quick moment unwind in the hot tub under the stars, April says she loves hiking through the natural wonderland that surrounds her cabin.
"Because of the varied terrain and temperatures, you can almost always find somewhere the weather is perfect for a hike. I get to experience so many different views!What's most interesting about Northern Arizona is how dramatically the landscape changes even within a 30-minute drive. You've got the towering Ponderosa pines of Flagstaff, the red rocks of Sedona and the Grand Canyon all within a 1-2 hour drive, so you can hop in your car and feel like you're in another part of the world very quickly."
Discover Your Favorite Drawer Pulls
Our Leather Drawer Pulls are an easy way to freshen up your home remodeling project and add a modern touch to dated elements.
Browse the entire collection and discover your favorites
See other design project for interior design inspiration

PROJECT GALLERY