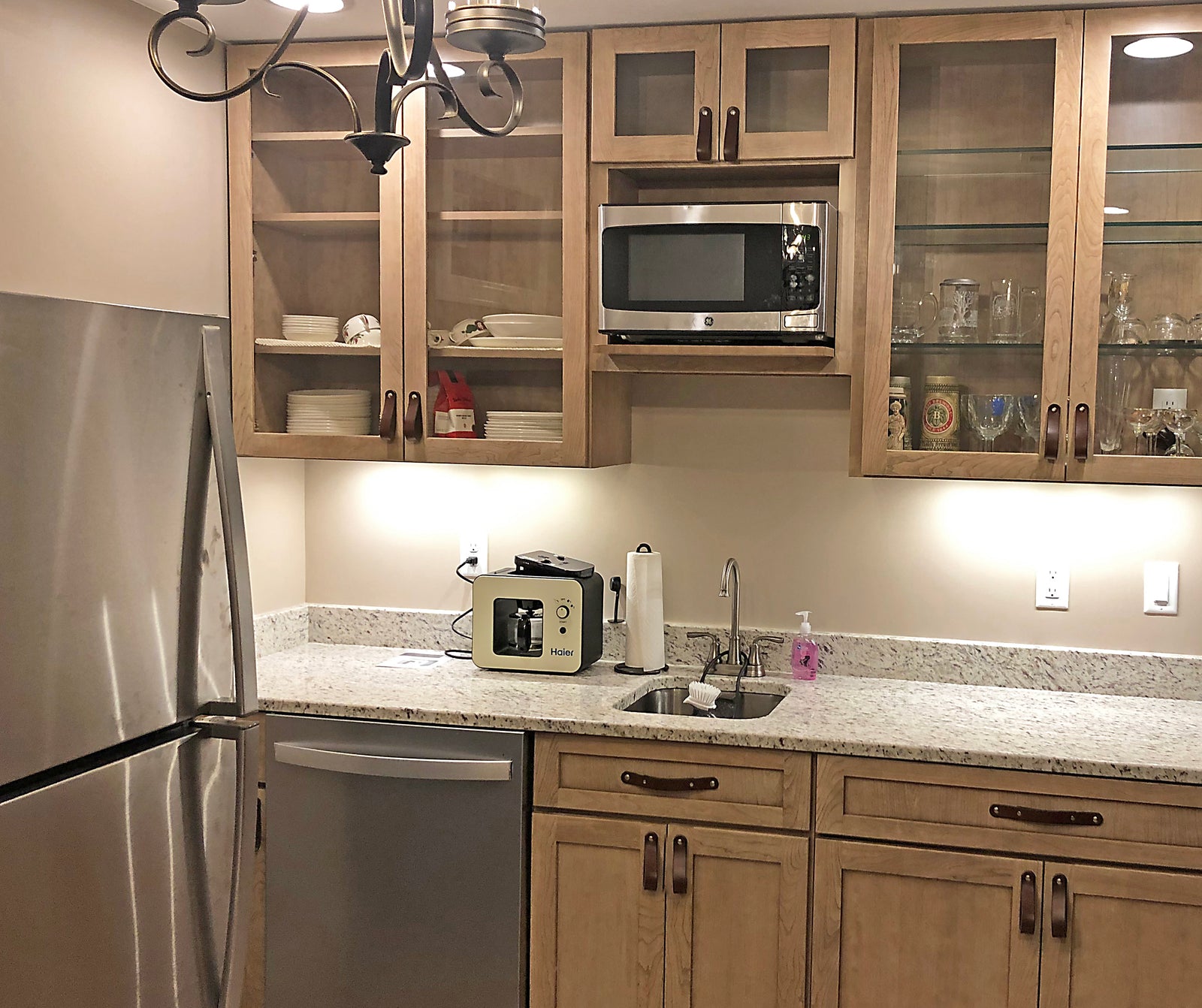 Real estate broker Barb Ganschow has the pleasure of touring homes for a living, and finding inspiration in the various properties she visits. When it came time to renovate the lower space of her home, she knew exactly what she wanted. As Barb was browsing for various drawer pull options, she was fortunate to discover Walnut Studiolo's
Leather Drawer Pull Collection
. This hand crafted collection includes a variety of styles, leather tones and sizes that are easy to install. You can even select the metal hardware to match. This was an attractive feature for Barb, as she was aiming to achieve a specific look. "I planned a European wine country design with an Italian feel, and wanted leather for pulls. The Walnut Studiolo Drawer Pulls created exactly the look I wanted." Barb selected the
Hawthorne drawer pull
in Dark Brown with nickel mounting hardware for the cabinets, and the
Tilikum Handle
in Dark Brown with nickel mounting hardware for the drawers. She put her own creative twist on the project by installing the handles in a flat fashion, a unique approach. Whether you're going for that same style or something distinctly different, the various styles of Leather Drawer Pulls in our collection are well suited to a variety of interior design projects. And they're not just for kitchen overhauls. Many of our customers install pulls to freshen up bland Ikea furniture or as an accent handle on doors. Barb used one on an interior barn rail door as a part of this project.
Now that Barb has lived with the pulls for a while, we asked her how they're holding up and what she thinks of them. She answered with simply one word, saying they're "perfect." Barb says she especially appreciates Walnut Studiolo's dedication to finely crafted products. She says she most likes that they are "handmade, handsome and wonderful quality." When freshening up a space, it is nice to add an accent that provides a unique finished look. The warmth of leather is excellent option. We finish the edges of each Leather Drawer Pull to ensure they're soft to the touch and pleasant to use. Using only the finest vegetable tanned leather, these pulls are made to withstand the rigors of everyday use. Barb enjoys having a special touch in this space that stands out but isn't overpowering. "We get so many compliments as everyone looks and can't stop looking at them. They are beautifully made and the color is perfect for this space." We're here to help you find your interior inspiration. Browse our entire collection of Leather Drawer Pulls and
discover your favorite on our website
.
PROJECT GALLERY
[gallery type="rectangular" size="large" ids="4669,4668,4667,4666,4665,4664"]