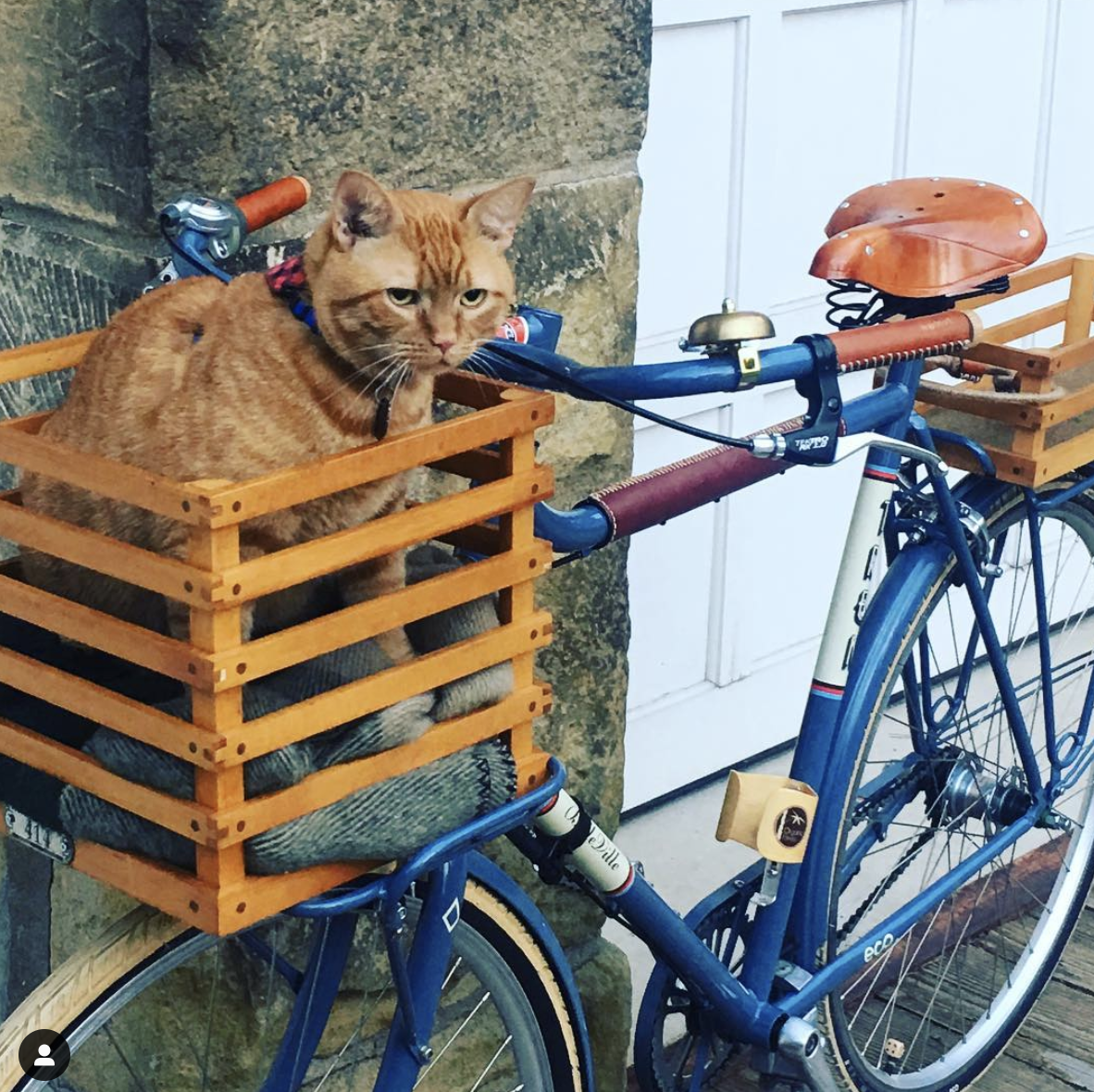 We're used to seeing gorgeous customer photos of their bike designs with our leather bike accessories, but it's not everyday we have the good fortune to meet a cat that bikes in style. 
We recently interviewed Mr. Pig Cat, a classy cat from Northeast Ohio who loves adventures. Yes, Mr. Pig Cat is really his name (friends and owner Audrey call him Piggy) and yes, he really rides on a bike, in a bike basket.
HOW IT GOT STARTED
MR. PIG CAT: "A few years ago, Audrey watched a movie called €˜A Street Cat Named Bob' about a cat that got to go everywhere with his owner. Maybe it was the way I glanced pleadingly at her throughout the entire movie, maybe it was the way I drooled as I stared at the TV, maybe it was the incessant roar of me purring for an hour and a half, but eventually Audrey decided she would try taking me out and about to see how I liked the great outdoors, and of course I do.
Unlike many other cats, there is very little that scares me and I'm always up for a new adventure so I get to go everywhere with Audrey. I love running at the park and also canoeing. But probably my favorite activity is camping. Audrey's young cousins come along and during the hustle and bustle of setting up camp they play with me. This winter we're thinking of taking a winter camping trip, and I think I might like it if the tent is cozy enough!"

THEN MR. PIG CAT DISCOVERS BIKING
MR. PIG CAT: "I originally told Audrey I wanted a basket to hang out in. Like, on the floor hang out in. But when she went searching online, Audrey accidentally stumbled upon this Trek Belleville bike that she instantly fell in love with. Now, I don't know what that bike has to do with my desire to chill in a basket all day, but here we are now: She has a bike, I have my basket and we get to go everywhere together!
The bike came with custom wooden baskets that were made for the bike so I suggested to Audrey that we make the rest of the bike look smashing. She set about searching for bike accessories with vintage charm and fortunately, she stumbled upon Walnut Studiolo. When she showed me your online shop, I instantly approved.
Audrey was immediately drawn to the leather sew-on handlebar grips, though I had my doubts. Audrey is a clever person who can do many things with her hands that impress me (after all, I only have four little kitty paws!), but the idea of sew on grips seemed daunting. In the end, Audrey found them extremely easy to install and she enjoyed the process of getting them on the bike. And boy that bike looks good!
We had a lot of fun riding around on the bike last summer. Okay, to be honest, riding in the bike is not my favorite thing, but I don't hate it. People stop us all the time to ask if they can have their picture taken with me, and I like that very much.
My favorite places to ride are wide open spaces and places with no cars. One time I jumped out to chase a chipmunk and I almost knocked over the bike with Audrey on it. I nearly got that chipmunk. You should have seen the look on his face! It was quite a thrill but Audrey didn't find it funny, so now I have to wear a harness to keep me strapped in.
It's pretty cold here in Northeast Ohio right now so for the winter we've put the bike in the shed and traded it for a sled. That's a whole other story I won't get into. I mean, it's not nearly as classy as the bike. And brrrrrr€¦€¦"
INSPIRING OTHER CATS (AND THEIR OWNERS)
MR. PIG CAT: "I don't know why more cats don't get to go on adventures, or why they're always so scared of every little thing. So I encouraged Audrey to start an Instagram account to showcase what we get to do together. Who knows, maybe it will inspire other cats and owners out there to loosen up and have a little feline fun.
I'm pretty surprised how many people have started following my account and commenting. I mean, I'm just me: a silly cat that likes to hike and wear funny costumes - hands down my favorite thing to do. I love nothing more than to wear a bow tie and a hat!
So there you go! That's my story. Follow me on Instagram to see where my adventures take me next."
PHOTO GALLERY
Check out
@pigcatadventures
to see more photos.   [gallery type="rectangular" size="large" link="file" ids="4715,4714,4712,4711,4710,4708,4707,4705,4704,4709" orderby="rand"]