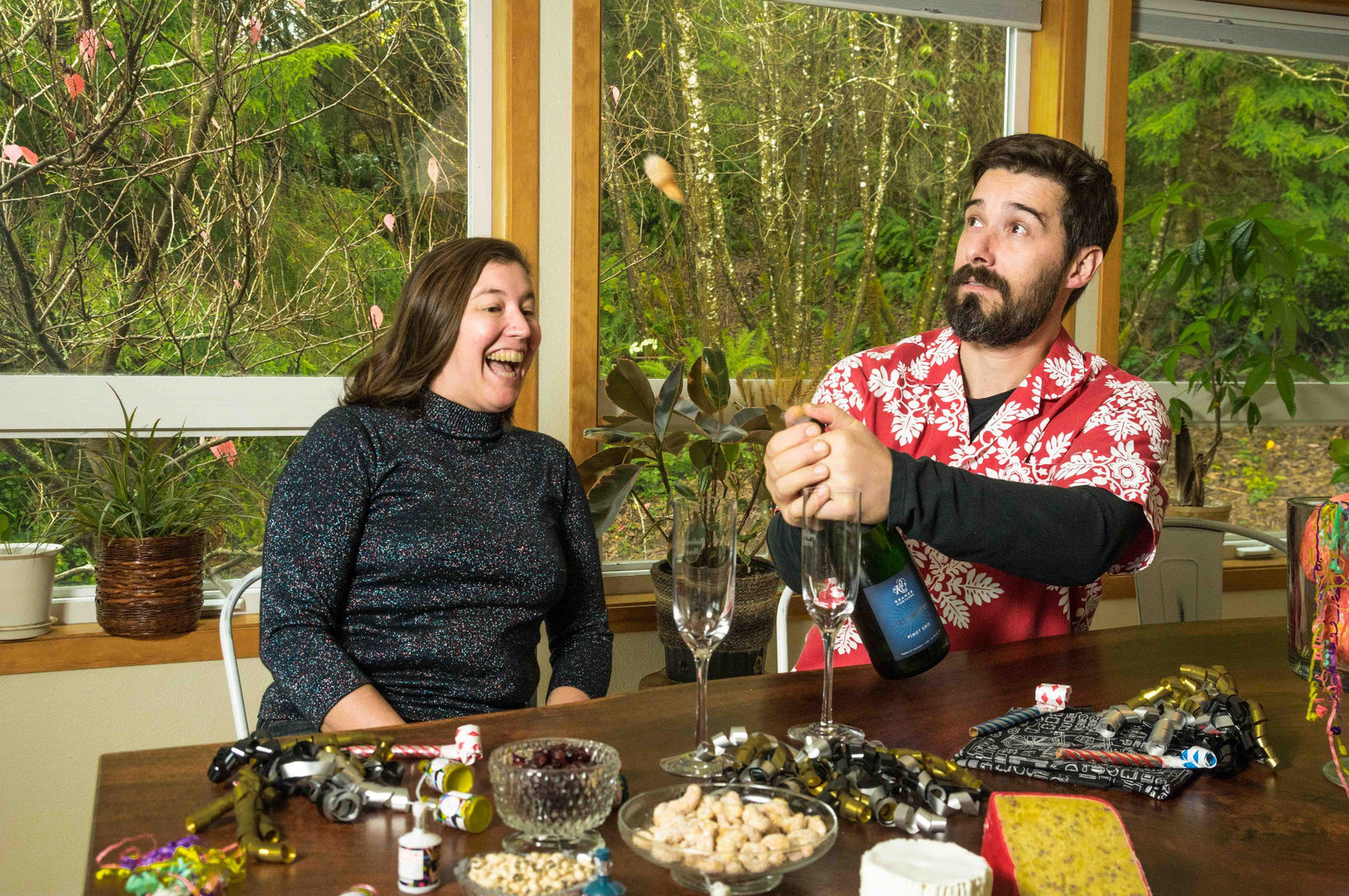 It's been quite a year. We have a lot to celebrate, both big and small. 
Here are a few notable moments from our year.
We didn't get out much this year! Between COVID waves keeping us from going out, and the home business and house projects keeping happily grounded in, we focused our effort on making workshop and home comfortable and sustainable.
We Got a Rainwater Tank!
Walnut's pole barn workshop has a BIG roof, so it only makes sense in our rainy area to take advantage of all that water collection and use it for good. Our water comes from a well, so it requires electricity to pump (so when the power goes out: no water). Rain is feast-or-famine on the Oregon Coast: we get lots of rain during the fall, winter, and spring (usually around 85 inches/year), and sometimes no rain for 3-4 months during the summer when we're growing our favorite vegetables (as you can see from the brown grass in this picture, taken in late summer). This 5,000 gallon rainwater tank will water our plants in the summer and act as a back-up supply for flushing and washing during power outages. It's a win-win!
Our Little Kitten Grew Up into a Fierce Mouser
Last year, we brought in two new shop cats, Best and Tanuki, father-and-daughter hypoallergenic Siberian forest cats. Little kitten Tanuki is the apple of our eye, and we even created her own Instagram feed for your enjoyment. In 2021, she grew up into a full-fledged shop cat. In the mornings, she follows us down to the workshop where she goes on mouse patrol. She has become an excellent mouser and keeps the workshop varmint-free. Papa Best enjoys snoozing at home more, but he greets us at the front door when we arrive home and enjoys copious tasty freeze-dried treats.
We Launched New Products!
We developed and launched 3 new travel game designs in 2021:
We Invested in Our Drawer Pulls
We invested in new photography, animations, and illustrations to make drawer pull installations clear to understand and easier than ever -- even for busy contractors!
See More Illustrations, Animations, and Process Photos >>>
We Took a Principled Stand Against Big Tech Practices
We made two major changes to our business this year in protest of policy changes at YouTube and Etsy:
We moved all our installation videos from YouTube to Vimeo so our customers don't have to watch ads to learn how to install our products.
More About the Switch from YouTube to Vimeo >>>
With a heavy heart, we announced an Etsy price increase, raising product prices on our Etsy webstore €" but keeping prices the same on our website. With Etsy's sales commissions skyrocketing to 23% and new policies that hurt us and our customers, on our blog post we explain why this was necesary.
More About Etsy Price Increases >>>
We Highlighted The Importance of Repairability
"The Right to Repair" movementis an important issue for anyone that owns a piece of technology. In our communications this year, we drew attention to this movement and highlighted our own efforts to make our products repairable and sell replacement parts. Read more on our thoughts on the importance of Repairability, Durability, & Replacement Parts, as 25 US States and the EU considered "Right to Repair" laws.
Blog Essay on "Repairability as the New Luxury" >>>
Happy New Year!
We started this business at the tail end of the aughts, and now we're winding our way through the twenties. We can't tell you what a privilege it is to work with you, our amazing customers, who this year sent us kind and encouraging words, Christmas cards and homemade granola. It's a wonder of the internet that we can all connect from so many places around the world over our shared values and appreciation for fine craftsmanship. We can't wait to see what our 13th year in business brings!