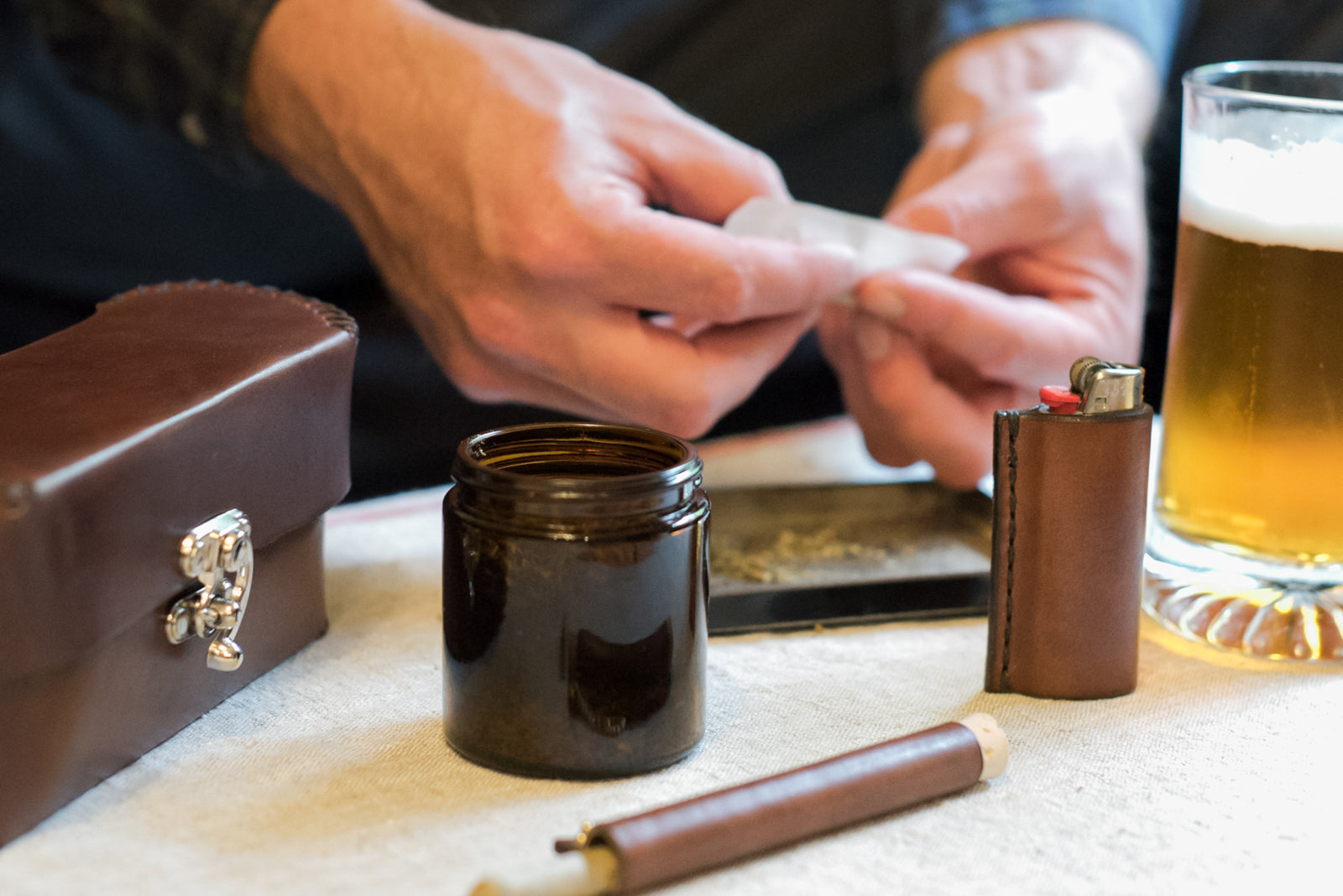 I don't like to mix business with politics, so I find this an awkward post to write. I don't want this to be a big deal, but I'm afraid it's going to be a hot button topic for some people. 
I design and hand-craft leather accessories for the things I want and use in my life
, and as a designer, I am interested in using marijuana as a creative muse. Now that cannabis is legal in several US states - including my own beloved Oregon - I'm going to be a part of the revolution, and I believe this is the right side of history on this issue.
We seem to be coming together on this issue.
As the New York Times prominently pointed out
over a year ago, the evidence is piling up that it's time to end the prohibition on marijuana. Legalization will ruin less lives and
create more equity
by abandoning the failed "War on Drugs",
create jobs while bringing in much-needed tax revenue
, 
improve quality of life
through medical applications, and be a viable, and perhaps safer,
alternative to alcohol
in recreational use. Moreover, more and more
Americans agree
with me, as shown in this poll by the Pew Research Center and referenced in the New York Times article. I believe that design will play an important role in what is rapidly becoming a paradigm shift, and accessories are the things that fill our lives. I'm not the only one thinking this way: other business pioneers are introducing clean, modern, high end designs for cannabis accessories, from
Jetsons-style home cultivation machines
to
Etsy-like necklace roach clips
.
Leaf's Home Cannabis Grow System
Roach clip necklaces by Studio ERG
A high-design marijuana dispensary As my contribution to the discussion, I have developed a collection of hand-crafted 
weed accessories
. I see these designs, which use high-quality, natural materials like leather and brass, as a step forward to removing the stigma. We launched them quietly at Weed the People, the
Oregon marijuana legalization celebration event
 put on by the
Portland Mercury
, on July 3, 2015, and got a tremendously positive response. As cannabis becomes increasingly mainstream, we aim to be a leader in "cannabis craft" by making non-tie-dyed, non-cliched accessories to take the experience from "far-out, man" to "nicely done, sir." So here, we're announcing publicly to our friends, fans, followers, and family our new
Marijuana Accessories
Collection. Let the conversation begin!
The Doobie Tube - $28 - Show up at the party in style with the cannabis equivalent of a hand-crafted leather 6-pack. When that time of night rolls around to spark up, you know you'll be prepared with a freshly rolled joint, unbent and unbroken.
The Classy Stash - $145 - Hearkening back to the days of liquor cabinets and cigar boxes, our hand-crafted Classy Stash organizes your marijuana strains into three (included) glass stash jars, protecting them from the light, preserving them from drying out, and confining odors.
The Brass Joint Tube - $12 - Stealthy, stylish, and secure, the Joint Tube is a subtle travel accessory to confine odors and protect a small joint or roach from crushing and bending. Don't feel the need to finish a whole joint - the Joint Tube is the perfect place to store a partially-smoked joint, also called a roach.
The Leather Lighter Case - $23 -Never again will your lighter accidentally get pocketed by somebody else - if they steal this beauty, it's on purpose! This beautifully simple leather lighter sleeve elevates your ordinary Bic lighter into something extra-ordinary.