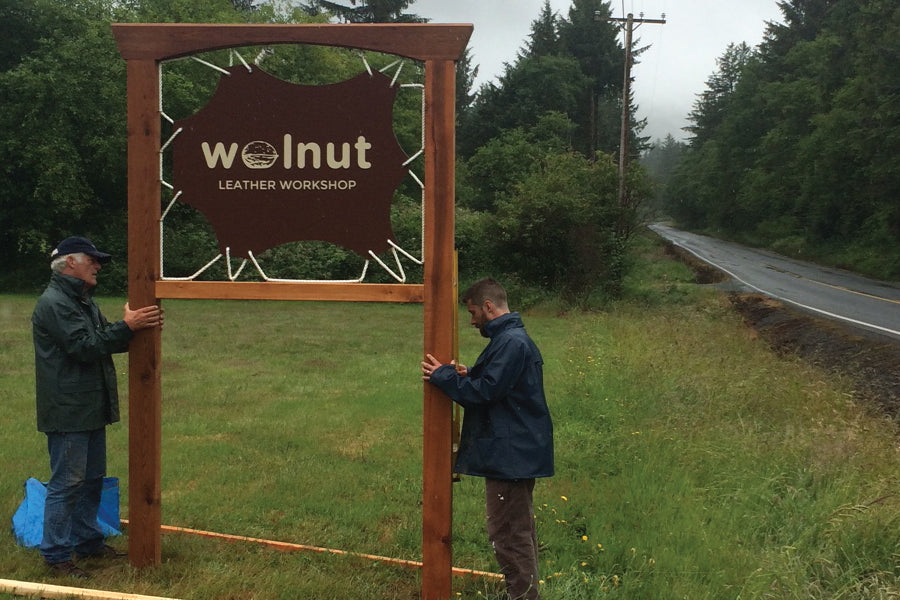 It's more than just a road sign. When we moved our home and Walnut Studiolo to the Oregon Coast, we were following a dream, and taking a leap of faith. We weren't sure what this new community would be like. If we would miss our old home. How well we would settle in. If it would well to establish our leather work studio in a remote location. And, would anyone would ever be able to find us on our quiet rural road? What we discovered is an outdoor world of wonder. There is a dense wooded area of hiking trails out our back door. Our commute is now a lovely walk from the house to the studio. Weekends are for exploring the Oregon Coast. The salty fresh air seeps in to everything we do. So when it came time to finally stake our claim to this gorgeous region and install a Walnut Studiolo sign at our driveway, we knew we had to choose something special.
Geoff designed the road sign with help and fabrication by Manzanita Sign Company, located just a town away from us. The sign features the outline of a leather hide stretched as if it is hanging out to dry. Geoff used nautical rope to reflect our coastal surroundings. He also added reflective address numbers on the side make us easier to find.
When it came time to erect the sign, Geoff's dad stepped in for the special occasion. So, it's official more than ever. Walnut Studiolo is on the North Oregon Coast, and we've got the sign to prove it.