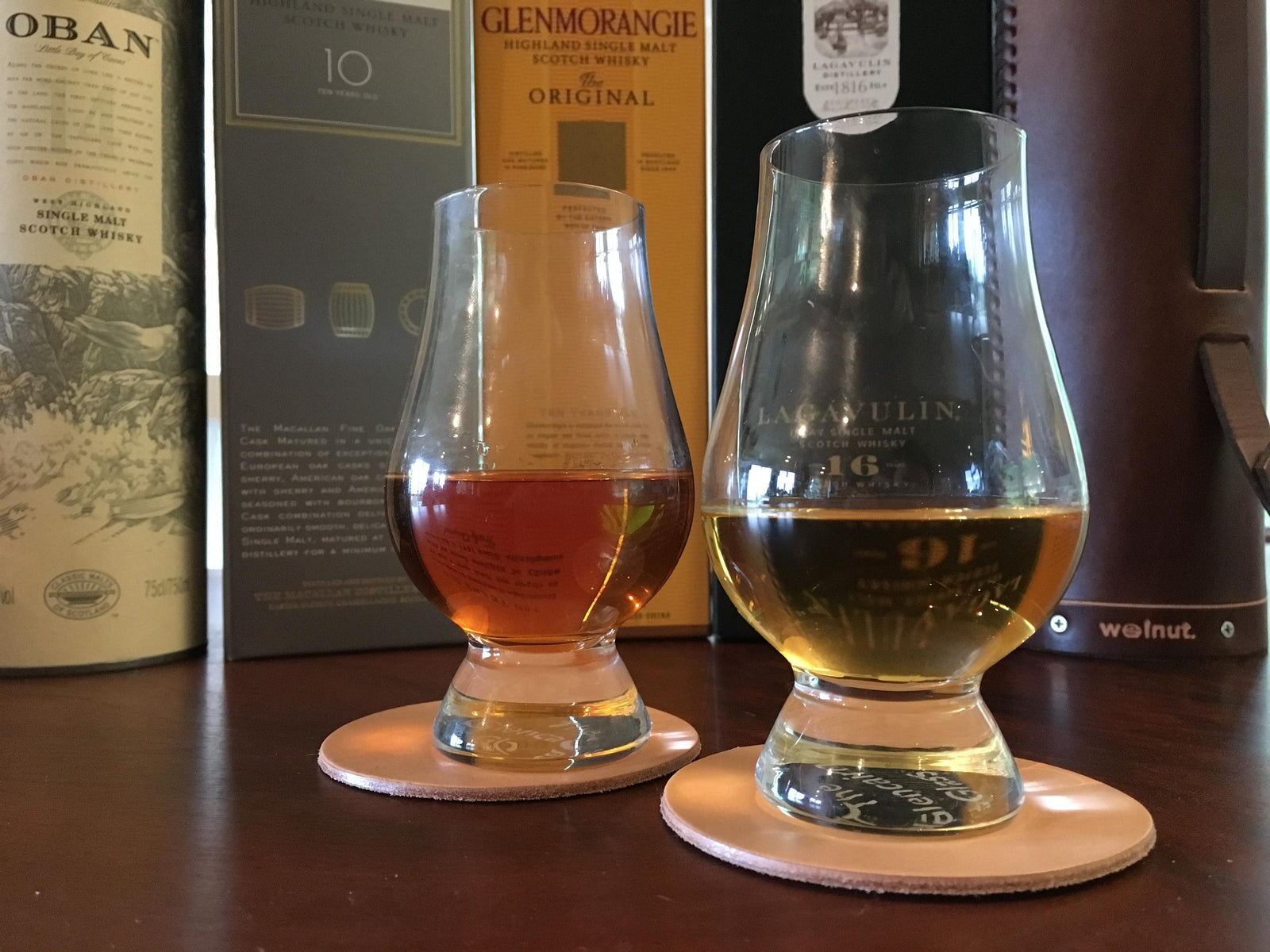 Although we can't claim to be Scotch experts here at the Walnut Studiolo, we are appreciators. Our leather
Whisky Case
is a very popular gift item and we are often for a bottle recommendation to pair with the case. We're never sure exactly how to respond, so we decided to have a little whisky tasting ourselves and share with you what we learned.
The Basics
It's spelled "whisky" when referring to Scotch, "whiskey" pretty much everywhere else, including Irish whiskey and Canadian whiskey.
The most widely recognizable signature of Scotch is the presence of some measure of peat, a smoky flavor created by the burning of peat moss to dry the barley. For a true beginner tasting of whiskies, taste a Scotch against an American bourbon and an Irish whiskey - you'll immediately see and smell the smoky difference.
For the purposes of this post, we are only interested in single malt Scotch whisky - that is, whisky made in Scotland purely from water and barley.
There are five main whisky regions of Scotland, each generally known for a certain kind of style: Islands, Highlands, Lowlands, Speyside, Islay, and Campbeltown. You're most likely to find Highlands, Speyside, and Islay at your local liquor store.
Like all rules, there are exceptions.
There is no right or wrong answer in tasting - you like what you like, and don't let anyone tell you otherwise!
On to the Tasting
We assembled a selection of seven single malt Scotch whiskies (oh the things we do for our work!) and these handy dandy
tasting note sheets
then set out to the hard work of having fun. Tasting scotch is not much different than tasting wine, with the exception of the important role of water. My grandmother always used to drink Pendleton whiskey with a 60/40 whiskey:water ratio. A little bit of water brings out the flavors and aromas of whisky and makes the drinking experience less harsh. (
Never ice
, which dulls the flavors.)
To taste:
pour the whiskey into a Glencairn glass or a small tumbler and observe color and smell. Make a note of your reaction. Have a small sip here, swirling it around the mouth and "smelling" it again with your tongue as well as nose. Pay attention to smell, taste, and "finish" (how it lingers after it has been swallowed - the flavors and the length of time). Then add anywhere from a few drops to up to 20% room temperature filtered or spring water and taste again. Are there any differences? Observe your reactions to smell, taste, and finish once again and make a few more notes.
The Verdict
Here's our opinion after the resulting taste test of the seven we sampled:
Everyday Sipper: Glenmorangie (10 yr). Glenmorangie is the most popular scotch in Scotland, and it's a classic. Creamy, sweet, light in color.
For Feeling Nostalgic about Scotland: Oban. Read the history on the bottle of the Oban sea cave area in the West Highlands, dating back to 5000BC, and try to resist the urge to research flights to Scotland. Mid-range in cost, Oban tastes like the sea caves it's distilled by: salty, hay like rope, wood and vanilla.
Special Occasions: Glenlivet (18 yr). Dried fruits, nutty, and sweet.
Bonfires & Camping: Macallan (10 yr) or Glenfiddich (12 yr). Best buys, light in color, and consistent in flavor.
Extra Cold Days: Lagavulin (16 yr). Nick Offerman's favorite is also the most expensive one we tried. Lagavulin is from Islay, known for its "peat bombs." Super smoky, it is the most complex tasting. Almost medicinal and salty. This is the whisky you should be tasting when you are alone or in limited company, giving it your full attention.
Dinner Party:Dalwhinnie (15 yr). Clean, classic, floral, not too peaty, and reasonably priced, it's a guaranteed crowd pleaser.
Whisky Fit For Our Leather Case
If you're planning on making a gift of
Walnut's Leather Whiskey Case
paired with a good bottle of Scotch (a perfect gift for aficionados and noobs alike!), the Lagavulin, Glenmorangie, Oban, Glenfiddich or Macallan bottles all fit perfectly well inside the Whiskey Case, while short, squat bottles like Balvenie or Dalwhinnie did not. For storing a special bottle out of the light or bringing it out of the house with you, Walnut Studiolo's Leather Whiskey Case keeps your bottle secure and discreet - cloaked in timeless style. Modern design details create an heirloom piece that ages as well as the beverage inside. We add sustainable cedarwood ends to protect the bottle and a strong snap that keeps the case closed tightly as you travel to your destination. The leather case is hand-stitched and hand-dyed using the finest USA-sourced vegetable-tanned leather, in our workshop in Portland, Oregon. Is this the perfect gift for whiskey, whisky and even wine lovers? We think so.
Continue Your Research: Further Reading
How to Host a Scotch Tasting Party
The Serious Eats Guide to Single Malt Scotch