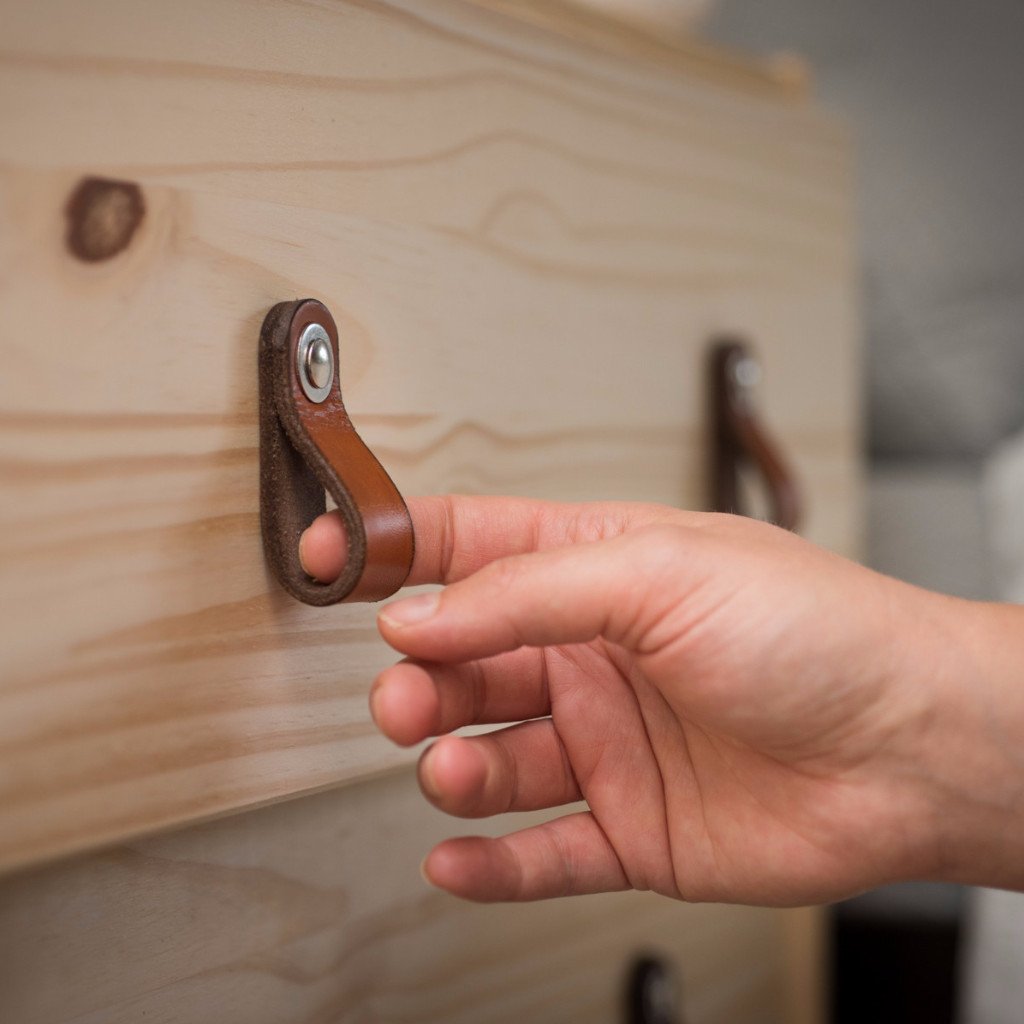 Leather Drawer Pulls are a quick and easy way to customize and dress up existing furniture, such as IKEA basics. We hacked our entire personal kitchen and several pieces of furniture with our leather drawer pulls to take photography for our collection to get your mind rolling. These #IKEAhacks are quick and easy, requiring no special skills at all:
Soften up an IKEA TYSSEDAL chest of drawers for a little girls room with no-bumps, no-bruises leather handles (shown with Morrison handles in three colors with Brass hardware)
Dress up the super inexpensive rustic pine IKEA RAST chest of drawers with leather handles (shown with a cascading ombre series of Small Hawthorne leather pulls in all three leather colors and the Burnside hinged leather handle in Small / Black / Nickel)
Upgrade an IKEA dining room buffet or media cabinet into an eye-catching entertainment system with honey leather drawer pulls on a black-brown cabinet. (Shown here: Tilikum Large Honey / Nickel and Burnside Large Honey / Nickel)
Improve the function of a hard-to-open IKEA MOPPE office organizer with hinged Small Burnside leather pulls
Add a lightweight little leather tab pull to a set of Birch IKEA BILLY bookcase doors (shown: St. Johns leather tab pull in Dark Brown / Nickel)
Create a color contrast in a dark IKEA kitchen, replacing the sleek, cold metal hardware with warm, honey leather drawer pulls on NEXUS AKURUM black-brown cabinets (shown with Hawthorne Wide, Fremont, and Sellwood leather handles in Honey / Nickel)
Warm up a basic IKEA SEKTION kitchen with white VEDDINGE doors using soft natural leather (shown with Lovejoy, Tilikum and Morrison handles in Natural / Nickel)
BONUS: Transform a super cheap woodshop work bench from Harbor Freight into a rustic bar cart with dark brown leather drawer pulls (shown with Tilikum Small leather handles in Dark Brown / Nickel)
We've got a leather drawer pull design for all your clever furniture and cabinetry upgrades, from big to small, knobs to handles. Named after Portland Oregon's iconic bridges, our complete leather drawer pull collection is available for sale on our website or Etsy store.
We'd love to see how your projects turn out! Tag us with #walnutstudiolo or send your projects to us at walnutstudiolo [at] gmail [dot] com.
PS. See even more on our Houzz gallery: Follow along with us!