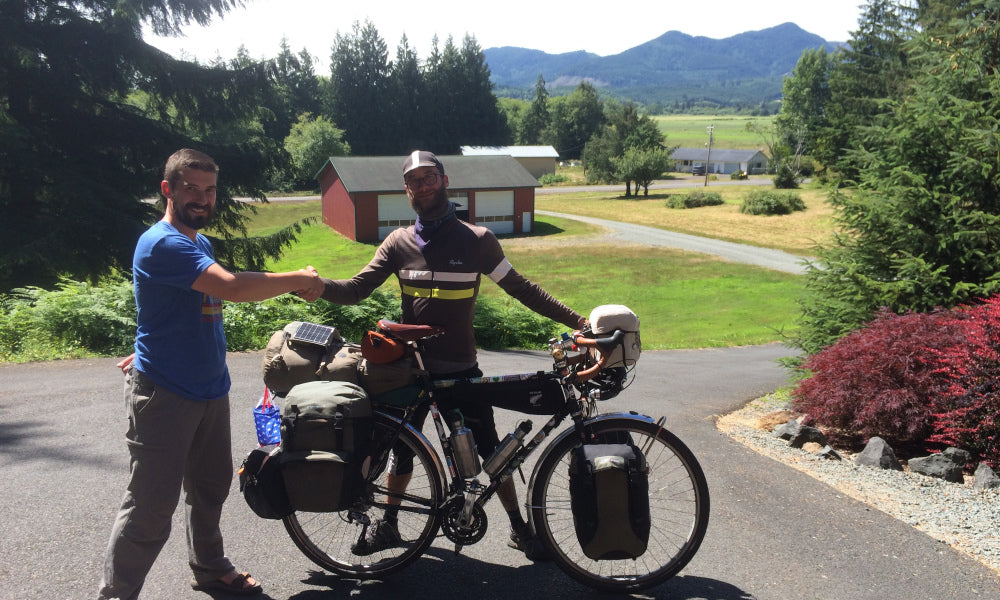 We love our little corner of the world. Here's our guide to adventures you can enjoy on two wheels in Oregon, starting with our region, the North Oregon Coast.
North Oregon Coast Bicycle Adventures
Did you know the Walnut Studiolo workshop is located right off Highway 101, the Oregon Coast Bike Route? If you're thinking about riding it, first read The good, the bad, and the ugly on the Oregon Coast Bike Route by BikePortland.
If you are riding the Oregon Coast route, we welcome coast route riders to visit like customer Dennis Kleine (pictured above). Contact us for local area recommendations and more. (If you need something for your bike, please let us know and we'll do the best we can to help. There are a lack of bike shops between Cannon Beach and Tillamook, and we do have some bike parts and a basic bike mechanic set-up in the workshop. We're happy to help.)
Although there aren't a lot of great bike routes for getting to the coast from Portland, we've ridden the blue highways from Banks-Vernonia to Astoria with success. (Banks-Vernonia is Oregon's first rail-to-trail, and it is a perfectly lovely day trip by itself, or can be made into an overnight at L.L. "Stub" Stewart State Park.)
The best way to experience road biking from the Willamette Valley to the Coast is with the safety-in-numbers found in the American Lung Association's Reach the Beach ride every May. Memorably, it always ends at the Pelican Brewery right on the sand in Pacific City!
On the North Oregon Coast, look to the Northwest Coast Trails Coalition for the best information on hiking and biking trails north of us in Clatsop County. They're working hard on creating more mountain bike routes in this area! South of us in Tillamook County, the Tillamook State Forest hosts three featured mountain biking rides.
Further south in Tillamook County and off Highway 101, the Three Capes Scenic Ride is a popular road cycling route, with the Cape Lookout State Park for overnight camping.
One of the only dedicated Oregon bike routes going from the Willamette Valley to the Coast that we know of is the new Corvallis-to-the-Sea Trail (C2C). We're all waiting anxiously for the planned Salmonberry Rail Trail to become a reality and connect Portland to Tillamook for cycling.
More Oregon Bicycle Adventures
If you're planning an Oregon bicycle adventure, check out Oregon Scenic Bikeways. Oregon Scenic Bikeways are official state-designated routes selected and curated by experts, with printable maps, GPS and signage. They are the state's best road rides, showcasing incredible, "only-in-Oregon" scenery.
Geoffrey Franklin from Walnut Studiolo was featured in the Madras Mountain Scenic Bikeway video done by Pathlesspedaled ("inspiring bicycle travel through storytelling"):
For long-distance riders, the classic Oregon event is Cycle Oregon, a 7-day adventure that changes location each year around the state. Cycle Oregon is now also hosting more events, including a Gravel ride and a Women's ride.
For dirt riders, the ultimate challenge is the Oregon Outback, a self-supported bikepacking race 300+ miles across the entire state from south to north. Recently, a merry band of youngsters attempted to trailblaze the Oregon Emerald Outback, a 570-mile bikepacking route from Astoria to Brookings - you'll have to contact them to find out how it went!
Who Are We
We're Walnut Studiolo, makers of fine handcrafted leather bicycle accessories. All our gear is "handbuilt for the long haul" and handcrafted in our Oregon workshop.
Try our leather bar wraps for your next ride, a tactile, performance material that gets grippier when wet.