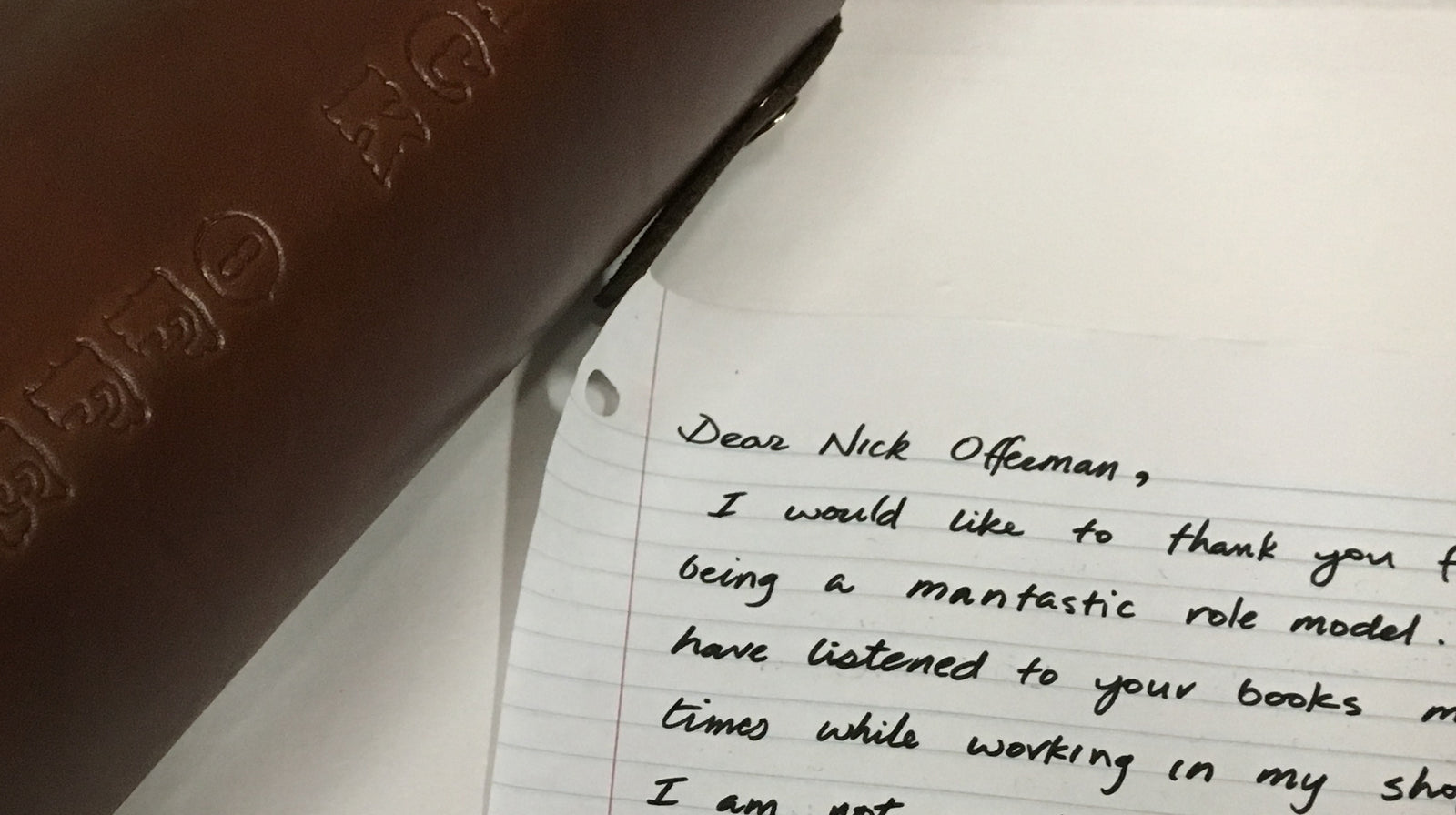 "Makers Gotta Make"
so the t-shirt worthy phrase goes. And makers who heed the call of this deeply-rooted drive are part of a special tribe. Which is why, perhaps, Walnut Studiolo's founder Geoff Franklin couldn't resist making a special gift for a fellow maker he admires,
Nick Offerman
. The actor known for his comedic work on shows like Parks and Recreation is also a talented woodworker. He runs a highly skilled wood shop collective in East Los Angeles,
Offerman Woodshop
, focused on handcrafted, traditional joinery and sustainable slab rescue - working with fallen trees from throughout northern California and their urban LA environment.
In 2015, Nick became a spokesman for his favorite Scotch whisky, Lagavulin. He made a brilliant series of videos - including a 10-hour 
holiday film
  wherein he does nothing but sip whisky by the fire. That was when Geoff found out that Nick Offerman is a fellow whisky lover, too. Craft, whisky...with an affinity for the same things, Geoff picked up Nick's audio book 
Paddle Your Own Canoe
, which he
was listening to in the workshop when he heard about the maple leaf. "In one of this books, Nick talks about how much more meaningful it is to create something for someone, even if it's just a handmade birthday card instead of a store-bought card. When Nick described writing a birthday card on the back of a maple leaf, I kind of felt like we were kindred spirits." Geoff knew he just had to share his gorgeous leather Whiskey Case with Nick, so he set out to make one special, picking out just the right piece of leather and monogramming it.
Geoff says he admires Nick Offerman for many reasons. "It is obvious that he is making because he loves doing it. He has created an amazing workshop in an unlikely place full of unique and talented individuals. This is what we're aspiring to do at Walnut Studiolo. I also admire the way Nick Offerman works with his wife, he has taken it to the next level. [Geoff and wife Valerie together run Walnut Studiolo.] You know what else I think is important? His identity is not just based on one thing. He could have been solely a movie star. And the way that he writes, he could have just been a writer. But he is living a well-rounded life, and I'm inspired by living a life of varied interests, and not letting our job be our entire identity." Nick Offerman is famous, and his woodshop certainly benefits from the association. Geoff views this attention as a boon to the world of makers. "I think that people need to have a creative outlet. To not teach people how to be creative with their hands is to stunt a huge part of their brain from developing. To a mass market, I think Nick Offerman is making "making" cool again. Not that this is a new concept entirely, but it is a new concept for a whole new generation of kids that grew up in a consumer-focused world." Geoff is in awe of Nick Offerman's ingenuity. "As far as I understand it, Nick invented a tool to work around not having a big expensive planer, a tool that levels off the surface of wood. A planer large enough to evenly level a large slab of wood easily costs tens of thousands of dollars. Nick invented
a tabletop version
to utilize the tools that he already has in the shop. Instead of giving up, he invented his way out. That's just amazing! That's a great example of being guided by knowing what you want to do, rather than by how other people do it."
Nick immediately tweeted his gratitude. So back to that gift: Geoff made it, sent it to Nick... and he liked it! Well, his exact words were a little more humorous, "Good lord, thank you Geoff Franklin for this handsome pleasure tube for m'Lagavulin." That certainly made Geoff smile. Geoff says there are all sorts of impressive makers he'd like to meet some day. Among them would be those who design products from entirely different industries, industries that perhaps have no relation to fine leatherwork and bicycle accessories. In fact, the more different, the better. "I want to learn how other designers design their work so I can learn from their process and apply it to my work." Goeff hasn't yet met Nick Offerman, but he knows exactly what he would do if Nick ever made a visit to our studio on the Northern Oregon Coast. "It's funny, because I would do the same thing I do when close friends come by the shop. I would ask him if there's anything that he's been wanting, that he's been thinking about, that either doesn't exist or that he would want to have. And then we would just putter around the shop and make that thing. I'd love to prototype something with Nick Offerman, something he would want to take home and use often."