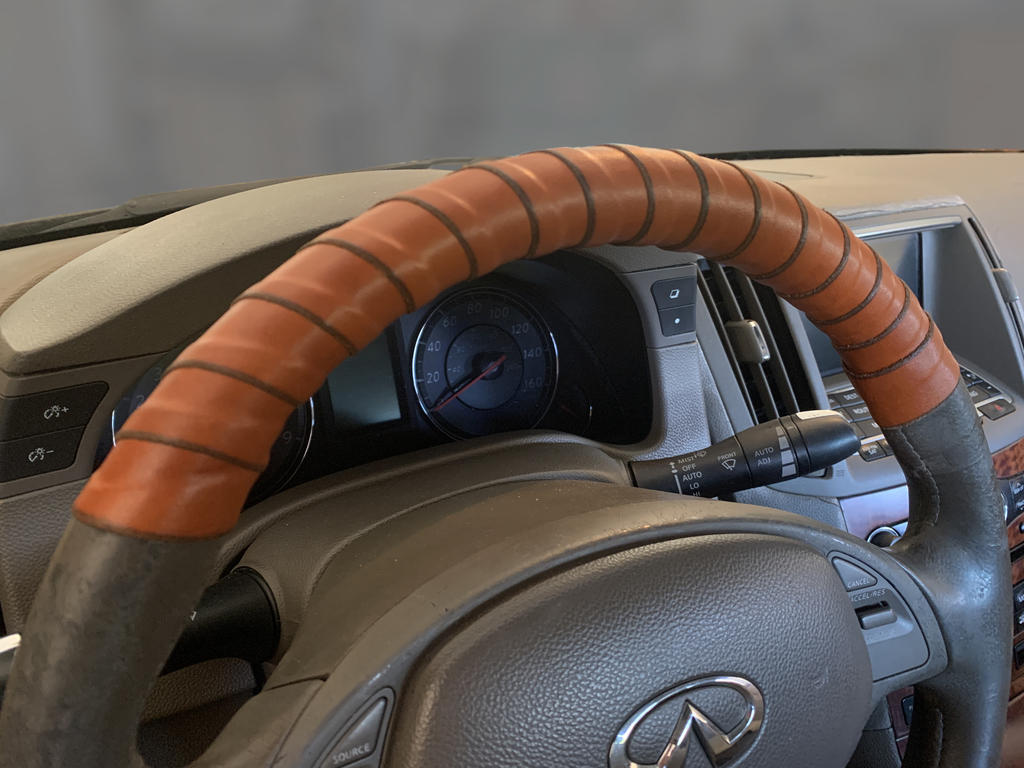 Yes! You can use our quality leather bar wraps for steering wheels. In this post, we'll share tips and tricks for picking the right wraps, plus share some of our customer photos and stories.
Steering wheels come in all kinds of shapes and sizes, so there is no one-size-fits-all solution for leather wraps. Oftentimes they are very unusual shapes, with variable circumferences and multiple spokes. Check out our options below and choose the right one for your installation.
Coil Leather Wraps and Oswego Wrap
For the easiest and most universal solution for steering wheels, we recommend either our Oswego Leather Wrap or Coil Leather Bar Wraps kits.
Available in our 4 standard leather colors, both wraps are straps of the same leather and 1.25" width the lengths and accessories are different. The length of the strap is limited to the length of a cow hide, which is variable. But the ends can be easily attached together to make a longer length.
The Oswego Leather Wrap comes with one strap from the longest part of the hide, at least 80" long (and longer if the hide allows), two leather "cuffs" to cover transition points, and leather staples. The staples are for closing the leather cuff but can also be used to connect two lengths together. We recommend ordering two sets to be sure you have enough length to cover the entire wheel.
The Coil Leather Bar Wraps come with two straps that are slightly shorter, a reliable 72" long each. One strap is not long enough for one steering wheel and will need to be connected to each other for an extra-long length. An set of leather staples (sold separately) can be used to connect the two straps together into one extra-long length or another DIY solution such as stitching or taping.
>
Oswego Leather Wrap
The Oswego Leather Wrap come with one, longer wrap, leather cuffs, and staples to connect two lengths. We recommend ordering two kits for one steering wheel.
Coil Leather Bar Wraps
Our Coil Leather Bar Wraps come with two wraps and enough length to cover a typical steering wheel. Connect the two straps together using the extra staples and instructions from our Oswego Leather Wrap kit.
Customer Installations
Customers Tammy and Eric shared photos from their steering wheel installations using the Coil Leather Wraps:
Customer Kristina shared her tips and tricks after installing the Coil Leather Wraps on her Land Cruiser named "Doug":
Pictures attached of the finished product!! Looks awesome!! It was a nice satisfying project :)

Overall the installation went smoothly. We took off the steering wheel cover off the center, that helped to make sure that it is tightly in there.

The tricky bit was covering around the spokes of the wheel. I cut some strips and taped them with electrical tape in the opposite direction of the wrap. It took a bit of finesse to get the angle correct so that there was enough coverage. I ended up wrapping the steering wheel 3x to get it right!

About 3-4 inches left over...just right!

Steering wheel is 16" in diameter and the thickness is less than 1".

I also measured a .5" overlap, I wanted it pretty wide overlap as we wanted it to feel thicker!
Custom Leather Wraps
Customers have also done other custom installations of our leather wraps on car accessories.
Sew-on Leather Wraps
Sew-on bar wraps have a clean look on bicycle handlebars, but on car accessories and steering wheels they can be tricky. The ideal bar to sew them on has a uniform circumference and no spokes. Our bicycle Sew-on Bar Wraps are designed for a uniform 1" circumference.
We can make custom sew-on grips in a custom circumference, but variable circumferences and spokes are too complex. If the circumference is only slightly variable, then small gaps can be covered with the stitching itself, as shown in the photo below, on the left.
Customer Pablo thought our City Grip was the perfect solution for the emergency brake in his 1967 Karmann Ghia, as shown in the photos below on the right. Our City Grip it has a uniform 7/8" circumference (a simple bar) but we can made it in a custom size to fit his e-brake.
Braided Leather Wraps
We only recommend our Bullwhip Braided Leather Wraps on steering wheels for folks that are crafty and comfortable with DIY installations.
It has been done, but the braiding plus the spokes can be tricky.
To order, contact us about a set of Bullwhip Braided Wraps without a sew-on section. The customer will need to anchor the ends down with electrical tape rather than the sew-on section shown in our installation video.
Customer Kendra did a great job installing the braided leather bar wraps on the steering wheel in her pickup truck:
What do you think about wrapping your steering wheel in American made high quality leather? Let us know in the comments below!