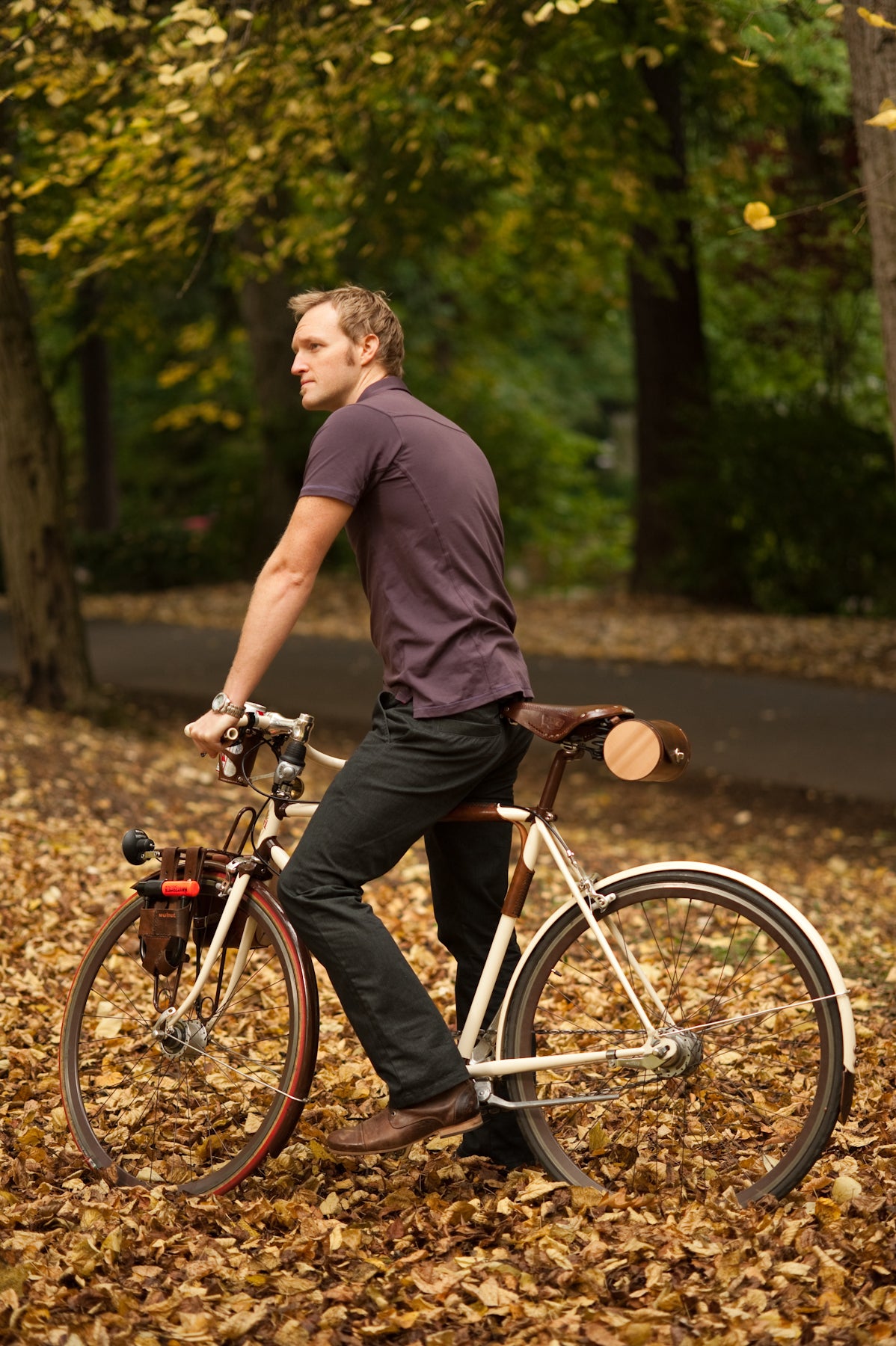 With the holidays upon us, it is time to think of gift ideas for the guys in your life. Leather is a great place to start, especially hand-tooled, vegetable-tanned goods from our special workshop right here in Oregon. Monogrammed leather accessories for his bicycle or lifestyle are sure to make his Christmas morning extra special. We have a few ideas to help you find that special gift for the special guy on your list. If he's a cyclist, he will love our bicycle accessories. We make them from natural leather and hand-tan them using the best vegetable-based dyes. No one does this, so each gift from our workshop is entirely unique. Then, we can monogram many of our leather goods, helping you become the gift-giving star you are.
Bicycle Frame Handle
What every city commuter cyclist needs Every city cyclist needs a holder for his bike, to help carry it up stairs, onto the subway, or just to help mount it on a wall hook. Our Bicycle Frame Handle, nicknamed "The Little Lifter", was launched on Kickstarter in 2012 to high accolades and has been one of our most useful and beloved products since. We offer the Bicycle Frame Handle in four colors and two sizes to fit different frame diameters. Both models attach firmly to the bike on the down tube and seat tube - or in the case of a mixte / step-through frame, to the top tube and the seat tube. Made of equestrian-grade leather, these handles are designed to last a lifetime and take all the elements, rain or shine. What's even better is that we can monogram his Bicycle Frame Handle for an extra-special layer of gifty goodness - and to deter thieves!
Bicycle Beer Combo
Take your suds out for a tour at the Oregon Coast. Since cyclists tend to get thirsty, we designed the
Bicycle Beer Combo
, a stroke of genius that will allow him to pedal to a party with a six pack of beer in tow. There's no need for an extra bag or any fuss at all. In fact, many people ride to the beer store on their way, load up the
Beer Combo
, and are on their way with no worries about balancing a sixer of their favorite IPA. The beer holder consists of two parts: our gorgeous leather and wood
6 Pack
and the award-winning
6-Pack Frame Cinch
 - which can be used to carry just about anything with a handle to your bicycle. Our customers have used the cinch to carry everything from an umbrella, to a Stanley coffee thermos, to a kayak paddle. The 6 Pack is bolstered with either modern bamboo-based Plyboo or old-school dark Masonite and held together with the finest natural leather, available in three colors to match our bicycle cinch. Fill the 6-Pack with bottles of his favorite beer for a guaranteed win.
Bullwhip Bar Wraps
Bullwhip Bar Wraps make his bike stand out in any rack. One gift that no one else will ever think of for your cycling guy is a set of high-end handlebar wraps. Our
Bullwhip Bar Wraps
will be functional and handsome for years to come. As he rides, the oils from his hands will create unique markings on the wraps. If needed, he can install extra cushioning under the leather. These wraps work best on drop-bar style handlebars (conventional 10-speed style) but can also fit on bullhorn bars or ergo bars. For mountain bike flat bars and u-shaped city handlebars that allow only one hand position, we also offer both our
Bare Knuckle Grips
and
City Grips
. If you are unsure whether he needs bar wraps or grips, take a look at what is on his bike right now.
Travel Cribbage Board
Play cribbage with the sound of Oregon's crashing coastline in the background. If your guy likes a little friendly competition when exploring the wilds of the Oregon Coast, or is on a bicycle expedition in Napa Valley, he will be pleased to break out this beautiful, ingenious
Travel Cribbage Board
. We have put together the perfect set, complete with all the pegs and a cork-stoppered brass tube for maximum style and convenience. The game takes up approximately the same space as a deck of cards, so it's ideal travel game for a weekend getaway, or a mid-career jaunt around the world. Don't forget to monogram this leather gift. When you personalize it, you show that you cared enough to go that extra mile.