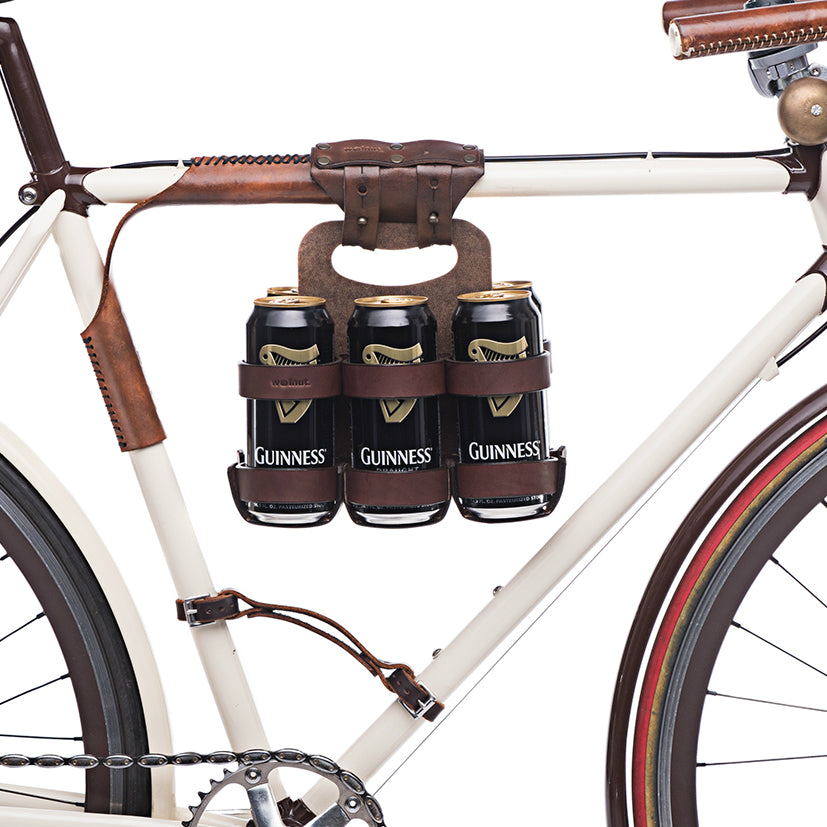 Just in time for Christmas, we here at Walnut Studiolo are pleased to introduce our new 6-pack holder and the 
Bicycle Beer Combo
 - two popular products for one special price! The Bicycle Beer Combo has everything you need to carry a 6-pack of beer in your bicycle triangle in our most popular color combinations -- with a discount! The combo includes: - 1 of our award-winning 6-Pack Frame Cinch design, which can be used to carry anything with a handle on the top tube of your bicycle - 1 of our sturdy and secure leather and wood "Spartan Carton" 6-Packs Made out of small-batch, USA-sourced leather and environmentally conscious Plyboo or Masonite, the 6-Pack Carrier was designed to be a "legacy" piece; its sturdy build will last a lifetime, while eliminating the need for single-use products.
More about the Spartan Carton.
Recognized as one of the Ten Best Bike-related Designs by Architizer and a consistent best-seller, the 6-Pack Frame Cinch attaches any object to your bicycle, but most importantly, it brings a 6-pack of your favorite beverage along for the ride. The sturdy leather design straps the object securely between your thighs - not your knees - while leaving a stylish impression as you roll by.
More about the 6-Pack Frame Cinch.
The Bicycle Beer Combo will be the highlight of the year for your cycling, beer-loving, cycling bestie, partner, or family member. These items are made from the finest, equestrian-quality, vegetable-tanned leather, which has been hand-dyed with oil dyes right here in Walnut Studiolo's Oregon workshop. We reinforce the six-pack holder with masonite or plyboo (bamboo) to keep the item sturdy and your beers safe and secure on your way across town - or even when they're thrown into the river during the summer to cool.
A
Unique Gift
Select one of these vegetable-tanned tones. You can choose between honey, dark brown, and black leather. Take a look at the examples to get a good idea of what the finished product will look like, but since we hand-dye all of our natural leather products, no two will look exactly alike. For a special touch, we offer a monogramming service for both the cinch or six-pack holder for a thoughtful, one-of-a-kind personalization.  
A B
eer Lover's Best Friend
Be the hero. With the 6-Pack, they can carry six of their favorite bottles of beer to a party while freeing up their backpack for gifts, food, or other party essentials. If they don't want to be stuck with just one beer variety, they can load the full grain leather six-pack holder with any variety they like - perfect for bottle shop frequenters. After all, we beer lovers like to mix it up, and to bring along that extra special holiday porter they brewed especially for a best friend. The 6-Pack fits nicely between between your thighs - not your knees. When installing the frame cinch with the 6-Pack, be sure to read our (included) visual "How To" instructions, or watch
our bicycle beer holder how to video on YouTube
. Don't forget to tuck in those straps!
V
ersatile Leather Cinch
Beyond beer, the cinch is a completely functional cinch for everyday use. It wraps around the top tube of any bicycle with a parallel top tube to hold anything with handle inside your bicycle triangle. What a great use of space!
Put your cinch to a practical use! Please note that the cinch is best used on horizontal top tubes. If you ride a mixte bike or other step-through styles, the cinch will not work. This also goes for most modern mountain bikes, though you'll want to keep your beer in the cooler at the end of the trail anyway!   Beer or no beer, you can use the cinch on its own to lash all kinds of items with a handle to your frame, whether it's an umbrella or a coffee thermos.