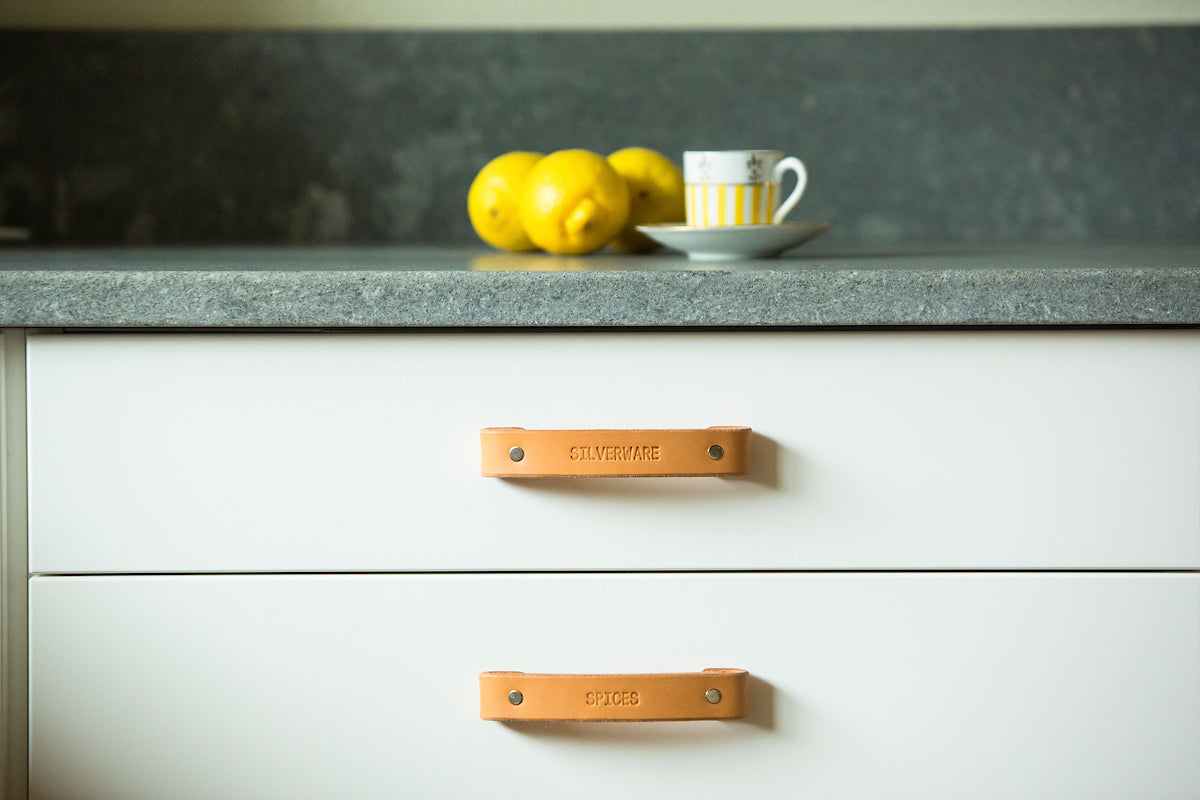 Announcing the extension of our monogramming / labeling service to our leather drawer pulls and handles for a superior storage organization solution.
Easier Storage Navigation with Labeled Leather Handles
Labeled drawer contents make it so much easier to navigate the kitchen, not only so that everyone in the family knows exactly where everything goes when unloading dishes, but they also aid in finding less-frequently-accessed items. Plus, it's a great way to make guests feel instantly at home.
Keep the Peace and Privacy with Names
Good fences make good neighbors, and labeled individual drawers, or cubbies, can keep arguments at bay. These families used leather handles with family first names for mudroom organization. Family members get to keep their bins private and organized however they want to.
Create a Personalized Keepsake with Initials and Monograms
Formal initial monograms (with the family name initial larger and in the middle) are an elegant and classy way to identify ownership and create a keepsake for a special person. They can be applied to furniture or organizers, like steam trunks or hope chests.
Help Guests Feel Instantly At Home with Labeled Contents
Like so many of our products, this idea came about because we wanted it for ourselves and couldn't find anything like it on the market. In this case, since we were renovating our kitchen (furnished with our own leather handles, of course!), we decided to label them for ourselves.
Moving into our new kitchen after the construction work felt daunting, not only because it felt much bigger, but having just moved in it was hard to remember where to find things. Plus, we wanted our frequent guests to feel instantly at home with us, and when we had an AirBnB, a little trick we used to feel instantly at home was to label the drawers to identify the drawer contents.
In our basement AirBnB (now closed), we had labeled the contents of the kitchenette drawers with label maker stickers and those were always a big hit, but the stickers were a little ... tacky. Not exactly the look we were going for in our nicely renovated kitchen.
So for our kitchen, we wanted to a classy way to label our handles. What we really love about it is that the debossing is clearly legible when close up, but not distracting like the label maker stickers are from far away, blending right into the scene.
Creative and Clever Uses for Our Leather Labeling Service
Our clever customers have used our handles and labeling service for even more functional and practical storage solutions. One customer used the handle to indicate the gear shift on his vintage golf cart (R/N/F spaced widely for Reverse / Neutral / Forward). Another customer asked us to monogram "Easter egg" messages of positive affirmation on the backside of her Burnside handles.
Buy Labeled Handles
We like these so much, we added labeling as an option to the drawer pulls on our site, so anybody can buy these now, too. Labeling service is currently published for the Tilikum and Morrison handles because of their horizontal orientation and length. Is there another handle you'd like to label? Shoot us an email, let's make it happen!