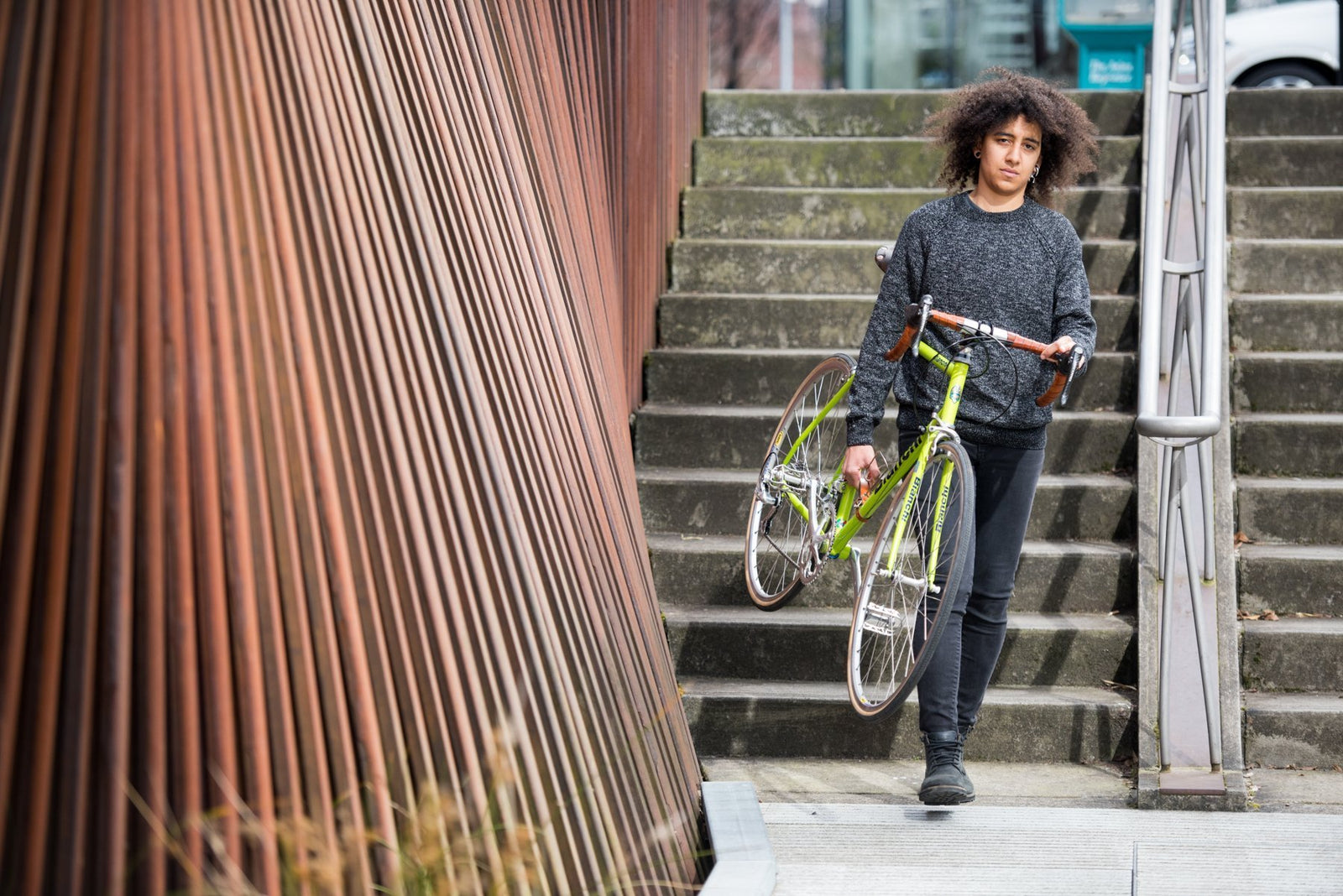 All over the world, May is celebrated as
Bike Month
, a chance to ride bikes, share resources and get excited for a summer of cycling.
We Are a Bike Loving Company!
Walnut Studiolo was
founded on a love of bikes
. Geoff was working as an architect and riding his bike to work in Portland, Oregon. Most people like to get their morning routine down to a science, and have all the right elements in place to help getting to work go smoothly. Because who needs a hassle in the morning? Finding the right gear for a bike commute is paramount.
Though there are many bike commuting products on the market, Geoff just wasn't satisfied with the offerings. They either rattled too much, were poorly made or weren't attractive. As an architect, Geoff had both the aesthetic focus and the know-how to put pieces together. After making a few items to improve his own bike life, Walnut Studiolo was born.
And here we are, 10 years later! Still biking, and still making bespoke leather goods.

Biking is on the Rise
Biking is on the rise! Across the world, cities are making adjustments to create safer streets for cyclists (though there is a lot more work that needs to be done) and advocacy organizations are promoting cycling. In a crowded city, it's often faster to get around by bike. It's certainly more pleasant than being stuck in gridlock.
Get Started City Riding
Sometimes riding a bike in the city can seem intimidating, especially if you've never before ridden with traffic. The first step is to determine which streets are the best for cycling. Visit your local bike shop and ask them for a bike map. If your city doesn't provide one, chances are good the shop staff can help you learn which streets are better for cycling. Quite often the most direct route isn't the best way to ride because it's too busy; bump over a street or two and you may find yourself on a quiet residential street for stress-free riding.
Look for streets with bike lanes, cycle tracks or simply fewer cars. Riding a bike is more fun when you feel safe.
Photo by Erin Berzel Photography
Start Simply: Bike to Coffee!
If you're new to riding in the city, start with a simple, low key ride. If you're not in a hurry and you don't have to carry a bag, your entire ride experience will be more pleasant. It's easy to arrive on time, look good and bring along whatever you need for the day, but for your first few rides keep the adventure fun and relaxed. Along the way, you'll have the chance to see neighborhood features you probably wouldn't notice from inside a car. Smell the trees in bloom, notice front yard gardens, unique architecture and people.
Your sweet reward is a tasty drink and a pastry at your favorite nearby coffee shop.

Get to Know Your City by Bike
As you build up your comfort level, start taking longer rides and perhaps
planning a bike commute to work
. As you learn your way around the city by bike, riding will become a natural way to navigate the city. Discover event calendars and start going to workshops, casual rides and other opportunities to meet other people who ride bikes in your city - they're usually rather friendly folks! Chat with other riders at the bike shop or at events and learn about your city's resources for cycling.
Photo by Erin Berzel Photography
How to Commute by Bike
The first step in commuting to work is to plan a good route. If it's a long route (more than 5 miles), test it out on the weekend - again, low stress is the key to success! If you're finding it difficult to get around busy streets, talk with coworkers, they may know a better way. Some companies offer incentives for employees who commute by bike, so talk with your HR department to see what perks are offered.
When the time comes for
your first day riding to work
, set out your gear the night before and plan to leave an extra 15 minutes early. Not being rushed will do wonders for your state of mind and safety on the road.
Photo by Erin Berzel Photography
How to Look Good When You Ride a Bike
Now that you're settling into your "bike life," it's time to step up your style! We offer a variety of
handy and handsome bike accessories
to make riding a bike more pleasant. From grippy leather handlebar wraps (in a wide variety of styles) to our popular Little Lifter that helps you carry your bike up stairs, our gorgeous accessories are made to withstand the elements and wear well over time.
Browse all of our leather bicycle accessories on our website and discover your favorites.
Celebrate Bike Month with Walnut Stuiolo
Happy Bike Month!
We hope you have a fun time exploring your city by bike. To celebrate the month, we're offering 10% off all bike accessories with code 2019BIKETOWORK. Offer expires May 31, 2019.