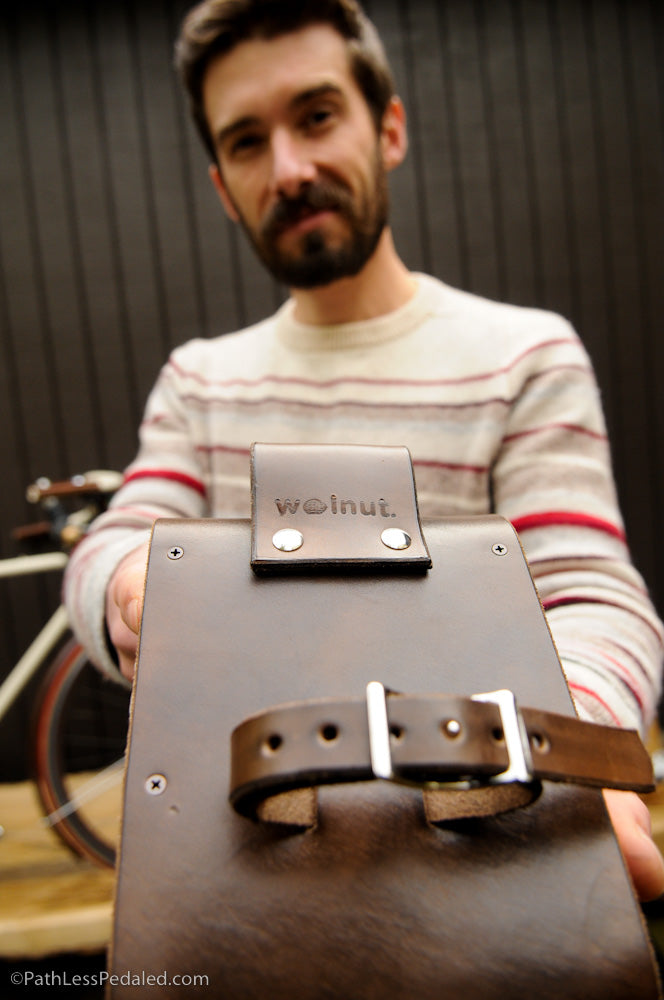 Here at Walnut Studiolo, we make handmade leather accessories. Our Portland, Oregon workshop is a labor of love. All year long, we craft each item in the converted garage that serves as our office. We also feature top-quality items that are curated for our discerning clientèle who are looking to add the very best items to their gift lists. We have a wide range of gifts available for loved ones in every season, for every reason.
Gifts for Cyclists
Cycling is our wheelhouse, so to speak. We're Portlanders and we love all things on two wheels, so we seek to dress up our steel horses in the finest, hand-dyed leather. Every cyclist seeks to add functionality to her bike, and we do that with style. We have such a wide range of products to choose from that it's a bit dizzying. Hold tight to the handlebars, you're sure to find the perfect gift for the cyclist in your life. Every biker seeks for ways to carry their gear without over burdening their body with bags. For many
trips, including the daily commute, the bike itself can do the heavy work. With a
handlebar bag
,
seat barrel bag
, or a
pocket pannier
, your cyclist can manage those smaller items that don't require a backpack, yet are too large or unwieldy for pockets. If you live in Portland, San Francisco, New York, or any of the major bike towns, you know that bike security is an issue. Carrying a lock is always a chore that frequently results in chips and dings to your beautuful paint job. No one wants that, so we designed leather
U-Lock holsters
to take care of your security needs. Select either our
frame
or
rack-mounted
U-Lock Holster.
Gifts for Business and Pleasure
Not everyone is a cyclist €" yet. So, we have lots of fantastic gifts for occasions pertaining to both business and pleasure.
Business Card Holder
For the businessperson on the go, we offer a leather and wood
business card holder
. We use the finest hand-dyed leather and walnut to create a holder for calling cards. You can select from a plain, minimalist leather or leather with an embossed design. We can even monogram the item to add individual flair.
Treat for the Tippler
If you enjoy tippling in style, we have no-logo leather coasters and a whisky case. What better way to
enjoy a snifter of your favorite single malt than by completing the scene with these high-quality, vegetable-dyed
leather coasters
. Pair your coasters with a hand-stitched
leather whisky case
and you are living the high life. Take your whisky along for a drink after a day of salmon fishing in one of the many rivers surrounding Portland. The case includes 2 coasters, so get a few extra in case you meet a few more friends.
Travel Games Galore
When you're traveling, you want to unplug and have fun. That's why we carry a line of analog travel games to take you away from the phones, laptops, and other rectangular glowing screens. With our
travel dice
, you can play any number of fun games. Our
travel dominoes
have a unique, modern
aesthetic and will help you wind down a day of leisure. Everyone loves cribbage, and this is the perfect game for a Portland couple to carry to the Oregon coast for a weekend getaway. Our
travel cribbage board
is inspired by WWII soldiers, who carried portable games wherever the were stationed. The birch plywood board is wrapped in our signature, vegetable-dyed leather that we treat by hand in or Portland studio. We can even add a
monogram
to make this gift extra special.