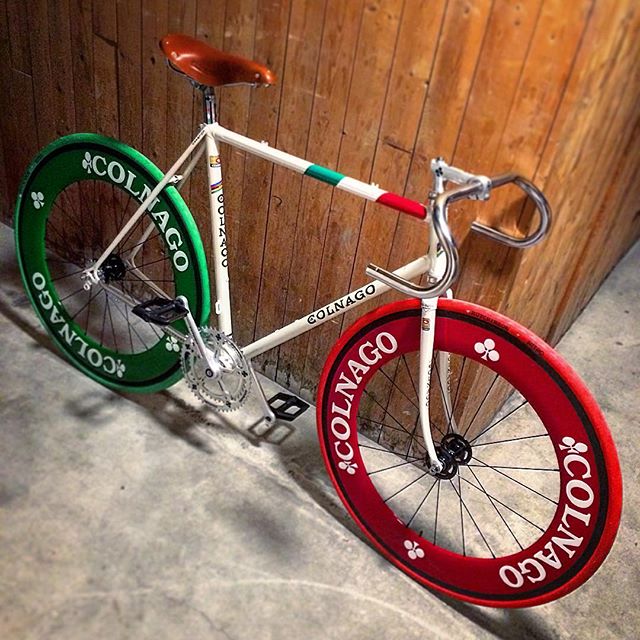 When we send out products out the door, we never know exactly what will become of them, and we certainly are curious! That's why we love it when customers share their project stories with us.
Meet Goldhart
André Guldhjärta is better known as Goldhart, his chosen graphic design name and a loose translation of his last name spelled in afrikaans. The 26 year old from Malmö, Sweden says he has always loved riding bikes. "The excitement of riding fast and far, maybe to an unknown destination. The only limit is yourself...." These days, however, his excitement is about more than simply riding fast and far. André says he is driven by an opportunity to merge his love of bikes with a love of design as he constructs and rehabs bicycles with specific aesthetics. He describes the three bikes he has build to far as: "My blue Regent, my pearl white Colnago and my funny yellow unbranded bike that withstands the more unpleasant bicycle days."
Each Bike Tells a Story
"I got the Regent from a retired man named Alfons. He didn't even know that he had the bike anymore when I asked him about it. He sold this bright metallic blue bike to me for only 10 euro. Even though it was in a great shape it still looked dated, and not in a good way.  I stripped the bike and removed everything and replacing it with new stuff according to my illustrations. The big wheels are massive and very heavy so it spins really great." This first project was just the tip of the iceberg for André. His goal was to do more than simply change the aesthetic of a bike, he wanted to build up a bike from the frame up.
A Custom Colnago Comes to Life
For his next project, André built up a Colnago bike. He endeavored to convey a sense of luxury and elegance with a vintage touch of leather but enough modern elements to make the bike feel lively. He started with the basic components and a lot of research on eBay to find what he needed - all legitimate Colnago parts. "I'm really happy about the massive 80mm carbon wheels. Since it's impossible to find that kind of wheel in the shape and look I wanted, complete with the logos, I had to design them myself and then send it to a producer. The final product was amazing - just like I imagined." With the custom wheel design in place, André's bike was really beginning to take shape. The chose the colors red, green and white - a nod to
Colnago's Italian heritage and their famed bike model "Mexico"
since both countries' flags contain those colors.
Luxury, Elegance and Walnut Studiolo
It seemed that every detail was falling into place for this very specific bike build, just like the designer dreamed. Then came the recal challenge. "I looked everywhere for the perfect bar wraps but I could not find anything good enough. Most of the modern wraps are like plastic and gummy which is great in some instances, but not in this case. Then it stuck me to search on Etsy because I knew that it is the best source of finding unique handcrafted stuff with high quality. I was right. I found Walnut Studiolo and I was blown away with the amazing leather accessories you have. I instantly loved the leather grips. The bonus was that I was able to get them in honey leather to match my saddle. Wow!" André selected our
Bullwhip Leather Braided Bar Wraps.
 He says he was so excited when the package finally arrived and he could get his hands on that leather, but he was also a bit nervous. After all the work that went into this very special bike, he wanted to get the final touch just right. "And I'm no expert at braiding," André confessed. André approached the project cautiously, and based on his reaction, apparently it went very well. "The end result is stunning!" he says. "These leather wraps from Walnut Studiolo are truly the centerpiece of the build. I am super happy about my purchase and have been really excited to show off the bike."
Follow André's latest work on Instagram.
Share Your Story
Do you have an interesting story to share about how you've used our products? Get in touch, we'd love to hear from you! Drop us a line at WalnutStudiolo@gmail.com.
Project Gallery