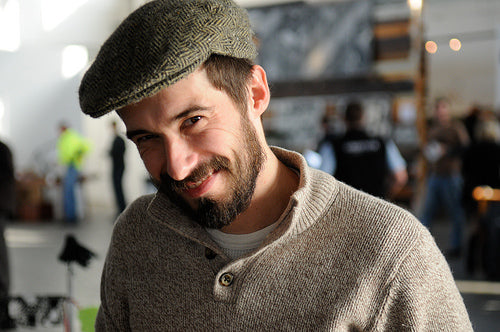 TEN years ago, on October 10, 2009, we opened up a little free shop on Etsy showcasing a few designs of leather accessories for bicycles. Here's a brief reflection on the first 10 years of our small business story:
Up until that point, we were both full-time salaried office workers bicycle-commuting from Southeast Portland to City Center. Geoff was reading through the book The Golden Age of Handbuilt Bicycles by Jan Heine, and we went to a vintage bicycle exhibition at the Portland Art Museum. In both, he noticed that the historic leather details was in even better shape than the classic bicycles themselves. He wanted similar high quality leather goods for his bike but he couldn't find them anywhere. So he made them for himself.
The Great Recession was underway and we had reason to believe that layoffs might be happening soon. So, on a lark, we decided to go ahead and put out our little digital shingle. Valerie (Geoff's wife) thought maybe they'd do well on her favorite new online shopping experience, Etsy. ("Sure, you can waste your time on that if you want," Geoff said when Valerie asked if it was OK if she listed them for sale. He didn't think we'd have any sales!)
We took (bad) snapshots of the products using a basic digital camera used for travel. Back then, Etsy was much easier: we didn't have to think about keywords or search engine optimization. Our photos didn't even need to be particularly good. We were one of the first bicycle accessory makers on Etsy (Or were we the first and only? Can't be sure!). But, within a month we had our first sales, followed by our first 5-star reviews.
Our family and friends - all salaried professionals - humored us with guarded support, but their advice spoke to their caution and skepticism: "Spend as little money as possible," Geoff's dad wisely advised us.
Fast forward a couple years, after we had both gone through layoffs at our respective companies and we were both working on Walnut full-time. ("You know this will never work, right?" one of our good friends said to us when we made the full-time leap.)
In 2012, our friend Lael wrote our first formal marketing copy, including this tagline that has graced our website header and Etsy store banner now for 7+ years:
Hand Built for the Long Haul
As we look back on 10 years, it seems to us that Lael really nailed the meaning of this business to us with an even greater double meaning than we understood at the time. In the beginning for us, it was the literal idea that our physical leather and wood goods are hand-crafted for longevity, durability, and the long distances that our bicycles ride.
But today, it also has a metaphorical meaning for Walnut as a whole, that we built this entire business and even lifestyle from scratch, with our own two brains and hands and sweat and tears, to provide for our family and our customers in the long-term.
The other piece of copy that Lael wrote so many years ago is to:
work beautifully and age gracefully
We intend to keep that as our marching orders for the future, by staying the same small and approachable company, with the same dedication to quality and design that we had when we started. That's what we think of as aging our business gracefully.
It's remarkable to us that ten years have flown by, and even more remarkable that we're champing at the bit for another ten more.
So now that we've looked fondly on the past and excitedly towards the future, we're taking a moment to share with you our celebration of
TEN YEARS IN BUSINESS