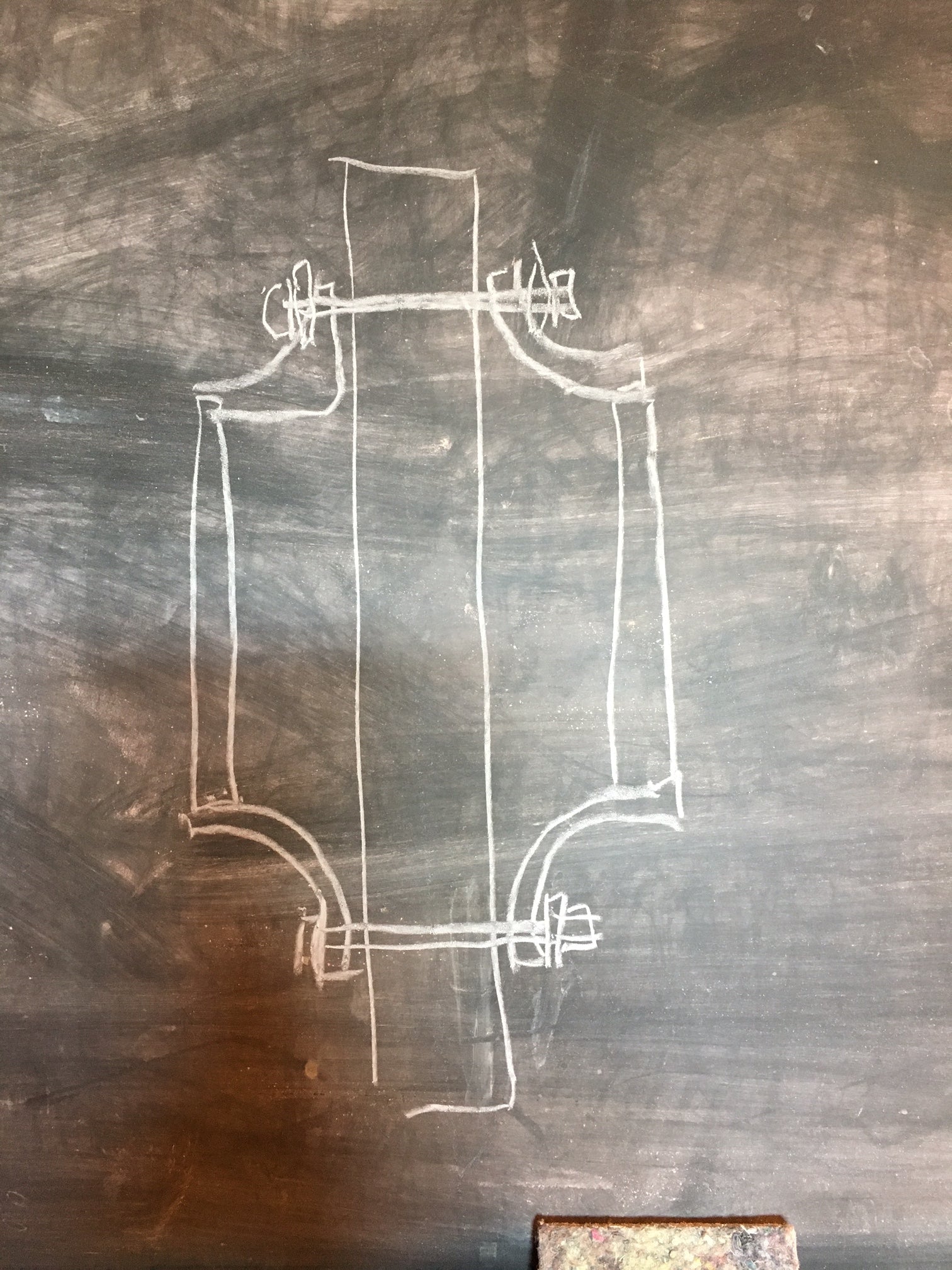 I want to use the same Hawthorne pull for an interior front and back on a barn door. Is that possible?

-Barb
Our leather drawer pulls and handles can be installed "back-to-back" for the interior/exterior of a door, with two handles mounted on either side of the same door. In this post, we'll discuss how to do it.
In this chalkboard sketch, you can see an illustration of what we mean by "back-to-back" installation on a door with our leather-and-wood Sellwood handle:
In the following photos, you can see how our Chicago screw hardware fits together as a mock-up using our hinged Burnside leather handles. The Chicago (internally-threaded) screw goes through one handle, and the back screw comes through the other handle:
The main difference with a back-to-back installation is aesthetic rather than functional: the hardware will have a smooth, surfaceless head on one side of the door, and a screw face on the other side of the door. The screw face is necessary to secure the handle to the door. Crafty customers who don't want to see a screw head may want to consider screw caps and plugs, which are available at hardware stores and supply companies.
We particularly recommend the Tilikum handle for back-to-back installation, because the C-shape of the handle partially hides the hardware behind the leather.
For the St. Johns and Lovejoy handles in particular, which do not include washers, the longer oval-head back screws included in our hardware kits (used for thicker surfaces) may require a smaller, supplemental washer. The pan-head back screws should be wide enough. Below is a sketch showing the placement of the supplemental washer used on the back side of these handles:
A typical listing on our website includes one set of hardware per handle, and you'll only need one set of hardware for every two handles. To order half the amount of hardware, contact us to set up a special order.
How to Order Back-to-Back Hardware
Leave us a note in the "Message to Seller" box during checkout which handle(s) are going to be installed back-to-back (we read every note!). If there are any special accommodations needed in the hardware kit, we will either include it in your kit, or contact you if there is anything special to discuss.