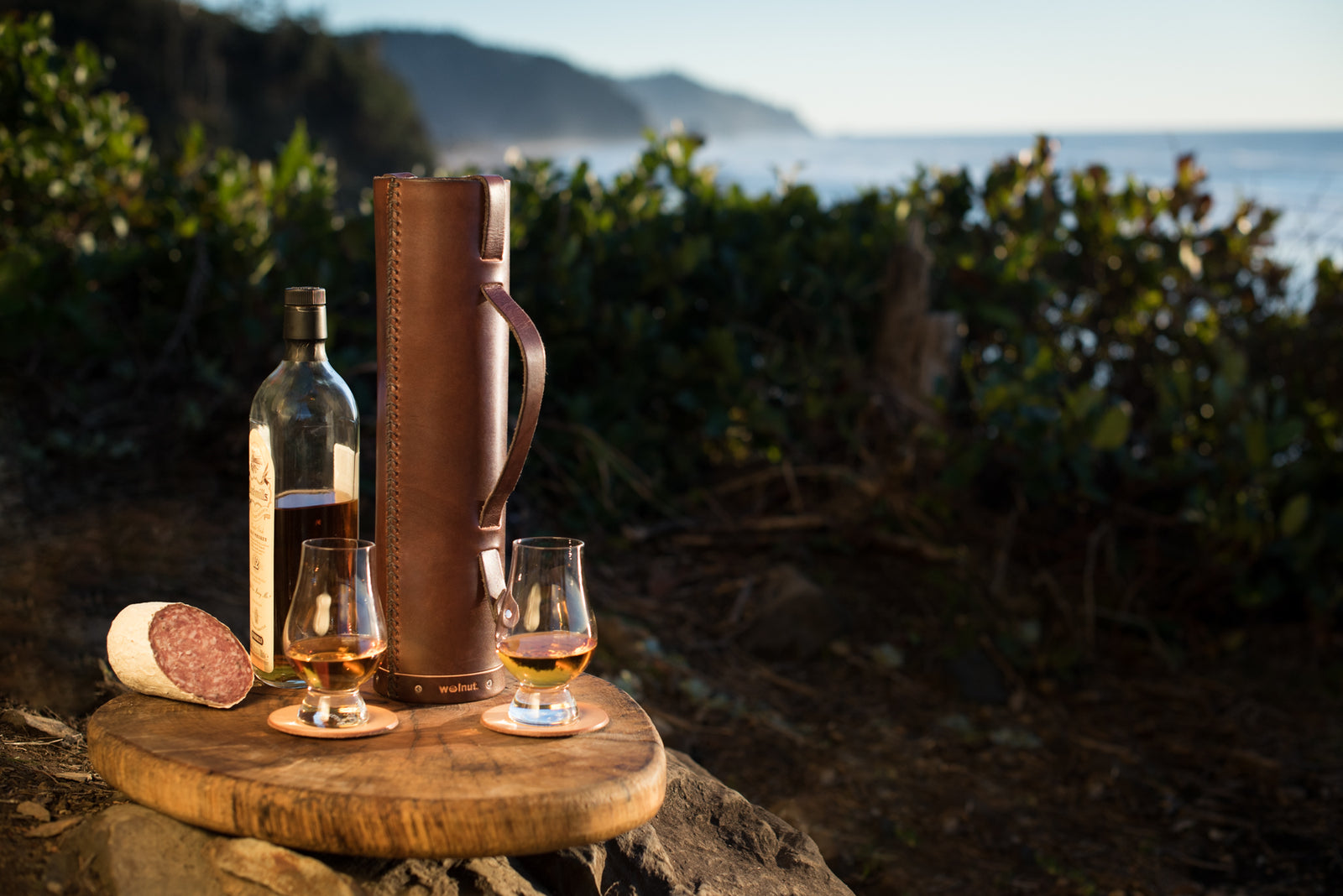 Looking for a different party theme for this year? The holidays are a lovely time of year to enjoy food and drink with friends - and warming, relaxing whisky is our seasonal favorite theme (and the reason why we designed a
Leather Whiskey Case!)
Here is a primer for you to plan your own Holiday Whisky Pairing party, complete with food pairing advice, inexpensive decoration ideas, and a suggested menu.  You don't have to be a Scotch expert to plan a delightful evening. We'll show you how. 
(Side Note: What is the difference between whisky, whiskey and Scotch? See our article Whisky Tasting for Beginners.)
THE FOUNDATION
Which foods pair best with Scotch? Matthew Fergusson-Stewart from
Glenfiddich
offers a few handy foundational tips for planning your whisky menu.
Try to bring out new flavors by creating synergy among the ingredients presented.
Avoid strongly bitter or garlicky flavors - they will kill some of whisky's flavors.
Pair dishes that compliment, but don't match. For instance, you don't want to match the smokiness of a Scotch with smoked salmon.
WALNUT STUDIOLO'S HOLIDAY WHISKY PAIRING MENU
MEAT AND CHEESE BOARD
- A hard, non-garlicky salami, like Oregon's Olympia Provisions
Saucisson D'Alsace
salami (with hints of clove and cinnamon) - A creamy mild cheese, like 
Clava Brie
- 
An assertive, spreadable cheese, like 
Cambozola Black
blue cheese - Rich Irish butter (like Kerrygold) - A small saucer of 
Jacobsen Salt Co. Black Pepper 
Infused Sea Salt
 from the Oregon Coast - Fresh local baguettes cut into 1/2 inch rounds
SMALL BOWLS
- Olives (we love Capistrano) - Roasted nuts (hazelnuts are an Oregon favorite!) - Dried fruit, like blueberries
SWEET
Traditional Scottish Shortbread
- easy enough to make at home if you like baking.
TO SIP
- Serve with a selection of 2-3 of your favorite whiskies.We suggest Dalwhinnie, Oban, and Lagavulin for a good variety. (Looking for more whisky ideas? Check out our favorites from our comparative Scotch tasting:
Whisky Tasting for Beginners.
) - A pitcher of pure, room temperature spring water.
SET THE MOOD WITH A LOVELY DISPLAY
Create a warm and inviting tasting spread with a plain, natural tablecloth (a canvas painter drop cloth is an inexpensive option), tea lights, pine cones, a few sprigs of rosemary or conifer 
boughs
 and pretty serving dishes. Avoid overcrowding your cheese board so guests may more easily serve themselves by splitting them onto multiple boards or plates. Display your whisky alongside our
Leather Whiskey Case
, a finely crafted carrying case that will quickly become a conversation piece at your party.
ABOUT OUR LEATHER WHISKEY CASE
Our Leather Whiskey Case stitches together modern design details in leather and wood to create an heirloom piece that ages as well as the beverage inside. You can purchase our
Leather Whisky Case on our website
. To truly make it your own, add a monogram when you place your order.
HAPPY HOLIDAYS!
We wish you all the best this holiday season! May your festivities be filled with good food, fine whisky, the best of company and plenty of love.