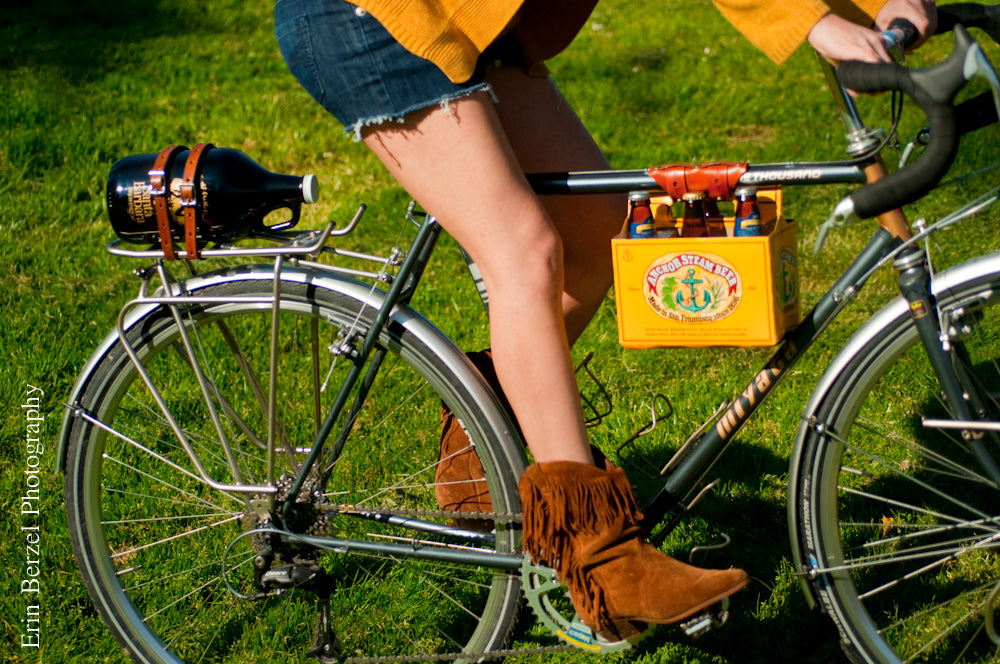 It looks like the beer would be in the way of the cyclist's legs while pedaling. Does this actually happen?

-Vinny
Our 6-pack Frame Cinch is a sturdy leather strap that connects anything with a handle to the top tube of your bicycle, making use of the open space inside the bicycle frame's triangle -- including a 6-pack of beer!
We've been asked this question before and it might seem to defy logic... but it's true, the 6-pack sits comfortably between the legs/knees and does not get in the way of cycling.
If your knees don't touch each other when riding, then they won't touch the 6-pack either! The space between the pedals where you put your feet naturally hold your legs wider than the width of the 6-pack.
Video Demonstration
We made a short amateur video using a GoPro so you can see it in action:
Independent Reviewers Agree
But you don't have to take our word for it! Read reviews and testimonials from our customers on the product pages. We haven't had any customer feedback about this issue, even though we've been selling the 6-pack Frame Cinch since 2012.
Brew/Drink/Run, an independent blog writing "beer reviews, homebrewing tips, and exercise motivation" evaluated the 6-Pack Frame Cinch in 2013 and had this to say:
I was skeptical about this one. Where the growler holder was out of sight and out of mind while riding, the 6 Pack Frame Cinch design places the beer directly between your legs. Thankfully, my fear of knees scraping against cardboard were entirely unfounded.

Lee Heidel, Brew/Drink/Run
Tip and Tricks
Make sure to tighten the straps all the way, and tuck the ends into the belt loops on top for a "belt and suspenders" security system.
This design is only recommended for "men's style" bikes with a top tube parallel to the ground.
For cardboard 6-packs, this product is intended for grocery runs, commuting, and trips around the neighborhood rather than long-distance riding. Use common sense when selecting a cardboard 6-pack to use with our frame cinch - cardboard cartons are designed to carry your beer without tearing the handle, but if they get compromised (e.g, wet), they can fail. 
We created the 6-Pack Bicycle Beer Carrier Combo to provide a more secure option than a cardboard 6-pack, pairing our 6-Pack Frame Cinch with a sturdy leather-and-wood reusable "Spartan Carton" for a set discount.
After I placed the order I began to worry about just how safe my beer would be. Don't worry, the construction is top notch and it attaches very securely. I guess, with a little ingenuity it could easily be used to secure many more things to your bike. But what would be in the fun in that?!

-Customer Marcus B.
Everything you need to carry a 6-pack of beer in your bicycle triangle - with a set discount! Combo includes:
(1) 6-Pack Frame Cinch, the versatile strap that can be used to carry anything with a handle on the top tube of your bicycle
(1) "Spartan Carton" 6-Pack, our sturdy and sustainable leather-and-wood bottle basket  
The 6-Pack Frame Cinch attaches any object with a handle to your bicycle top tube - including your favorite 6-pack. Cleverly using the empty space inside the frame triangle for storage, our invention was honored as one of the Ten Best Bike-Related Designs by Architizer.