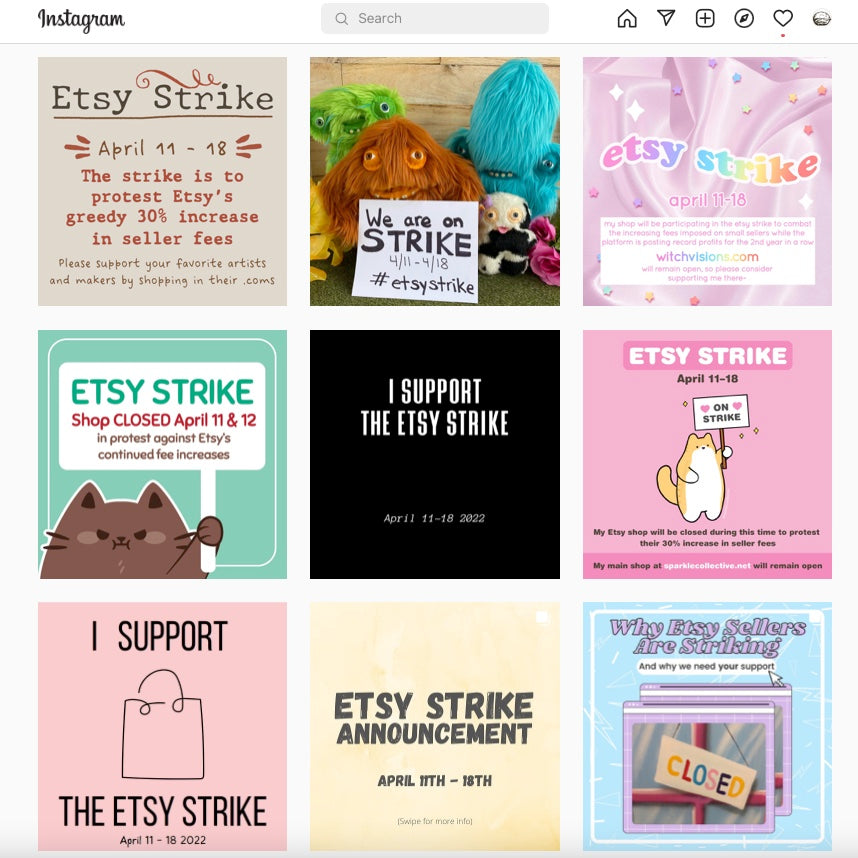 UPDATED 10/11/22.
On April 11th, we joined the œŠ #EtsyStrike œŠ by suspending our product listings from the Etsy marketplace in "vacation mode" for one week. In vacation mode, our products can't be searched, can't be discovered, can't be bookmarked, and can't be bought. For a small mom-and-pop crafter that got started on Etsy in 2009, this is like shooting ourselves in the foot. In this post, we'll talk about why we joined the strike and what happened.
Jump to:
What Was the Etsy Strike?
On February 24, 2022, Etsy simultaneously announced both record profits to investors and yet another fee increase to sellers, a perverse combination of announcements that seems rather tone-deaf in this day and age.
The seller community reaction was, understandably, negative, because this 30% increase doubled transaction fees since 2018 -- and brought Etsy's cumulative fees (of which there areseveral) up to just under 25% while not providing anything new of value. The fee increase was purportedly for Etsy to better perform functions it was already supposed to be performing, in seeming recognition that they have been deficient on the basics already: more customer service support for sellers and more enforcement of resellers who are flooding the site with non-handmade goods.
One seller, Kristi Cassidy, a maker of Gothic, steampunk and Victorian wedding dresses, posted a call to action on reddit, which quickly turned into an organized movement. The first order of business was to create a petition articulating seller concerns, followed by a seller strike and customer boycott the week new fees took effect, April 11-18.
During the week, as many as 28,000 Etsy sellers put their livelihoods in jeopardy and their shops on strike. It's a small percentage of the 5.3 million shops cited in their press release (a figure which includes inactive shops and non-compliant resellers), but it's noteworthy that the striking shops were most likely to be the real, genuine, authentic and creative handmade crafters Etsy is known for, and the 5 million figure represents a virally-increasing wave of inauthentic dropshippers and resellers (one of the striker's complaints). The impact was quantifiable, a drop of about 1% of listings available (in the US at least), as documented in graphs of available listings created by Twitter user @CindyLouWho2:
In response to the strike, Etsy issued a bland prepared statement to the media, which was quoted in all the articles. But that week, at a Wall Street Journal event, Etsy's CEO seemingly defended his strategy of making Etsy more generic, sharing his intention to make it "an online shopping destination that can compete with Amazon" (which would be antithetical to a small, human-scale marketplace of handcrafted goods in our opinion). Etsy did not respond at all to strike organizers, neither the letter nor petition.
And yet: in 17 days, 30,000 angry Etsy sellers were propelled. They self-organized into an anti-platform activist movement, presented a petition with over 80,000 signatures to the Etsy board, had our stories told by major (and minor) media from around the globe, and brought global awareness of our issues to buyers at whiplash-inducing speeds. Notably, even the original founder of Etsy broke his 7+ years of silence to share his support of the strike:
But was it worth it for us?
Why We Joined the Strike
In order to decide whether it was worth it, we have to look at what our goals were, and whether any of those goals were met. The following were our reasons for joining the strike, posted before the strike began and edited for clarity:
We launched our business on Etsy way back in 2009, and it was a terrific place for a small handcrafter like us to get started selling their wares. But Etsy's changed, man. They went public with an IPO, dropped their B-Corp certification in 2017, and since 2018 they have: raised fees, laid off hundreds of employees, implemented punitive and unpopular forced advertising and customer service programs, and now -- they're raising fees again, by a breathtaking 30%.
We, along with other strikers, wanted Etsy to make changes to the demands listed in the petition. These issues are our most pressing:
Increased fees and commissions -- now approaching 25% on some orders. To accommodate increased fees, Etsy wants us to increase our prices on customers to cover their fees. We don't think that's right -- especially after Etsy posted record profits two years in a row. That's why we were forced to raise prices on our Etsy shop but kept prices the same on our website.
Offsite Ads mandatory advertising program with no ability to opt out: 1) takes 12-15% commission on sales, 2) advertises Etsy against our own website against our wishes, and 3) takes away our free speech rights to choose where and how we want to advertise. For example, we opted to join the #StopHateforProfit campaign to boycott Facebook advertising when we had the chance but Etsy advertises our products on Facebook against our wishes.
"Star Seller" program perversely rewards resellers and punishes indie businesses like us. The program requires us to maintain 95% 5-star reviews, answer 95% of all messages within 24 hours, and ship 95% of all orders on time or face punishment in search results. Delivering orders on time is never a problem for us, we think it's unfair that 4-star review is considered a punishable offense, and the message response policy requires us to work 7 days a week, 52 weeks a year or face consequences.
We're not buying their stated reason for fee increases: after posting record profits two years in a row, Etsy says they need to increase fees to perform the work they're supposed to have been performing this whole time: keeping the site clean of resellers and providing seller support services. Currently, although we are required to respond to customers within 24 hours, Etsy support has been taking up to 2 months to respond to seller support requests. These are basic functions of a marketplace they should already be performing with their record-shattering profits. They do not merit a 30% fee increase on indie businesses and their customers.
Even if Etsy turns a deaf ear to our demands, we hope that this strike will raise awareness and attention to these problems:
Customer awareness that Etsy can be bad for sellers, and that they could and should preferably seek out artisans' and makers' own websites.
Shareholder awareness that Etsy is in danger of losing its market edge as the "handmade" marketplace when they mistreat their genuine, handmade sellers. They are eroding their "top soil" -- their indie reputation from the 2010's -- and once gone, top soil takes years to cultivate again. By transforming into a general marketplace to compete with Amazon, they will lose their unique value proposition.
There is no good, authentic alternative to Etsy for genuinely handmade items. Etsy has been monopolizing "handmade" by buying up all the possible competitors to Etsy, such as DePop and Elo7. With the dubious exception of Amazon and eBay, we have no other platforms for selling our handmade wares other than our own excellent website (hosted on Shopify).
Did We Get Everything We Wanted?
Of course not!
Ideally, there were many things we wanted from a lot of different people and organizations:
From Etsy itself, being totally ignored was honestly a little less than we were expecting -- we sorta thought they'd send some kind of bland acknowledgement, like "message received, we'll take this into consideration". If anything, their lack of response has reinforced for us the necessity of joining the strike, and hardened us to them: this is a purely transactional relationship now. They confirmed that our history and longevity on the platform do not mean anything special.
From the public, however. Our strike rang a bell, and it seems to have struck a chord that vibrated among sellers, buyers, the general public, and the media far beyond our wildest hopes and dreams. We are encouraged by the support shown by our customers, Etsy buyers, and the generous attention of journalists everywhere.
And from ourselves, the Etsy sellers: we discovered camaraderie and shared purpose. This was so much more than we ever thought possible from putting our shop on vacation for a week. We have been kept distant from each other by the nature of the business and the lack of networking opportunities on the platform.
But in the course of the week, we really learned how diverse and important this lifestyle of crafting is to people of all walks. Journalists in particular highlighted important stories, like how important Etsy is to crafters with disabilities and LGBTQ+ who can struggle to make a living in standard employment situations.
In Conclusion
The strike is over, but the movement for artisan livelihoods is not. Since the strike, the leaders of the Etsy Strike decided to form a "union" of sorts, a non-profit advocacy organization called the Indie Sellers Guild. But we don't want to fight Etsy or try to take on Big Tech or Wall Street. We just want a better option.
That's why a group of us have banded together to build a cooperative alternative to Etsy, which we'll talk about more in our next post: a better marketplace for artisans and customers alike.
Media Coverage of the Etsy Strike
Google News stories in aggregate.
(In alphabetical order):
19th News: LGBTQ+ Artists and Those with Disabilities See Etsy as a Lifeline -- That's Why They're On Strike
23ABC Bakersfield: Small Businesses on Etsy Go on Strike After the Company Raised Fees
ABC News: Etsy Sellers Protest Fees By Halting Their Sales For a Week
AdAge: ETSY EXITS EMOTIONAL STORYTELLING IN NEW ADS AMID SELLER STRIKE
Al DÍA: Sellers strike as Etsy raises transaction fees amid record revenue
AP News: Etsy Sellers Protest Fees By Halting Their Sales for a Week
Audacy: Thousands of Etsy Sellers on Strike This Week Over Fees
Axios: Etsy Sellers Close Shops in Protest of New Fees
Benzinga: Etsy Strike: Why Are Sellers Protesting and What Could It Mean for the Stock
Best Life Online: Thousands of Etsy Products May Be Removed by Sellers on April 11
Bloomberg Law: About 18,400 Etsy Sellers Pledge to Strike Over 30% Fee Increase
Borderless & Beyond: Etsy sellers' strike is €˜decisive' for LGBTQ+ artists and people with disabilities
Business of Home: Etsy Sellers on Strike
BuzzFeed News: Etsy Raised Fees for People Who Sell Goods on Its Platform, and Now Sellers Are Planning a Strike
C|Net: Etsy Sellers Protest Fees Hike After Platform's Pandemic Revenue Soars
CBC News: Here's Why Thousands of Etsy Sellers Are Boycotting the Platform
CBC Early Edition with Stephen Quinn: Etsy Boycott
CBC Podcast 'Front Burner': Etsy Sellers Go on 'Strike'
CindyLouWho2 #EtsyStrike Stats on Twitter
CNBC: Etsy Sellers Eye Forming a Union After Going on Strike
CNBC: How an Etsy founder turned ice cream maker feels about the e-commerce giant today
CNN Business: Some Etsy Sellers to Strike as Online Marketplace Hikes Transaction Fees
Crain's New York Business: Etsy reveals CEO awarded $40M in pay after strike
CTV News: Thousands of Etsy Sellers Strike Over Increased Fees
The Cut: What to Know About the Etsy Strike
Daily Beast: The Etsy Strike May Be Over, but Its Sellers Vow to Keep Fighting
Daily Dot: Why Etsy Sellers Are On Strike
Ecommerce Bytes: Etsy Surveys Sellers on Their Reaction to This Week's Fee Hike
Elite Daily: Here's Why Striking Etsy Sellers Want You to Boycott the Site
Engadget: Etsy Sellers Go on Strike Over Fee Hikes
Fox2 Now: Why Are Etsy Sellers Going on Strike?
Fox9 Minnesota: Minnesota Business Owner Joins Global Etsy Strike Over Fee Increase
Fox Business: Etsy Sellers Strike as Site Ramps Up to Battle Amazon
Fox Business: Etsy Strike Organizer Says Forming a Union Is the Next Step
Fortune Magazine: Thousands of Etsy Sellers Are Planning a Strike to Protest New Fee Increases
Gizmodo: Etsy Sellers Are Going on Strike to Prevent It From Becoming "The Next Amazon"
Global News: Etsy Sellers To Go on Strike; Shop Owners Ask Customers to Boycott Shop
The Globe and Mail: Etsy Sellers Close Online Stores in Protest Over Rising Transaction Fees
Hyperallergic: Thousands of Etsy Sellers Are Boycotting the Platform Over High Transaction Fees
Investor Marketplace: What the Etsy Strike Means for Amazon and Walmart Marketplaces
Jacksonville Journal-Courier: Etsy sellers go on strike, want customers to boycott
Japan Times: 'Bleed us dry': Why tech platforms are facing rebellions
KAAL-TV Rochester: Local Etsy sellers strike over fee increase
KCRA3 Sacramento: Thousands of Etsy Sellers Go on Strike Over Increased Fees
KHON2 Honolulu: Hawaii Seller Shares Her Thoughts on the Strike
KXLY Spokane: Spokane Etsy Seller Fees Betrayed By Transaction Fee Increase
Marketplace Pulse: Thousands of Etsy Sellers on Strike
Marketplace Tech: Etsy Transaction Fees Spike and Vendors Strike
MarketWatch: Etsy Strike: Sellers Fed Up With 'Ridiculous' Fee Hike
Mashable: 11 Etsy Sellers Explain Why They're Going on Strike
Medium: The Death of My Etsy Shop
Modern Retail: "Coming Up Short After Every Sale": Etsy Sellers Prepare to Strike Over Increased Fees
Morning Brew: Etsy Sellers Are Going on Strike
Morning Brew / Retail Brew: Etsy Sellers on the Platform's Transaction-Fee Hikes
Motley Fool: Will the Etsy Strike Controversy Impact the Stock?
MRT: What to Know About the Etsy Strike Petition
NASDAQ: What the Etsy Strike Means for Amazon and Walmart Marketplaces
Nerdbot: Etsy Sellers on Strike Against Sales Behemoth
Newsy: Etsy Sellers On Strike As Company Increases Transaction Fee
New York Post: Etsy sellers could be next to form a labor union
New York Times: Etsy and the Sameness of Internet Fights
Newser: Rebellion Is Brewing as Etsy Hikes Fees
Newsweek: Etsy Sellers Say Strike Is About "Free Speech" as Platform Faces Boycott
NPR: Etsy Sellers Launch a Week-Long Strike Over Increased Fees
NY City Lens: Etsy's Boost to Fees Prompts NYC Sellers to Boycott
Orato World: Dress Designer Launches Internationally-Recognized Strike Against Etsy
PBS
Pittsburgh City Paper: Pittsburgh Makers Join Mass Boycott of Etsy After Fee Increase
Real Money: Shares of Etsy Are Weak and the Sellers Strike Has Begun
Retail Customer Experience: Etsy Shop Owners Striking in Protest This Month
Retail Customer Experience: Etsy retailers mulling union action following strike
Retail Dive: Etsy Sellers Strike Over Transaction Fee Hike
Rolling Stone: "We're Being Bled Dry": Furries Aren't Going to Roll Over for Etsy
Sarasota Herald-Tribune: Etsy Sellers Going on Strike to Protest Transaction Fee Hikes
Seeking Alpha: Etsy: Fantastic Business But Not A Fantastic Investment
Simply Wall St: Etsy's Conflict with Sellers Will Bring More Short-Term Turbulence
The Skimm: Did You Hear? Etsy Sellers Are Going on Strike
Slate Podcast: Why Etsy Sellers Are Going on Strike
Smart Brief: The Etsy sellers strike was about marketing
Spectrum News Buffalo NY: Buffalo-based Etsy shop owner among those to take part in sellers strike
Spot on Florida: Local Etsy shop owner concerned about fee increase (Video) | West Central Florida
The Street: Etsy Strike Picks Up Momentum: The Hashtag #EtsyStrike Is Trending on Twitter Today
Tech.co: The First Day of the Etsy Boycott: Sellers Are Striking All Week
TechCrunch: Over 14,000 Etsy Sellers Are Going on Strike to Protest Increased Transaction Fees
Texas Standard: Etsy sellers go on strike to protest fee increases
Toronto City News: 'They Don't Care': Etsy Sellers Striking Against Fee Hikes, Policy Changes
TIME: Over 18,000 Etsy Sellers Sign On to Strike Over 30% Fee Increase
USA Today: Thousands of Etsy Sellers Start Weeklong Strike Over Company's Fee and Policy Changes
The Verge: Etsy Sellers Will Go on Strike in April and Want Customers to Boycott
Verve Times: How An Etsy Founder Feels About E-Commerce Platform As Sellers Strike
VPR Vermont Edition: Thousands of Etsy sellers went on strike. These Vermont makers might leave the site
Wall Street Journal: Sellers Strike As Site Ramps Up to Battle Amazon
Wall Street Journal: Etsy CEO Josh Silverman Stands By Strategy of Competing with Amazon
WANE Indiana: Why are Etsy sellers going on strike?
Washington Post: It's the last day of the Etsy strike. Here's what comes next. Women and nonbinary sellers have been leading the charge
WBUR New York: 'We're Not Amazon. We're Independent Artists.' Why TheseLocal Sellers Joined the Etsy Strike
WFMY North Carolina: Thousands of Etsy sellers go on strike after a new transaction fee increase
WIFR Illinois: Local Etsy sellers join in strike against platform
WKSU Ohio: Etsy Sellers Plan Week-Long Strike
WMTW Maine: Maine-based Etsy Creators Boycotting Platform to Protest New Fees
WTSP Tampa: Local Etsy Shop Owner Concerned About Fee Increase
WV News: Etsy Sellers Strike Out Against Fee Increase
Wyoming News Now: Douglas small business encourages people to continue shopping during Etsy strike
Yahoo! Finance: Etsy Strike Organizer Says She 'Has to Leave' If the Company Doesn't Meet Demands
Yahoo! Finance: Unions Are On the Rise. Guess Why.
Yahoo! Finance Video: Etsy Strike Organizer: 'We Are Fed Up' With the Platform's Fee Structure
Important Tweets/Social Media Shares