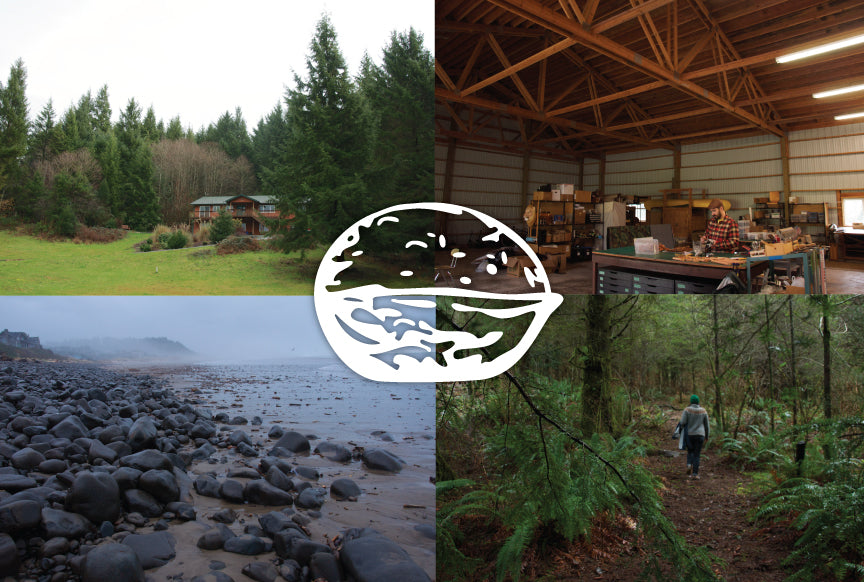 You could say it was a leap of faith when we decided to move our cozy home tucked in urban 
Southeast Portland
 to a new home and Walnut Studiolo workspace on the rural, craggy
Oregon Coast
.  But in so many ways, this move has been a long time coming. Geoff's Oregon roots run deep; his family was among the first settlers in the 1800's. And ever since he was a young buck, Geoff has been drawn to a very particular region of Oregon: the North Coast where he spent endless summer days on the rocky beaches at the foothills of the Oregon Coast Mountain Range.
Our dream-come-true home!
We are our happiest when we are in nature, the fresh air surrounding us and the roar of the ocean calming us, and the prospect of adventure at every turn. That's why Geoff and Valerie got married on the Oregon Coast, and have come out to the Coast annually ever since.
On our wedding trip to the Oregom Coast, circa 2007
It was on one of those outings, on an Oregon Coast bike trip in 2015, that we found ourselves staring at the piece of rural property we now call home: a spacious barn/shop and a house with plenty of potential, seated at the foot of a forested hillside in the Nehalem Valley, on the edge of
Nehalem Bay
. And the best part: it was for sale!
A much-needed Walnut Studiolo workshop expansion
Our unique products and handcrafted quality have become increasingly sought after, both locally and internationally, and the Portland workshop in our home garage was starting to burst at the seams. We knew we needed more workspace for tools and employees and it was a dream-come-true to find this space in one of our favorite scenic regions, near the roar of the Pacific Ocean.
The natural world influences everything we do
Our workshop is now tucked at the edge of the woods. Our broad shop doors open wide and the environment around us seeps in - energizing our work with every birdsong or rustle of the towering spruce and hemlock branches that canopy overhead. And when the long day's work draws to a close, we shutter the doors and hike the woods back to our cozy home sanctuary.
We are drawn to the Oregon Coast
The Oregon Coast is rugged. Mountains, with jagged rocks and sheer cliffs, collide with crashing waves under a canopy of misty gray skies shoved around by blustery wind. The Oregon Coast isn't where you go for a bikini beach bum vacation -- the Oregon Coast is for adventures. It is only when you get quiet and sink in that you discover tiny tide pools teeming with colorful sea creatures and critters crawling among the rocks. Here you can climb into the forested hills through dense lichen-draped Douglas fir, Sitka spruce, and Western hemlock along fern-lined trails to discover thrilling narrow bluffs with sweeping coastal views. The thick haze of rainy air envelops the landscape with muted tones and we find ourselves inexplicably drawn to this rustic intensity and striking environment - an endless source of inspiration.
We've made great friends and neighbors, like the folks at Nehalem River Ranch
In moving to the Nehalem Valley, we were joining another vibrant maker community; the entrepreneurial spirit and creativity of the North Coast is thriving. Businesses like
Nehalem River Ranch
, the first
Animal Welfare Approved
and
Grassfed Certified
ranch in Oregon, are committed to sustainability, humanitarian practices and innovation, just like us. We are excited to house our industry here and bring more jobs to the region.   With Portland only a short drive away, it's within commuting distance for many "Coasties" who work in Portland. We are maintaining strong ties with the Portland maker community, our vendors and suppliers with regular trips to Portland via quick access on Highway 26.
The soon-to-come Salmonberry Rail to Trail
Best of all, our new home is in the heart of a bike touring wonderland: we're an easy stop right off Highway 101, home to the 
Oregon Coast Bike Route
 and Adventure Cycling Association's
Pacific Coast Route
, fat tire biking on the beach, and the soon-to-come
Salmonberry Rail to Trail
from the outskirts of Portland to just about our doorstep.
It is the rustic, rugged beauty that has captured our hearts
So from here on out, every time you buy one of our Walnut Studiolo handmade leather products, you'll harvest a taste of that salty-sweet sea air and the misty skies that inspire everything we do. We know our new workshop and home have so much potential, and we can't wait to see what comes next.
Welcome to Nehalem, Oregon!
Consider us your basecamp for adventure, and please come visit us soon. We'd love to share our favorite hidden gems and help you fall in love with this region that we are proud - and thrilled - to now call home.
PHOTO GALLERY
Click here for a gorgeous tour of our new coastal home!