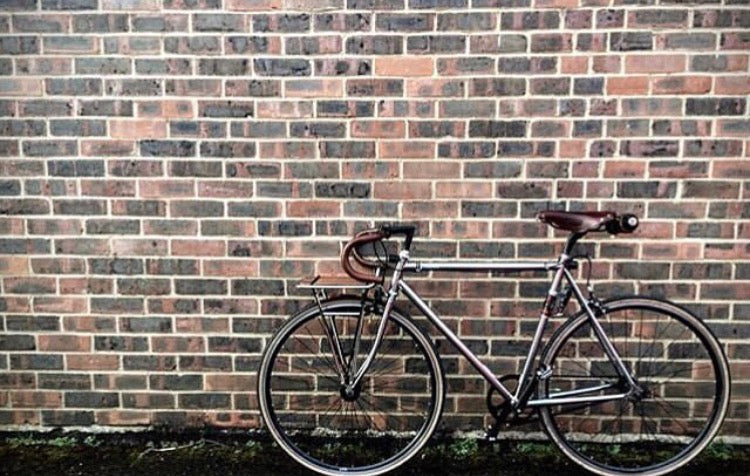 Question:
I would like to have it [Sew-on Bar Wrap] for my mustache handle bar but the bar diameter is 22.2 mm. Is it possible to have one with that diameter?

- Teddy in Hong Kong
Answer:
The Sew-on Bar Wrap is designed to fit around 1" (25.4mm) handlebar, but there are three options for customers who want to use the Sew-on Bar Wrap on a thinner, 22mm handlebar such as a Nitto: 
Option A: The easiest and quickest way to address the potential gap in the bar wraps would be to add girth to the handlebars by adding padding: apply a single strip of foam tape along the handlebars or a layer of cloth tape. This would provide additional "diameter" as well as extra cushioning. 
Option B: Sew the wraps together in such a way as to cinch-up any slack, using the slip stitch pattern. The only potential drawback is that this stitching method will create a ridge where the two pieces come together. Some see it as a nice texture and grip, others can find it uncomfortable depending on where it lands in the hand. 
Option C: The last option would be to make a custom-sized pair of Sew-on Bar Wraps. This option can provide the sleek look some cyclists look for, but it takes us time to commission the custom work and an additional cost for the extra time it takes to design & make these. Email us if you're interested in custom work.
Customer Report:
I was able to get the grips onto the nitto track drops and they look absolutely amazing!  Attached is a photo of my super custom Milwaukee Cream City with its new grips as well as a photo of the stitching pattern I used to get the stitch to lay flat and look nice.  All the stitching was done off of the bars and left loose. When each grip was ready to be put on I soaked the leather, slid them on and then tightened the stitching down. I was also able to put some of the excess leather in the bar end and then put the bar plug in (with the help of a rubber mallet) which will hold everything in place quite nicely since there are no brakes.

- Max in Denver, CO