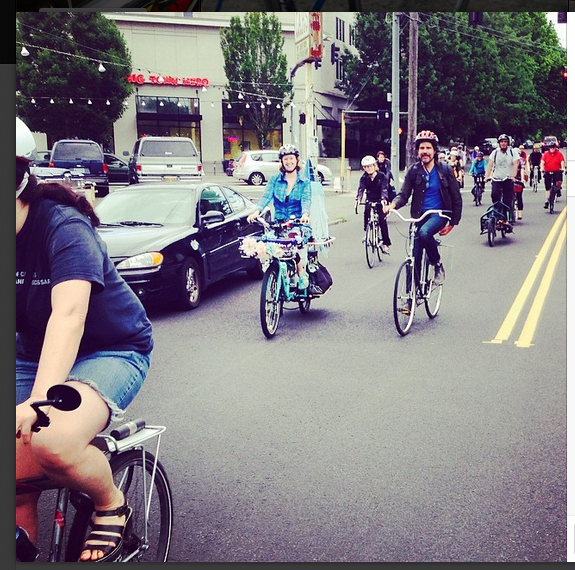 Walnut Studiolo teamed up with
Toast Made
,
North St Bags
,
Black Star Bags
, and
Portland Growler Company
to host a Pedalpalooza bicycle tour of Southeast Manufacturing this past weekend.
Pedalpalooza
is an annual 3-week long bicycling festival in Portland, celebrated with dozens and possibly even hundreds of informally-organized thematic rides throughout the city, the best known of which is of course the
World Naked Bicycle Ride
(this year 8000+ participants!). There are also rides like the Heritage Trees ride, the Eastern European Food ride, scavenger hunt rides, or the Spanish pub crawl ride.
Pedalpalooza 2014
Ours was of small brands that manufacture their own goods in Southeast Portland. We started at Mudshark Studios, which makes slip-cast ceramics, including the lovely ceramic Portland Growlers, then Black Star bags, who sews messenger bags.
Stopping at Black Star Bags
Toast Made makes wood electronics cases using a laser engraver, then of course we make leather goods with hand tools. We wrapped up the tour at North St Bags, which sews panniers, and had a BBQ on their patio.
North St Bags womanning the grill!
The BBQ was made all the more special by
Salt and Straw ice cream
and
Masala Pop Indian-spiced popcorn
, both of which are also manufactured in Southeast Portland.
Salt and Straw ice cream and Masala Pop popcorn
The tour had a great turnout, we're guessing somewhere between 50-75 riders. Enough riders that we had to split it up into 2 tour groups!
Tour group #2 leaving Portland Growler Co
While Walnut Studiolo was by far the smallest workshop of the tour, we had a blast getting tours of the other workshops and getting to know the very cool riders who came along. They had great questions and some very cool bikes!
Great family bike!
We really are very lucky to be doing what we're doing in Portland, surrounded by other friendly and supportive small businesses.
Taking questions in the Walnut Studiolo workshop