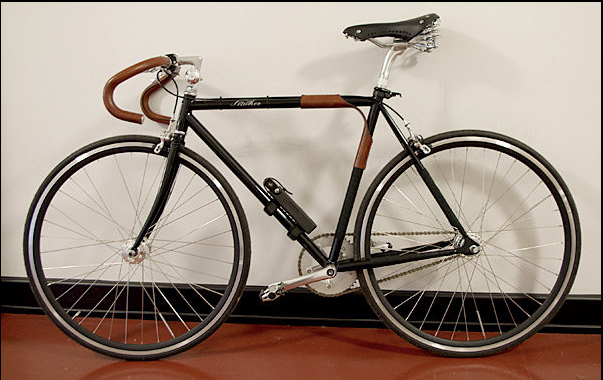 An alert reader noticed these pictures of a custom project we did for another customer on our Flickr page and wondered about the color.
Customer Bike Photo http://www.flickr.com/photos/47514124@N02/6307649636/in/set-72157627951882775/lightbox/ This was a custom color job for a customer, and we call this "light brown". It's somewhere in between our two standard colors that we call "honey" and "dark brown".
Walnut Studiolo Standard Leather Colors We picked the colors of honey and dark brown for our leather bicycle accessories to match Brooks saddles as best we can - our honey matches their honey pretty well, and our dark brown matches their brown pretty well. Brooks makes a great saddle, and we want to compliment it. But sometimes you don't have a Brooks, or you're going for a different look, this customer was. To keep the quality and sheen of our leather, we use exclusively oil-based dye, not acrylic "dye" (really, it's more like paint). The oil-based dye has less color options than acrylic. It has many shades of brown, a few natural tone colors, and one or two brighter colors, which we don't stock. Here is our color strip, which includes the "light brown" we used for his bike:
Leather Oil Dye Color Strip The thing with natural, vegetable-tanned leather is that it takes color differently, and that goes for both our products and Brooks saddles, so the exact shade of each can be slightly different on each piece. In the end, it's not a big deal because all veg-tan leather darkens with time and use. And if you want to darken it a shade, it's easy to do, but it's not easy to lighten a shade.