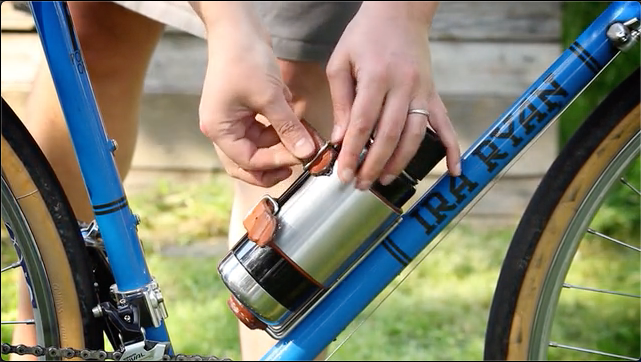 A new, limited batch of our Kickstarter adjustable-size bicycle bottle cage
Here's the backstory: Once upon a time, in a faraway land called Kickstarter, we launched a limited edition run of The UpCycle Cage, an adjustable-size bicycle bottle cage design made from up-cycled Klean Kanteen bottles.
It was a success! 40 backers pledged to make it happen, we created a short production run, we fundraised and purchased a laser engraver, and fulfilled all our backer gifts...
...and then within a year we moved our entire workshop to the coast. Plans were disrupted. All the workshop's belongings were boxed up and moved. During our quick resumption of post-move operations, some boxes were stashed to the side and never re-opened.
Fast forward to 2019 during an intensive workshop insulation project and re-organization: we uncovered an unfinished box of factory-rejected Klean Kanteens. Huzzah!
That is how today we can bring you the return of The UpCycle Cage, once again in a limited series. This time, we intend to make them until we run out of bottles to make them with.
The UpCycle Cage is an adjustable-sized bicycle drink holder for multiple bottle sizes, handcrafted from recycled and natural materials.
The only water bottle cage ever designed with this level of flexibility, it can carry a 12oz coffee thermos, a curvy wine bottle, and a 40oz stainless steel water bottle safely and securely. 
I created this design when I was given the unique opportunity to turn trash into treasure with a box of factory-rejected bottles from Klean Kanteen. I use my Klean Kanteens daily, both the 40oz water bottle I carry with me everywhere and the 16oz thermos I use for my coffee. I wanted to create a cage that would allow me to carry them both on my bicycle, at any time.